Former President Donald Trump wasted no time attacking other Republican candidates during his pretaped interview with former Fox News host Tucker Carlson.
"I'm saying, do I sit there for an hour or two hours, whatever it's going to be and get harassed by people that shouldn't even be running for president?" Trump said.
The 46-minute interview — released on Carlson's X account Wednesday night as the GOP debate got underway — is being seen among the campaigns as an attempt to counterprogram the first debate among 2024 Republican presidential candidates on Fox News.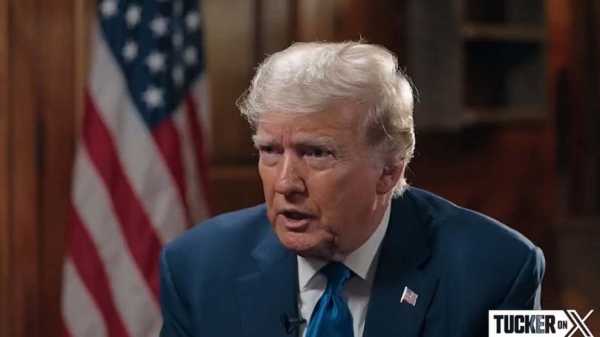 Former President Donald Trump speaks during an interview with Tucker Carlson released on Aug. 23, 2023.Tucker Carlson/X, formerly known as Twitter
Trump went after former Arkansas Gov. Asa Hutchinson and former New Jersey Gov. Chris Christie in particular, saying Hutchinson shouldn't be running for president and that Christie runs "solely on the basis" of going after Trump.
Later in the interview, when asked about former Vice President Mike Pence, Trump said he was "disappointed" in his former running mate and that he hasn't spoken to him "in a long time."
Trump claimed Pence had the right to send the electoral votes back to the states on Jan. 6, and said he thinks Pence didn't send back the votes because he "got very bad advice," accusing "RINOs" of working with Democrats.
Trump also attacked Fox News, claiming it showed favoritism toward other candidates, saying the network "isn't particularly friendly to me, frankly."
Carlson fed into Trump's false claims about the 2020 election in the interview. After being asked if he's worried the election could be "stolen" from him in 2024, Trump claimed, "Oh, they could. [Senate Minority Leader] Mitch McConnell was trying to get senators to impeach me."
The sit-down interview — which was held in Bedminster, New Jersey — was pre-recorded last week, a source familiar with the matter confirmed to ABC News.
Trump has cited his indisputable frontrunner status in the Republican race — despite facing 91 criminal charges for which he maintains his innocence — to suggest that he doesn't need to give his rivals a platform to attack him.
MORE: Republican debate live updates and analysis
Trump said his polls allow him to stay cheerful even when he gets indicted: "I think it's a lot easier because I'm so high in the polls, because it means that people get it. The people see it's a fraud."
As the interview dropped, eight candidates — Hutchinson, Christie and Pence, as well as Florida Gov. Ron DeSantis, entrepreneur Vivek Ramaswamy, former South Carolina Gov. Nikki Haley, South Carolina Sen. Tim Scott and North Dakota Gov. Doug Burgum — appeared on stage in Milwaukee Wednesday night for the first debate among the GOP candidates.
In the months leading up to the debate, Trump teased whether or not he'd join his rivals on stage, only to reveal last week on his social media platform that he would "NOT BE DOING THE DEBATES!"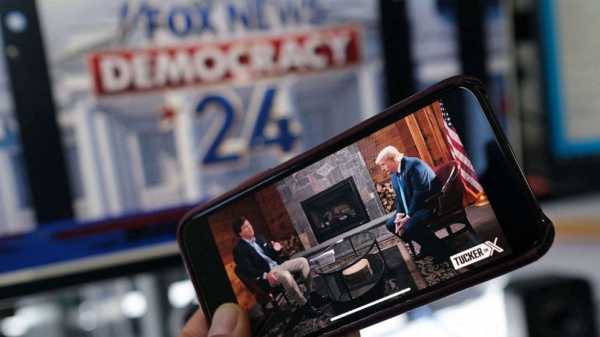 This illustration photo shows a preview of Tucker Carlson's interview of former President Donald Trump scheduled to air on X (formerly Twitter) on the same night of the first Republican Presidential primary debate in Milwaukee, Wisconsin, on a smartphone ahead of the debate on Aug. 23, 2023.Chris Delmas/AFP via Getty Images
MORE: Donald Trump won't be at the GOP debate. Will it matter?
Ahead of the interview's release, Carlson said in a video message on X that Trump approached him about "having a conversation for a far larger audience than he'd receive on cable news."
It's unclear precisely how many debates Trump plans on sitting out. Appearing on the conservative "Ruthless" podcast on Wednesday ahead of the Republican debate, Trump senior campaign adviser Chris LaCivita said the former president currently does not plan to attend the second GOP debate, which will be held in California next month.
LaCivita said Trump is "not going to be in California," while noting that "he could change his mind at any moment."
Sourse: abcnews.go.com