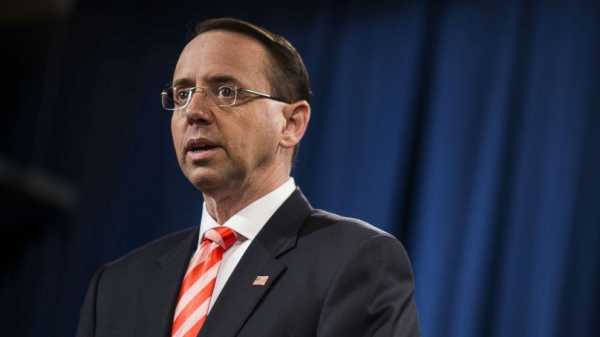 Reps. Mark Meadows, R-North Carolina, and Jim Jordan, R-Ohio, members of the House Freedom Caucus and the House Oversight Committee and allies of President Donald Trump, met with Rosenstein on Monday to express concern over the "slow pace" and "excessive redactions" of documents turned over to Congress, according to an aide.
The meeting, first reported by the Washington Post, comes as the GOP chairmen of the House Oversight, Intelligence and Judiciary Committees have demanded DOJ turn over copies of James Comey's memos detailing his encounters with Trump to Congress.
Republicans on all three committees are investigating the FBI's handling of the Clinton and Trump-Russia investigations, and have been sharply critical of the pace of DOJ's document production to Congress.
Trump on possibility of firing Mueller and Rosenstein: 'They're still here'
James Comey says Robert Mueller is 'not on anybody's side'
Trump would 'never' sign legislation to protect Mueller: Republican senator
Rosenstein, in a letter to the chairmen earlier this week, asked for a few more days to comply with the request for both unredacted and declassified copies of Comey's memos, citing concerns about releasing any documents related to ongoing investigations or that may contain classified information.
"None of us would want the FBI to release sensitive government records without careful and appropriate review," Rosenstein wrote, according to a copy of the letter obtained by ABC News.
The meetings with Rosenstein and related DOJ document requests come as Trump has expressed frustration with the Russia investigation, the recent FBI raid on his personal lawyer Michael Cohen's home and office, and the ongoing legal proceedings in New York.
On Wednesday, Rep. Jerry Nadler, D-New York, the top Democrat on the House Judiciary Committee, said in a statement that Judiciary Committee Chairman Bob Goodlatte, R-Virginia, told him that he plans to issue a subpoena to force DOJ to turn over the memos.
Citing DOJ regulations preventing the department from turning over materials related to an ongoing criminal investigation to Congress, Nadler accused Republicans of attempting to discredit Rosenstein, who supervises special counsel Robert Mueller's investigation into the alleged ties between the Trump campaign and Russia.
"If House Republicans refuse any accommodation short of the Department of Justice handing over custody of these documents -— which it cannot do — I fear the Majority will have manufactured an excuse to hold the Deputy Attorney General in contempt of Congress," he wrote. "If they succeed in tarnishing the Deputy Attorney General, perhaps they will have given President Trump the pretext he has sought to replace Mr. Rosenstein with someone willing to do his bidding and end the Special Counsel's investigation."
Asked about the possible firing of Rosenstein or Mueller on Wednesday, Trump dismissed the speculation.
"They've been saying I'm going to get rid of them for the last four five months, but they're still here," Trump said.
A spokesperson for Goodlatte did not return a request for comment.
Sourse: abcnews.go.com