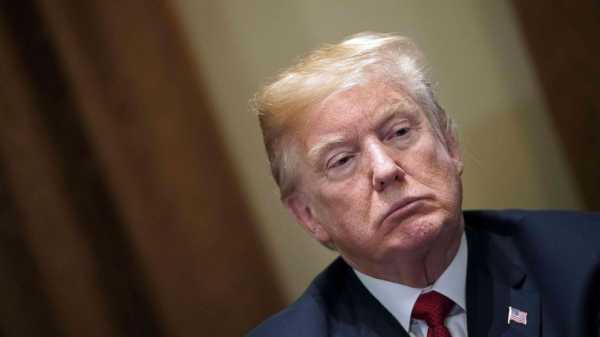 The immediate future could bring a redacted memo from Democrats on the House Intelligence Committee, and gaps where President Donald Trump's testimony in front of Robert Mueller would be.
Then there are words he did utter: "Let's have a shutdown" … "We'll go with another shutdown" … "I'd love to see a shutdown if we don't get this stuff taken care of."
Endorsing a shutdown if there isn't a deal on border security reflects neither the current realities on Capitol Hill nor the priorities even Trump's own White House is pushing at the moment.
This comes after Trump trampled on his own message, calling Democrats "un-American" and possibly "treasonous" for not applauding at the State of the Union address. (The latter phrase, according to the White House, was a joke; no word yet on the former.)
The upshot might be a president cut out of legislative machinations, with a series of critical deadlines drawing near. It's not that he's being unproductive – it's that the president is making himself a non-factor at the moment.
The RUNDOWN with MaryAlice Parks
When he first came on board as chief of staff, John Kelly was seen as a moderating force in the White House, a thinker and planner on an otherwise often unwieldy team.
His off-color, off-the-cuff remark about young immigrants on Capitol Hill yesterday changed that.
Once again, flippant and arguably offensive language from this White House got in the way.
Kelly's comment that some might say immigrants in the U.S. may have been too lazy to "get off their asses" and sign up for DACA protection shocked people, just as the president's "s—hole" comment did a few weeks ago. Both reinforced perceptions among Democrats that the Trump team is fundamentally a little racist.
Molly Riley/AFP/Getty ImagesFile photo of White House Chief of Staff John Kelly on Capitol Hill, Jan. 10, 2017, in Washington, D.C.
Ironically, at the same moment that Kelly made his remark, just a few hallways away the second-highest-ranking Democrat in the House, Whip Steny Hoyer, D-Md., was complimenting the president on the part of the White House immigration proposal that Kelly was clumsily referring to.
Hoyer said, in his mind, the part of the president's framework that called for a pathway to citizenship for both current DACA recipients and others who may have been eligible for the program was a "positive step forward."
But so often with this White House, it seems to be one step forward and two steps back.
The TIP with Alisa Wiersema
The Indiana Senate race is becoming a focal point in the national battle over immigration reform after a tragic accident this past weekend.
Indiana Senate hopefuls aimed tough talk at the U.S. immigration system following an alleged drunk-driving accident that killed two people, including Indianapolis Colts linebacker Edwin Jackson. The reason: police say the suspect in the crash is an undocumented immigrant who had been deported twice before.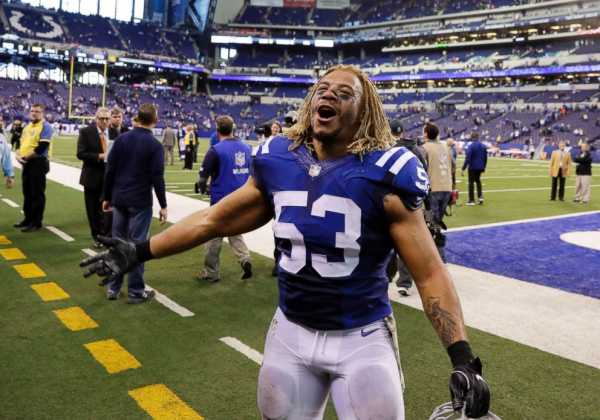 Darron Cummings/AP, FILEIndianapolis Colts linebacker Edwin Jackson walks off the field following an NFL game against the Tennessee Titans, Nov. 20, 2016, in Indianapolis.
Republican Rep. Todd Rokita was the first to link the crash to the immigration debate.
"We must do more to get these dangerous illegal immigrant criminals off of our streets, and guarantee this never happens again by building a wall, ending sanctuary cities, and stopping illegal immigration once and for all," Rokita said in a statement.
Rokita's Republican challenger and House colleague, Rep. Luke Messer, backed President Trump's comments about the crash on Twitter, adding: "Clearly, the suspect in this case should not have been in the country, and this tragedy is yet another result of our broken immigration system."
And the red state's Democratic incumbent, Sen. Joe Donnelly, seems to be leaving no daylight between himself and his opponents on the right. "This man should not have been allowed back into this country after he was deported in 2007," Donnelly said in a statement, urging a fix to "our broken immigration system to help prevent this from happening again."
The question now: Will these candidates' calls for immigration reform be heard on Capitol Hill?
WHAT YOU NEED TO KNOW TODAY
President Trump meets with Republican members of the Senate Finance Committee behind closed doors at 2:15 p.m.
Rep. Eric Swalwell, D-Calif., and former New Jersey governor Chris Christie will be guests on ABC's "Powerhouse Politics" podcast to give their analysis on the Nunes memo.
Vice President Mike Pence arrives in Seoul, South Korea, to meet with President Moon Jae-in.
QUOTE OF THE DAY
"Treason is not a punchline, Mr. President." — Sen. Jeff Flake, R-Ariz., on the Senate floor Tuesday, responding to President Donald Trump's calling Democrats who didn't applaud during his State of the Union "treasonous."
NEED TO READ
Trump threatens another government shutdown over immigration. President Donald Trump threatened to shut down the government again this weekend if Democrats don't agree to his immigration reform plans, specifically what he called loopholes in the immigration system that could allow dangerous criminals into the country. (Stephanie Ebbs, Jordyn Phelps and Mary Bruce) https://abcn.ws/2EM1wQf
Trump requests Pentagon plan big military parade. The president visibly enjoyed watching as large numbers of French troops and armored vehicles passed by the presidential reviewing stand at last year's Bastille Day parade, which he watched at the invitation of French President Emmanuel Macron. (Luis Martinez) https://abcn.ws/2E6tARw
House passes rollback of Obama-era menu labeling rules. The House passed a bipartisan bill Tuesday that, if passed by the Senate, would roll back regulations requiring how restaurants and other food establishments need to list calorie counts and other nutrition details on menus and websites. (Jeff Cook) https://abcn.ws/2BIdkEA
Trump blasts undocumented immigrant who allegedly killed Colts player in drunken crash. In President Donald Trump's push for immigration reform, he is blasting an undocumented immigrant who allegedly killed two men, including an NFL player, in a car crash on Sunday. (Emily Shapiro) https://abcn.ws/2Em99iG
Vice President Pence opens door to North Korea meeting: 'We'll see what happens.' Vice President Mike Pence on Tuesday signaled openness to a possible face-to-face meeting with North Korean officials on the sidelines of the Winter Olympics this month, an encounter that would be the highest-level American contact with the rogue regime in decades. (Devin Dwyer) https://abcn.ws/2FQVCN4
Senate on verge of major spending deal ahead of possible government shutdown. The Senate is on the verge of a bipartisan deal to end the gridlock over the government's operations, as Congress faces a deadline Thursday that could produce the second shutdown of the year. (John Parkinson) https://abcn.ws/2BcwX6F
Trump Jr. on charges his father is racist: 'All the rappers, all his African-American friends … have pictures with him.' The president's eldest son isn't mincing words about critics of his father who label him as a racist, implying that such a characterization is misguided — and there are photos to prove it. (David Caplan) https://abcn.ws/2sh15e8
Holocaust denier is GOP's congressional candidate in Illinois. A Holocaust denier and self-described white racialist, running for Congress in Illinois, will be on the Republican ballot there in November's midterm election, and there's little angry state GOP officials can do about it. (Molly Nagle) https://abcn.ws/2BJtcXw
Politico reports on the future of Minority Leader Nancy Pelosi and what she faces if Democrats don't take back the House in November. "It will be an intraparty war," said one representative. https://politi.co/2C277im
Sourse: abcnews.go.com