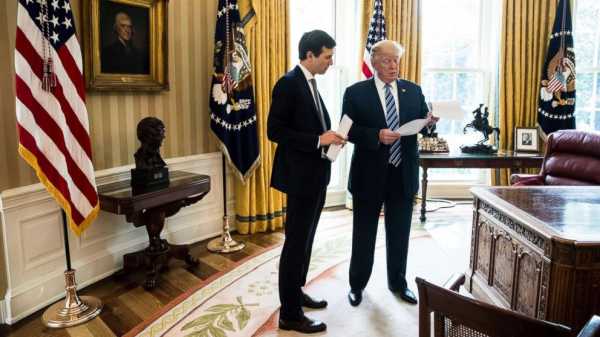 But that joke is on him. More specifically, it's on his inner circle, and especially his own family, as White House dysfunction spills over into improvisational policymaking on trade and maybe guns and immigration.
From Steve Bannon through Rob Porter and now Jared Kushner, 2018 has been subsumed by staff drama inside the Trump White House. Hanging over it all is a battle the president himself is continuing to wage on his own attorney general – who awkwardly sat a few seats away from him at the Gridiron.
Reading just slightly between the lines drawn by Chris Christie and Reince Priebus on "This Week" Sunday, a consensus among Trump loyalists begins to emerge. The president, in their view, needs another staff shakeup – this time starting with members of his own family.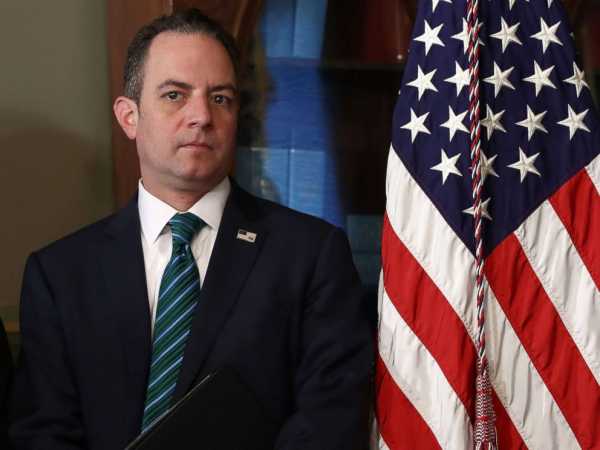 Win McNamee/Getty Images, FILEWhite House Chief of Staff Reince Priebus attends the swearing in ceremony for Nikki Haley as the U.S. Ambassador to the United Nations, Jan. 25, 2017 in Washington, D.C.
The RUNDOWN with MaryAlice Parks
Primary voters head to the polls in Texas on Tuesday, officially kicking off the 2018 midterm cycle. Up and down their ballots, they will find a record-number of female candidates and, based on interviews, fundraising numbers and early voting totals, it is clear all of the new candidates are formidable.
The high caliber of candidates this cycle, including first-time female candidates, has been notable across the country, and those running in Texas are no exception. They bring diverse ethnic, socio-economic and career backgrounds, as well as a refreshing amount of purpose and frankness to their answers and campaigning.
Voters we have talked to in Texas are, unsurprisingly, concerned about a range of issues, including the president's tweets, education, health care, jobs and immigration.
What has been surprising is how often their ideas and opinions on tough policy questions do not easily align with the rhetoric from the two parties back in Washington. For instance, plenty of self-described conservatives and Republicans in Texas have told us they believe in extending more pathways to citizenship for Dreamers and other laborers already in the country.
The TIP with Rachel Scott
Early voter turnout has been high in Texas among Democrats — who've shown enthusiasm in highly-competitive races like Texas' 7th Congressional District — or TX-07.
Democrats cast more ballots than Republicans during early voting, according to state election figures for cumulative in-person and mail-in ballots in the largest fifteen counties. Throughout the 11 days of early voting, Democrats cast 465,245 ballots – nearly 45,000 more than Republicans — who cast 420,329 ballots in those selected counties.
Democrats, with nearly 53% early voting, doubled their turnout in the 2014 midterm election in those counties. In Harris County, which includes Houston and a large part of TX-07, Democratic turnout jumped from 30,108 in 2014 to 87,916 in 2018.
While the early voting numbers are revealing, political strategists caution voter turnout on election day still will be key to the outcome. TX-07 surrounds the Houston suburbs and has become a top target for Democrats in 2018 after Clinton flipped the long-standing red district to blue in 2016. Several Democrats and one Republican are running in hopes of unseating GOP Rep. John Culberson, who is up for re-election.
WHAT YOU NEED TO KNOW TODAY
• President Trump and the first lady Melania Trump host Israeli Prime Minister Benjamin Netanyahu and his wife Sara Netanyahu at noon.
• President Trump meets with the U.S. Ambassador to the United Nations Nikki Haley at 2 p.m.
• Vice President Pence speaks at the American Israel Public Affairs Committee policy conference this evening.
• The Congressional Hispanic Caucus holds a news conference to discuss the DACA deadline President Trump originally set for today.
QUOTE OF THE DAY
«He feels like that was … the first sin, the original sin, and he feels slighted by it.» – Former White House chief of staff Reince Priebus, on ABC's «This Week,» explaining President Trump's view of Attorney General Jeff Sessions recusing himself from overseeing the Russia investigation.
NEED TO READ
Inside Trump's $100 million man's rapid rise to power. Newly minted Trump 2020 campaign manager Brad Parscale is already Donald Trump's $100 million man. (Jonathan Karl, Katherine Faulders and Soorin Kim) https://abcn.ws/2oIOcFr
'Wrong' to think Trump's tariffs will 'destroy jobs and raise prices': Commerce secretary. President Donald Trump's secretary of commerce dismissed criticism that proposed tariffs on imported steel and aluminum would lead to a loss of U.S. jobs and price hikes for consumers. (Allison Pecorin) https://abcn.ws/2oOcsFn
«Cautious optimism» as Trump faces pressure to amp up response to opioid crisis. In conversations with nearly a dozen lawmakers, former members of the president's opioid commission and others who have interacted directly with the White House's efforts, there remains a wide consensus that, despite recent significant gains, there are continued concerns that the administration is still not yet addressing the epidemic with the urgency it demands. (Alex Mallin) https://abcn.ws/2FUlEAw
Exclusive: James Comey to give first interview to ABC News' George Stephanopoulos. Comey, who served as director of the FBI from 2013 to 2017, has been involved in some of the most consequential cases and policies of recent history — from prosecuting Martha Stewart and mafia kingpins to overseeing Hillary Clinton's email investigation and the alleged ties between the Trump campaign and Russia. (ABC News) https://abcn.ws/2FebrNW
How gender equality and diversity were addressed at 2018 Oscars. At one point in the show, Weinstein accusers Ashley Judd, Salma Hayek and Annabella Sciorra joined together to give an emotional tribute to the #MeToo movement and inclusion in Hollywood by way of introducing the video clip. (Luchina Fisher and Michael Rothman) https://abcn.ws/2tegU5X
Dreamers deferred as Congress lets DACA deadline pass. Six months ago, when he announced he was ending the Obama-era Deferred Action for Childhood Arrivals program, President Donald Trump picked March 5 as the deadline for Congress to work out a solution to prevent DACA recipients from facing deportation. https://abcn.ws/2H5u9In (Ali Rogin and Mariam Khan)
Democratic infighting in Texas as primary approaches. Some Democrats and progressives are firing back at the Democratic Congressional Committee (DCCC) after the group surprisingly targeted one of their own: Texas congressional candidate Laura Moser. (Rachel Scott) https://abcn.ws/2H2cscy
Out of the shadows: A young Dreamer has a political awakening in the midst of the midterms. On Tuesday, the 2018 election season kicks off in Eliott Flores' home state of Texas as voters cast their ballots in the primaries for state and federal offices. Though he will turn 18 just weeks before the 2018 midterm elections, he is keenly aware that he does not get to vote for the lawmakers deciding his future. (Cheyenne Haslett) https://abcn.ws/2FUx1IB
Trump will never 'let it go' that Jeff Sessions' recusal from Russia probe was 'original sin': Priebus. The former chief of staff to President Donald Trump said the president sees Attorney General Jeff Sessions' recusing himself from the Russia probe as «the original sin» and he will never «let it go.» (Quinn Scanlan and Andres del Aguila) https://abcn.ws/2FbPvqR
Kushner has 'got to go' if reports about his role in Qatar blockade true: Leading Democrat. A leading Democratic senator said Sunday that White House senior adviser Jared Kushner needs to leave his post if recent reports are true alleging the Trump son-in-law took a position on certain Middle East political issues in response to his family's business interests. (Allison Pecorin and Quinn Scanlan) https://abcn.ws/2oH6J4Z
At least 50 women running for Congress in Texas primaries, a record number. That is in addition to the 110 Texan women seeking local office this election season, which is also a record for a conservative state that has traditionally swayed toward male representatives. (Allison Pecorin) https://abcn.ws/2FVwJkR
The Miami Herald analyzes the efficacy of various proposals to counteract mass shootings. https://hrld.us/2oLR03Y
The Washington Post relays the highlights of President Trump's comic Gridiron gala performance Saturday night. https://wapo.st/2oOe6XG
Sourse: abcnews.go.com