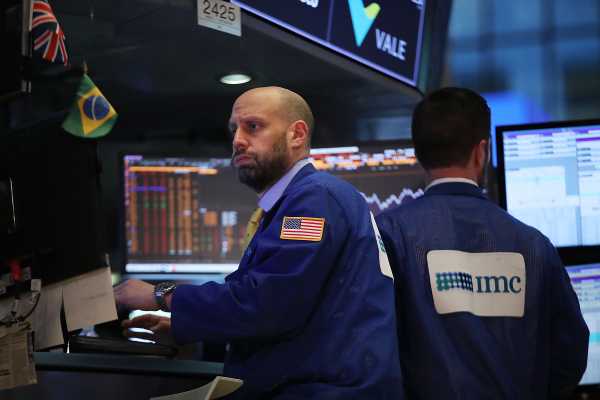 The Dow Jones plunged more than 1,000 points on Thursday in another volatile day for the stock market. It was the second-worst single-day point drop in history, beaten only by the record set after this Monday's 1,175-point drop.
The Dow's tumble of 1,033 points on Thursday officially marks a stock market correction, which means the market is down 10 percent from its previous high.
As Vox's Emily Stewart wrote earlier this week, market observers have been bracing for a correction for a while now: "markets have largely been climbing since the recession and bull markets can't last forever."
Investors are likely skittish because the prospect of increased inflation may force the Fed to raise interest rates faster than expected.
The market's recent volatility has wiped out the Dow's gains (and the S&P 500's) for 2018. But it's probably not time to panic just yet, despite the uncertainty. As Stewart also pointed out, this is kind of how the stock market behaves — people just aren't used to it:
Or as one expert, Rich Guerrini, CEO of PNC Investments, put it to CNN Money: "This is not the end of the world, but it is uncomfortable."
President Trump has touted the roaring stock market as one of his presidential achievements. It was a risky move — taking credit for something unpredictable opens up the potential of getting blamed for it too — and one that has backfired a bit amid this latest selloff.
White House spokesperson Raj Shah said on Thursday that the "president, like the rest of the White House, is concerned about long term economic indicators," adding that the "factors and fundamentals in terms of long term are very strong."
Sourse: vox.com