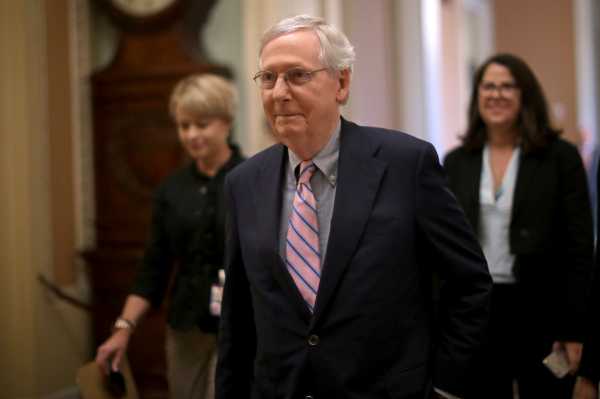 Republicans are taking a victory lap after Brett Kavanaugh was confirmed to the Supreme Court on Saturday.
The United States Senate voted 50-48 to confirm Kavanaugh to the Supreme Court. It's the closest vote on a Supreme Court nominee since 1881 and brings to a close a bruising battle that entailed allegations of sexual assault and misconduct against Kavanaugh, an FBI investigation, and intense inter-party fighting.
Kavanaugh is the most unpopular Supreme Court nominee in decades and will be the least popular justice in modern history. Thousands of people protested outside of the Senate on Saturday before and after Kavanaugh's confirmation, as Republicans celebrated their political win.
President Donald Trump took to Twitter on Saturday to applaud the Senate vote, saying he would sign his commission of appointment later in the day.
Speaking with reporters on his way to a rally in Kansas before Kavanaugh was confirmed, Trump called the judge an "extraordinary person" and "great talent" who would "make us all very proud" on the court, according to the White House press pool. He also said that perhaps the fight over Kavanaugh over the past week — including the FBI investigation into allegations of sexual misconduct and assault against him (all of which he has denied) — were perhaps a good thing.
"I also feel very strongly that, in the end, maybe the process, it was really unattractive, but the extra week was something that I think was really good," Trump said. "I thought it was really good. I think a lot of, a lot of very positive things happened in the last week. It didn't look that way, but in the end that's what happened."
The Republican National Committee also celebrated the Kavanaugh vote. Chair Ronna McDaniel in a statement upon Kavanaugh's confirmation said that the judge will make an "excellent addition" to the court and applauded Trump, who "kept his promise" with his nominee.
She also took a swipe at Democrats over their "shameful" tactics — that is, pushing for an FBI investigation into allegations that he had sexually assaulted a woman when they were both in high school.
"Unfortunately, their obstruction campaign has backfired. Republican voters are energized and the American people are ready and eager to hold obstructionist Democrats accountable for their reckless behavior in November," she said.
Hours before the vote that confirmed Kavanaugh, Senate Majority Leader Mitch McConnell told the Washington Post that opposition to Kavanaugh's nomination had been a "great political gift" to Republicans ahead of the midterms.
"The tactics have energized our base," he said. "I want to thank the mob, because they've done the one thing we were having trouble doing, which was energizing our base."
McConnell praised Maine Republican Sen. Susan Collins, who on Friday announced she would vote to confirm Kavanaugh in a speech on the Senate floor, calling her "very independent" and "very smart." He said she went through the confirmation process "very thoughtfully."
Trump also praised Collins. "She didn't stop and she gave an impassioned, beautiful speech yesterday, and that was from the heart," he said. "That was from the heart. I have great respect for Susan Collins and I always have. Thank you."
The president took a swipe at Alaska Republican Sen. Lisa Murkowski, who voted "present" on Kavanaugh, in an interview with the Post after the vote. "I think she will never recover from this," Trump said. "I think the people from Alaska will never forgive her for what she did."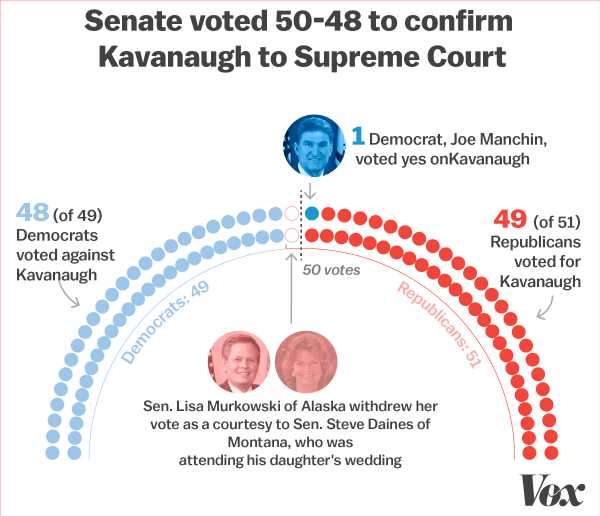 Will this help Republicans in November? It's unclear.
There has been some polling to suggest that the battle over Kavanaugh's nomination has energized Republican voters, but as Vox's Dylan Scott points out, it's complicated.
It might be good for the GOP's prospects in the Senate, as many battles are being fought in red states, but in the House races, it's a different story:
At the moment, Republicans appear to be quite confident that Kavanaugh's confirmation will help, not hurt.
"Nothing brings home the importance of the Senate like a court fight, and nothing unifies Republicans like the courts," McConnell told the Post.
Sourse: vox.com