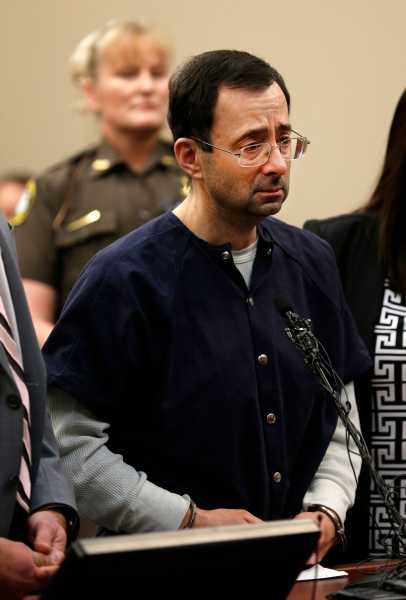 Larry Nassar, the former USA Gymnastics and Michigan State University doctor who sexually abused dozens of girls and women, will likely die behind bars: "I just signed your death warrant," Judge Rosemarie Aquilina told him at his sentencing hearing last week.
But scrutiny of the institutions that employed Nassar has just begun.
Survivors and the public are calling for Michigan State University and USA Gymnastics to account for their failures. They are demanding these institutions explain how a doctor accused of molesting more than 160 women and girls did not face real consequences for decades, and acknowledge how that silence enabled Nassar to become perhaps the worst known sexual predator in American sports history.
Michigan State University, in particular, is now facing intense scrutiny for neglecting to act on suspicions about Nassar dating back to the 1990s. The case is drawing unsettling parallels to the institutional breakdowns at Penn State revealed during the case of former assistant football coach Jerry Sandusky, who was convicted of molesting young boys in 2012.
The fallout has already begun. Dozens of Nassar's former patients are suing the university. MSU president Lou Anna Simon resigned last week, hours after Nassar's sentencing. The MSU athletic director retired Friday. The Department of Education has opened a formal investigation into the university. So has the NCAA. Michigan Attorney General Bill Schuette is embarking on a "full review" of the Nassar case.
Michigan State is now staring down a pile of lawsuits and numerous investigations. The financial consequences may be staggering, depending on what the investigations reveal.
Beyond that, the university itself will have to reckon with its role in Nassar's abuse. At Nassar's sentencing hearing, 15-year-old Emma Ann Miller told the court Nassar had molested her in August 2016 at MSU. The university suspended him about a week after, she said, and she offered a chilling thought: "I'm possibly the last child he will ever assault."
Her mother, Miller added, was still getting bills from MSU sports medicine — bills, she said, "for appointments where I was sexually assaulted."
Women reported Nassar to MSU representatives as early as the 1990s
Nassar's medical career is deeply entwined with Michigan State University. He attended medical school there, and he served on the faculty and saw patients at the university starting in 1997.
Nassar had, at that point, already established his relationship with USA Gymnastics — a résumé booster that helped burnish his reputation at MSU and in the area's gymnastics community.
But complaints against him reportedly began almost as soon as his tenure did. ESPN Outside the Lines interviewed four women who said they told MSU coaches or trainers about Nassar as far back as the 1990s.
Two women said they told Kathie Klages, MSU's longtime gymnastics coach, in 1997 that they felt uncomfortable about Nassar's behavior during appointments. One was a 14-year-old girl at the time, and the other was 16-year-old Larissa Boyce, who was participating in a youth gymnastics program sponsored by the university.
Boyce said she told Klages that Nassar put his fingers inside her during treatment, and, according to Boyce, Klages dismissed the story because she knew and trusted Nassar.
Klages retired last February, almost immediately after the university suspended her.
But others came forward even after Boyce. Tiffany Thomas Lopez, a former MSU softball player, told ESPN she complained about Nassar to three athletic trainers in 1998:
MSU runner Christine Achenbach said she told a coach about Nassar in 1999. That complaint, too, went nowhere.
A separate Detroit News investigation found that no fewer than 14 MSU coaches, trainers, and other representatives knew of allegations against Nassar in the nearly 20 years before his arrest. At least eight women — including the four athletes who talked to ESPN — and girls had made complaints, including one who contacted local police officials in 2004.
A 2014 Title IX investigation into Nassar raises red flags
University officials also learned of complaints against Nassar after Michigan State launched a Title IX investigation into the doctor in 2014. Amanda Thomashow, then a recent MSU graduate, reported to university officials that she had visited Nassar's clinic for hip pain and he had massaged her breasts and vaginal area. Thomashow said he stopped only after she physically took his hands off her.
Nassar, who was interviewed during the inquiry, told investigators his procedures were medically necessary, including touching patients' breasts. He said Thomashow's description of him touching her vaginal area "sounds like standard operating procedure."
Investigators also interviewed other medical and sports medicine professionals, and all agreed the procedure was medically sound. According to the Detroit Free Press, the university consulted four experts to draw their conclusions — all of whom had ties to Nassar.
The university closed the investigation after three months, in July 2014. It dismissed the woman's claim, concluding that she hadn't understood the "nuanced difference" between sexual assault and an appropriate medical procedure.
After the Title IX investigation began, both MSU police and local prosecutors in Ingham County started a criminal investigation as well. But Nassar was allowed to return to work and saw patients even as those investigations were ongoing. The MSU police closed their investigation in July 2015; local prosecutors declined to prosecute in December 2015.
Nassar's superiors did put restrictions on him, including having another person present in the room when practicing treatment that involved sensitive areas. William Strampel, the dean of Michigan State's osteopathic medical school and Nassar's boss, reportedly told police he did not "see the need to follow-up to ensure" the doctor had been following those rules. (Strampel took a medical leave of absence in December.)
MSU has denied any cover-up relating to Nassar. "Any suggestion that the university covered up Nassar's horrific conduct is simply false," the university said in a statement, in response to the victim impact statements.
Multiple investigations into MSU are beginning
The university is now under investigation by the federal government, which is looking into whether it violated laws that require colleges to disclose crimes on campus. The Department of Education notified the university on January 18 of its inquiry — though it will likely take years to complete.
The Clery Act requires colleges that receive federal financial aid to disclose crime and public safety statistics. It's essentially a consumer protection law — unlike Title IX, which is a civil rights issue.
Financial penalties are the main enforcement for Clery violations, but investigations often initiate improvements and overhauls to campus policies, said Alison Kiss, the executive director of the Clery Center. Penn State, after the Sandusky case, set the record for a Clery violation, after the Department of Education fined the university close to $2.4 million for failing to disclose information about Sandusky and other crimes.
Kiss said Clery investigations are usually just the starting point. Even as investigators home in on Nassar, she said, they might uncover other safety or reporting gaps along the way. Those could lead to more penalties.
In addition to the federal investigation, the Michigan attorney general is now appointing a special prosecutor to investigate the university. AG Bill Schuette said at a press conference Saturday that "no individual or department is off-limits" from the investigation.
William Forsyth, a Michigan county prosecutor for 30 years, will lead the probe, which will cover how Nassar got away with abuse for two decades, and who knew what and when. "We will put a bight light in every corner of the university," Schuette said.
Michigan Gov. Rick Snyder is also considering a separate investigation, according to the Associated Press.
Nassar has sparked broader concerns about MSU's handling of sexual assault cases
The handling of the Nassar has raised questions about systemic problems across MSU athletics when it comes to the handling of sexual misconduct allegations.
A separate and sweeping ESPN Outside the Lines report by Paula Lavigne and Nicole Noren found what they called a "pattern" of MSU officials bungling complaints of sexual assault or violence, or being less than transparent with the public about those investigations.
The ESPN report revealed alleged problems within two of the university's most high-profile sports: football and men's basketball, including alleged instances where sexual assault claims were handled by the athletic department or coaches.
According to their investigation, 16 MSU football players have been accused of sexual assault or violence since the 2007 season, including some previously unreported cases. Four football players were disciplined last year for sexual assault; all were dismissed from the team and university, and one faced criminal charges. The consequences for the other players were unclear, according to ESPN.
ESPN also discovered that a former undergraduate student assistant basketball coach had been criminally charged for punching a female MSU student in 2010 at a bar, but he was permitted to keep his position. Later that year, he was accused of raping another female student, along with two other unnamed basketball players. The student assistant coach was fired after that, but according to a former sexual assault counselor at MSU, "little action was taken in regard to the players, and the report stayed within the athletic department."
Another alleged 2010 rape case involving two basketball players drew media coverage and MSU student protests, but the players were never suspended from the team.
That MSU counselor, Lauren Allswede, who stepped down in 2015 after seven years, told ESPN: "Whatever protocol or policy was in place, whatever frontline staff might normally be involved in response or investigation, it all got kind of swept away and it was handled more by administration [and] athletic department officials."
MSU football coach Mark Dantonio disputed the ESPN report, saying Friday that "when we find out about the problems, it has come from the police or university authorities. I can assure you in last year's incidents I also immediately reported them to the proper authorities."
Basketball coach Tom Izzo said that "we'll cooperate with any investigation and always have."
The NCAA has also launched an investigation into Michigan State over the Nassar case, examining any possible "rules violations." That could possibly result in sanctions for the school or fines — though as SB Nation points out, the situation is a bit knotty because while athletes alleged abuse, Nassar wasn't actually a member of the athletic department.
Michigan State's president resigns — it's just the beginning
Nassar had already pleaded guilty to federal child pornography charges in July 2017 and criminal sexual conduct in November. But it took survivors, testifying one by one at Nassar's sentencing last week, to ignite an overdue firestorm directed at Michigan State.
MSU president Lou Anna Simon stepped down hours after Nassar's sentencing last week. She had faced building pressure from two board of trustees members, lawmakers, and students.
Simon said in a statement that "as tragedies are politicized, blame is inevitable. As president, it is only natural that I am the focus of this anger. I understand, and that is why I have limited my personal statements. Throughout my career, I have worked very hard to put Team MSU first. Throughout my career, I have consistently and persistently spoken and worked on behalf of Team MSU."
Athletic director Mark Hollis announced his retirement, effective January 31. He had overseen the athletic department since 2008, though he told police in March 2017 that he had limited interaction with Nassar and did not recall the Title IX complaint, according to Michigan Live.
Simon was among the MSU officials who knew of the Title IX investigation into Nassar, though she claimed she never saw a final report. "I was informed that a sports medicine doctor was under investigation," she said a week before she stepped down. "I told people to play it straight up, and I did not receive a copy of the report. That's the truth."
An internal investigation, led by former federal prosecutor Patrick Fitzgerald, found that no university officials knew of Nassar's crimes until the August 2016 media reports — and administrators took swift action then, relieving Nassar of patient privileges and then firing him altogether shortly after that.
But even if administrators such as Simon didn't know the results of the Nassar investigation in 2014, it still raises the question of why the university didn't act more aggressively on the allegations.
University presidents fall into the role of "cheerleader for that institution," which can put the institution before the students the university is supposed to represent, said Ronald A. Smith, a sports history professor emeritus at Penn State and author of Wounded Lions: Joe Paterno, Jerry Sandusky, and the Crises in Penn State Athletics.
To Smith, Simon's statement that she always put "Team MSU" first is the most telling sign of what might have gone wrong.
"To me, that's an indictment of her," Smith said. "She should have been saying, 'We put the players for the gymnastics team first, and their welfare.'"
What comes next?
The Sandusky scandal at Penn State is probably the closest analog to what Michigan State is facing in the Nassar fallout, though far more victims have come forward in the Nassar case.
Sandusky, a former Penn State defensive coordinator, was convicted in 2012 of sexually assaulting 10 boys over 15 years. He had worked for legendary head coach Joe Paterno, and though he retired in 1999, he retained an office at the university and access to the facilities. He also ran a charity, Second Mile, for troubled kids, which prosecutors alleged he used to groom his victims.
Sandusky had been investigated as early as 1998 by Penn State police, but no charges had been brought. Then in 2001, an assistant coach told Paterno he saw Sandusky in the shower with a 10-year-old boy; Paterno reported it to the athletic director and campus administrator, who failed to act on the report.
Sandusky was charged nearly 10 years later, in 2011, before his conviction in June 2012.
Penn State University faced staggering financial consequences and has paid out about a quarter of a billion so far, including lawsuits to about 35 victims that have totaled more than $100 million.
Louis Freeh, a former FBI agent, was hired by the Penn State board of trustees to investigate the Sandusky scandal and delivered an excoriating condemnation of the administration, including then-president Graham Spanier and legendary football coach Joe Paterno, who died shortly after he was fired.
A criminal investigation also eventually led to charges for Spanier, former athletic director Tim Curley, and former vice president Gary Schultz for failing to alert authorities after that 2001 complaint against Sandusky, which, according to prosecutors, allowed him to continue his abuse.
"Let me tell you two words that you'll probably see very, very often: 'Move forward,'' Smith told Vox about Michigan State's approach to the crisis.
"The mantra will be, 'Move forward,' and that's exactly what happened at Penn State," Smith continued. "They wanted to move forward and not deal with anything in the crisis. If Michigan State does that it's going to be a major problem for them — as it was at Penn State."
MSU would like to avoid the comparison to Penn State. One board of trustees member had to apologize for dismissing the Nassar case as "not Penn State."
The various investigations will likely play out over the course of months or, likely, years, meaning this is far from over for Michigan State. But either way, the results will likely be damning if university officials knew and did not act, or if university officials somehow didn't know, revealing alarming institutional breakdowns.
"I told somebody," Larissa Boyce recalled of her 16-year-old self during Nassar's sentencing hearing. "Instead of being protected, I was humiliated and told that I was the problem."
Boyce tried to speak out against Nassar in 1997. She is now 37 years old; her husband is a teacher at the local high school. In addition to his wife, one of his former students also testified at Nassar's sentencing, he told the New York Times. It was Emma Ann Miller, the teenager who saw Nassar before his firing — the one who said in court, "I'm possibly the last child he will ever assault."
Sourse: vox.com