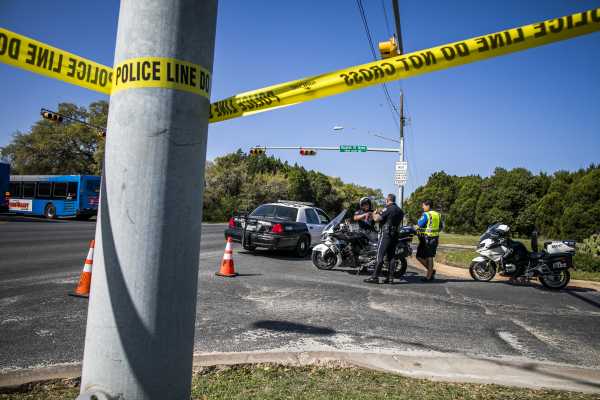 President Trump has finally addressed the ongoing attack on an American city with the same amount of effort he gives to insulting Democrats.
On Tuesday, the president gave a few on-camera remarks about the series of bombings in Austin, praising the cooperation of local, state and federal law enforcement agents — while demanding that they find the perpetrators "really, immediately."
A transcript of his remarks:
Four bombs have exploded in residential neighborhoods in Austin since March 2, in what appears to be an increasingly sophisticated bombing campaign. A fifth bomb exploded at a FedEx facility outside San Antonio Monday night; the bomb was in a package addressed to Austin. (A sixth bomb at the same facility was identified before it exploded.)
According to Austin's police chief, more than 500 federal agents are working on the case as police try frantically to track down any leads to the bomber. The city's mayor tweeted reassurances to residents Monday night that a "small law enforcement army" was on the case:
These are the moments when a president typically has to act as a head of state — to acknowledge the pain and fear Americans are feeling, and to reassure them that their government is doing all it can to keep them safe. So remarks from a president — especially a president who tweets and consumes news so voraciously — were expected. And the president's slowness to offer them was notable — especially during a week where he was so outspoken about so many things, from staff shakeups to the investigation led by Robert Mueller into Russia's interference in the 2016 presidential election.
Trump's belated remarks raise awkward questions about whose lives matter
The first three explosions — which killed 39-year-old Anthony House and 17-year-old Draylen Mason, as well as injuring two women — were package bombs, leading the Austin Police Department to caution residents not to open or touch any suspicious packages. When the second and third bombs exploded on March 12, investigators began to put together a pattern that suggested that the bombings were related: House's and Mason's families knew each other through black community activism. (The third bomb injured a Latina woman in east Austin, though it's not clear whether it was intended for her.)
The president tweeted about a "heartbreaking" bridge collapse at Florida International University. He sent condolences to the families of two naval aviators. He fired his secretary of state over Twitter and spent the end of the week hinting ominously to the press that more firings were on the horizon. He warned about the hypothetical threat to the safety of Americans posed by "dangerous criminal aliens," "set free to prey on innocent Americans."
But he didn't say anything about the actual threat to the safety of innocent Americans posed by Austin's package bombs.
A president who cared more about trying to reassure all Americans that he was their president regardless of whether they voted for him in 2016 — or who felt any lingering shame over his response to violence in Charlottesville, Virginia, in September 2017, when his insistence on blaming "both sides" struck many as a defense of neo-Nazis — might have been particularly quick to condemn attacks that were killing black Americans involved in racial justice.
But the president — who, by all reports, is more self-confident and self-reliant than ever, and increasingly convinced that he understands the presidency better than his advisers — felt no need to do any of that.
By the time Trump spoke out about the bombs, there had been 2 more explosions and 2 more injuries — with the latest victims being white cyclists in a southwestern Austin neighborhood (which, unlike the east Austin neighborhoods to which the package bombs were addressed, isn't predominantly black).
It's fair to ask what took so long. It's fair to ask why Trump didn't actually name House and Mason, or even acknowledge, in his remarks, that Americans had been killed. It's fair to ask why the president isn't jumping on the opportunity to reassure America that he cares about all American victims of violence, not just the white ones.
President Trump called Austin "a great place, tremendous place" on Tuesday. But its residents might well ask why it took them so long to be seen, and whether Trump really does see all of them.
Sourse: vox.com