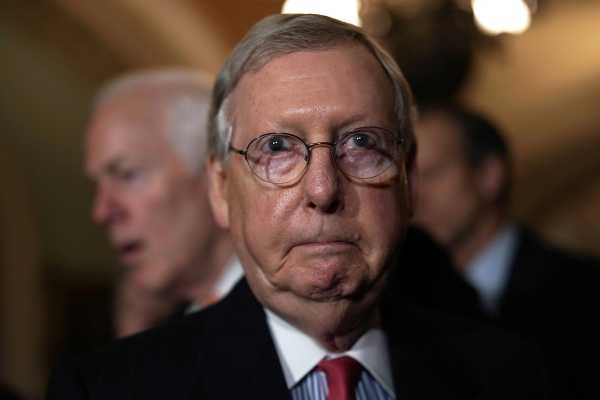 The federal spending bill, which Congress passed to end the three-day government shutdown two weeks ago, runs out again this Thursday, and Congress hasn't made any progress toward reaching a permanent funding deal or dealing with the immigration issue — the problems that brought them to a shutdown in the first place.
Congress has to pass a spending bill by midnight Thursday, February 8, or the government will shut down again.
In January, Democrats and some Republicans voted against funding the government in what became a three-day standoff over federal spending, stemming from a failure to address the now-sunsetting Deferred Action for Childhood Arrivals (DACA) program. With the end of the shutdown, lawmakers anticipated a renewed vigor behind the immigration and spending debates.
Instead, negotiations have atrophied in the past two weeks as lawmakers have spent the majority of weekdays out of Washington, either in their home districts or on annual party retreats. Republicans went to Greenbrier resort in West Virginia last week and Democrats are scheduled to be in Cambridge, Maryland, for three days starting February 7, in direct conflict with the spending deadline.
It's left Congress in essentially in the same position it was in the days leading up to the last government shutdown: Lawmakers have been unable to reach an agreement on long-term budget caps, the upper spending limits for the military and domestic programs, meaning they will have to vote on another short-term spending bill to keep the government open.
Meanwhile, DACA negotiations have completely stalled, stuck between the moderate-but-passable proposals that the White House won't support, and conservative Trump-endorsed proposals that won't see the light of day in the Senate. At some point, lawmakers will also have to address the debt ceiling, which the Treasury Department says it will hit by early March — earlier than expected, the New York Times reported, because of the debt taken on by the GOP tax bill passed late last year.
Democrats seem to have lost their appetite for another shutdown, but that doesn't erase the number of contentious and high-stakes policy fights looming over Congress this month. This is the latest chapter of the messy shutdown showdown of 2018.
The government has been running on a short-term spending bill since September, and that won't change anytime soon
Now only three days before the shutdown deadline, House and Senate leaders are expected to inform their members of a plan to pass yet another short-term government spending bill to keep the government open for a few more weeks, giving lawmakers additional time to strike a more permanent 2018 spending agreement.
If it passes, it will be the fifth short-term spending bill Congress has installed since the start of the fiscal year last September, a trend that has increasingly angered lawmakers who are eager to permanently fund domestic programs and defense spending.
But to reach a more permanent spending solution for 2018, Republicans and Democrats first need to agree on new budget caps.
This fight goes back to 2011 when an Obama-era impasse over the debt ceiling brought the American economy to near calamity, which ultimately resulted in the 2013 sequester, setting into law across-the-board budget cuts and establishing budget caps that would amount to $1.2 trillion in cuts over the next 10 years.
Congress has repeatedly voted to raise the budget caps and give sequester relief. Since the sequester, there have been two bipartisan deals to raise the caps by billions of dollars. The first in 2013 was forged between Rep. Paul Ryan and Sen. Patty Murray; a second was agreed on in 2015. But those adjustments, which extended through fiscal year 2017, have now expired.
In 2018, the sequester budget caps max out defense spending at $549 billion and non-defense discretionary funding at $516 billion, far less than what both Republicans and Democrats would like to spend. Last year, Trump's budget called for $603 billion in defense funding, and both the Senate and House separately proposed even higher figures.
Republicans need Democratic votes to raise the budget caps on military spending and domestic programs to meet the Senate's 60-vote threshold. So far, the parties still haven't agreed on new budget caps. Last week Sen. Dick Durbin (D-IL) told reporters that Democrats and Republicans were still far apart on spending caps negotiations. Without budget caps, any massive spending bill risks triggering another sequester — across-the-board cuts to domestic and military spending.
Democrats have established a guiding principle in spending cap negotiations: If Republicans want more funding for defense, then Democrats want a one-for-one increase in non-defense funding. This time, however, that agreement hit a snag.
Reaching a budget cap deal is a high priority for defense hawks in Congress, who say short-term spending deals hobble the military, preventing them from being able to adequately plan resources. Republicans in the House are trying to move forward a defense spending bill without addressing domestic spending, which is a "nonstarter" for most Democrats.
Meanwhile, the standoff has stalled appropriators — the lawmakers in charge of the nation's purse strings — who need these top-line numbers to begin putting together a trillion-dollar spending bill that would fund the government through next September, a process that could take a month.
Congress still doesn't appear any closer to an actual deal on immigration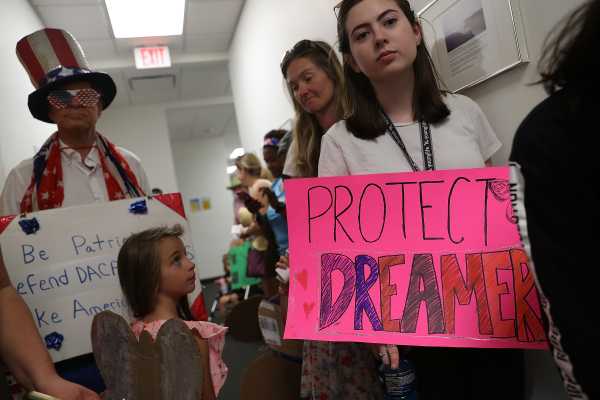 When Democrats and Republicans voted to reopen the government, the idea was they would spend the following weeks cobbling together a deal on immigration and more permanent government spending in the weeks ahead.
But the actual legislative calendar shrank that window for negotiation, and negotiations have since increasingly splintered.
Two weeks ago, Trump's administration briefed Republican congressional aides with an immigration proposal that called for a path to citizenship for 1.8 million undocumented immigrants who came to the country as children, $25 billion to fund a Southern border wall, substantial curtailing of family immigration, and the elimination of the diversity visa lottery program, which would gut the legal immigration system.
The proposal was largely interpreted as a White House alternative to the one bipartisan proposal by Durbin and Sen. Lindsey Graham (R-SC) on immigration that Trump has already shot down.
Both Republican leaders in the House and Senate supported the clarity offered by the White House proposal but made no commitments to the actual policy. By the following week, House Republicans were still discussing the partisan immigration proposal by Rep. Bob Goodlatte (R-VA), which is unlikely to garner any Democratic support. And already some Republicans in the Senate have expressed concern with the proposal's serious cuts to legal immigration.
Meanwhile, several other groups have also continued negotiations on completely separate tracks:
The shutdown also brought together a larger group of bipartisan negotiators — roughly 30 senators who've named themselves the "Common Sense Coalition," who are intent on moving immigration talks forward but have yet to come forward with a proposal.
The team of Democratic and Republican leadership deputies that have been dubbed the "No. 2s," consisting of Durbin again, as well as Minority Whip Rep. Steny Hoyer (D-MD), Majority Whip Sen. John Cornyn (R-TX), and Majority Leader Rep. Kevin McCarthy (R-CA), have also been negotiating.
There are two more Democratic-friendly bipartisan proposals in the House and Senate, one proposed by Reps. Will Hurd (R-TX) and Pete Aguilar (D-CA) and Sens. John McCain (R-AZ) and Chris Coons (D-DE) both of which propose slimmed down DACA and border security fixes, and are both still in early stages.
In short, the state of immigration negotiations in Congress remains decentralized and disjointed.
For weeks, conservative hardliners have commandeered immigration negotiations. To win enough House Republican votes for the short-term spending bill two weeks ago, House Speaker Paul Ryan promised the Freedom Caucus, the lower chamber's group of ultraconservatives, that Republican leadership would whip votes for a conservative Goodlatte immigration bill. Conservatives continue to say there is a path to compromise, but they have shown no willingness to work with Democrats thus far.
Last week, Durbin said lawmakers weren't any closer to reaching an immigration deal than they were a week ago, and some senators have been telling reporters that they could see Congress punting on the immigration debate for another year. How they would do that is unclear.
Meanwhile, to end the last government shutdown, Senate Majority Leader Mitch McConnell promised an open debate on immigration on the Senate floor, as long as Democrats voted to keep the government open this week.
Whether McConnell will make good on that promise remains to be seen.
Sourse: vox.com