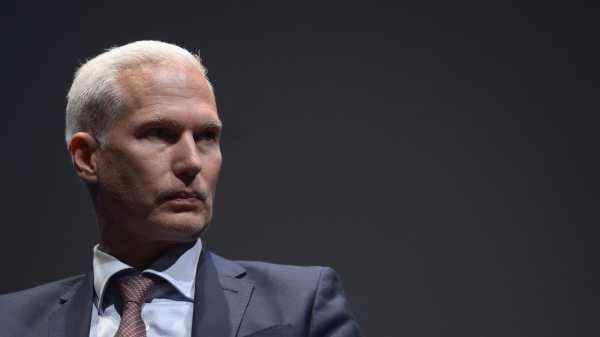 For the third time in eight years, the beleaguered Museum of Contemporary Art in Los Angeles is betting on New York expertise to help solve its problems. This week, MOCA announced that Klaus Biesenbach, the fifty-two-year-old director of MOMA P.S. 1 and MOMA's chief curator-at-large, will become its new director. He replaces Philippe Vergne, who arrived in L.A. from the Dia Art Foundation in 2014, and resigned, in May, in the wake of the controversial dismissal of MOCA's chief curator, Helen Molesworth. Vergne, a Frenchman who had previously held curatorial positions at the Whitney Museum and the Walker Art Center, was hired as a corrective to Jeffrey Deitch, the Manhattan art dealer who was MOCA's director for three turbulent years, from 2010 to 2013, and whose museum bona fides before taking the job were nonexistent.
Deitch is the art world's P. T. Barnum, long on spectacle and short on introspection. Click-baiters are fond of dismissing Biesenbach on the same grounds. But he is a seasoned museum professional with more than twenty years of experience at MOMA and its affiliate, P.S. 1. While it's true that his recent Björk exhibition at MOMA, in 2015, was a total calamity, swapping curatorial acumen for fan-boy haphazardness, it was at his invitation, in 2008, that the Swiss video artist Pipilotti Rist converted the museum's atrium into a communal alpine hallucination—one of the few shows in that soaring space to make smart use of what can feel like little more than an excuse for making great art look dinky. Of course, Marina Abramović is the artist with whom Biesenbach is the most closely associated, making him Public Enemy No. 1 for fogies who equate the embrace of new forms with endangered traditions. Note to the haters: critics of Impressionism once felt the same way.

The New Yorker Recommends:
Our staff and contributors share their cultural enthusiasms.
If Biesenbach's arrival in Los Angeles harks back to a previous director of MOCA, it may be Pontus Hultén, the legendary Swedish avant-gardist who founded the museum, in 1983. Hultén was an early evangelist of breaking down boundaries and making alliances between art and machine; he was also fond of Marshall McLuhan's line that "art is anything you can get away with." Looking over his twenty-year affiliation with MOMA, there's no doubt that Biesenbach's tastes skew up to the minute and out of the box—unless it's Tilda Swinton sleeping inside a glass vitrine, reënacting a Chris Burden performance at MOMA, which, like Björk, was another Biesenbach risk that ended up an epic fail. But the operative word here is risk, and the man has established a sharp eye for the untested, which extends beyond performance and tech (he gave the digital-art visionary Ryan Trecartin his first solo museum show) to conventional mediums. An example: two decades before the sculptor Sarah Sze represented the United States at the Venice Biennale, she was given her first big shot at the Berlin Biennale by Biesenbach, who founded the event.
Supporting female artists is one thing. Hiring women to positions of power is something else. The biggest surprise of MOCA's announcement is that it comes as no surprise at all. I admire the indefatigable, elastic-minded Biesenbach, but my heart sinks at the thought of another white man at the helm of another major museum. Offsetting the disappointment is the wonderful news that MOMA's incisive curator Laura Hoptman has resigned to become the director of the Drawing Center, in SoHo. The L.A. macher Ann Philbin, who has run the Hammer Museum since 1999, had the same job before she headed west. If Biesenbach's tenure lasts only as long as Hultén's (two years) or Deitch's or Vergne's, who knows where Hoptman might end up next?
Sourse: newyorker.com