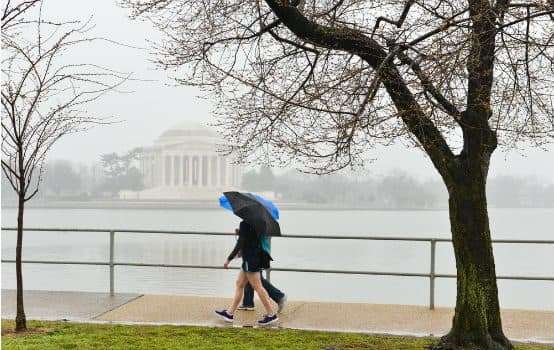 A funny thing has happened over the last few months: I've gone from feeling like the New Jersey transplant that I am to more of a Washingtonian (or semi-Washingtonian—I live out in the suburbs that my colleagues and I love to hate).
I've chafed at the generic urban conformity of the D.C. region before. I've even described Washington as filled with "hordes of young people—of every race and ethnicity to be sure—who watch the same television shows, wear the same clothes, spray the same perfume, bend their necks towards the same few websites on the same little screens."
It is true that young people in coastal urban places have developed something of a uniform culture—often built around a kind of enlightened consumerism—and that much of the local character of cities has been diminished as gentrification proceeds and old-time businesses and residents give way to condo towers and industrial-chic gourmet sandwich shops. (Though it's also true that much of the crime and dysfunction has been eliminated, which makes the issue tricky—it's easy to mourn the old neighborhood shops; harder to regret that Times Square is no longer filled with hookers and seedy lounges, though some still do anyway.)
Suffice it to say that you can find plenty to dislike about the D.C. area if you want to. But there's one thing I do like: the Capital Weather Gang, a group of Washington Post weather forecasters with a big and locally famous Twitter presence. I first heard of them in grad school at the University of Maryland, when one of my professors mentioned them while lecturing about salting and treating roads before snowstorms.
I started following them once I got on Twitter—it was one of the first accounts I followed—and became aware of a neat little local ritual. Every time a storm or unusual bout of weather hits the region, lots of people in the D.C. metro area post pictures of the weather at their location and tag the Capital Weather Gang. One might show a picture of the sky along with "Lightning in Falls Church" and another lots of water with "Oh no, flash flooding in Ellicott City!" The Gang, in turn, will retweet the best of these to help round out the forecasting and reporting. I gather that having your photo chosen for a retweet to the Gang's one million followers is something of an honor, like receiving a little award from a civic club of old. The fact that it happens very quickly and in cyberspace doesn't mean it isn't real. It's the 21st-century version of calling your friends or relatives when it starts snowing, often to the point of jamming up the phone lines.
Great "NO" Falls, today after all of the rain. Black and white image is from a few months ago for comparison. @Gr8FallsPark @capitalweather pic.twitter.com/gqqi2tW94U
— Erica Everhart (@ericaeverhart) June 5, 2018
This is my back patio on Capitol Hill. This is not good. @capitalweather pic.twitter.com/NeVUtR1uzn
— Emily Tate (@ByEmilyTate) May 22, 2018
Their actual reporting is pretty good too. Unlike the Weather Channel, which has gone all in on the trend to turn even the most boring stories into clickbait, the Capital Weather Gang explains, for example, what a "bomb cyclone" actually is and uses data to compare it to other storms. And unlike regular weather reporting, or even most of journalism and policymaking, the Capital Weather Gang shares multiple weather models and their thoughts on the likelihood of different scenarios playing out, as well as liberally using followers' photos from around the metro area to illustrate in real time what's happening on the ground. It's a refreshing use of distributed, particular knowledge along with technocratic expertise. It's like FiveThirtyEight meets The Great Revolt, only for weather.
Whoa! Old town is flooded! @capitalweather pic.twitter.com/CNfc1kwoII
— Liz Malm