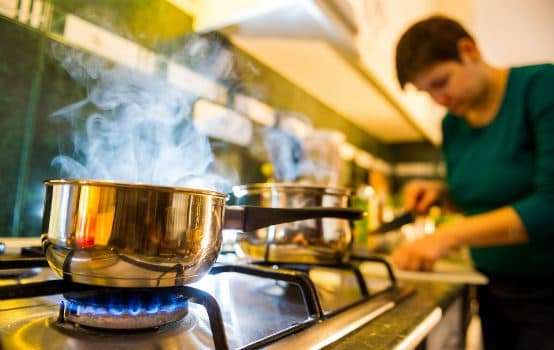 Why has cooking become so hard? Some would say it's not: throwing together paninis or spaghetti for a weeknight dinner isn't all that complicated. But our world increasingly sees cooking as a nigh-impossible feat of time and skill. We're surrounded by takeout eateries, "fast casual" restaurants, and grocery stores packed with frozen meals. Blue Apron and HelloFresh promise gourmet dinners without the fuss. Rachael Ray offers her readers 30-minute meals, while Pioneer Woman promises to get the job done in 16 minutes. We want to magically transmogrify the vegetables on our cutting boards into something tantalizing—but if there's chopping, measuring, seasoning, and (perhaps above all) waiting to be done, we quickly become disillusioned with the whole idea of from-scratch cooking.
Speed and ease define our world—a world in which people often spend hours commuting to and from work, juggling multiple jobs, or ushering kids from house to daycare to school to sports practice. In such a rushed place, there is very little room for cooking, traditionally understood.
Considering all this, Elizabeth G. Dunn is tired of chefs and cookbook authors promising "easy" from-scratch cooking to the harried, the worn out, and the stressed. While many recipes promise simplicity and speed, most of them are far from effortless, she argues in The Atlantic:
… [N]one of this actually easy. Not the one-minute pie dough or the quick kale chips or the idiot-proof Massaman curry, every last ounce of which is made from scratch, from ingredients that are sourced and bought and lugged home and washed, peeled, chopped, mixed, and cooked. Meanwhile, technology has made appetizing, affordable cooking alternatives easier and easier to come by. …[T]onight, I can order excellent pad thai from my phone in under a minute.  Or, I can find a recipe for "easy" pad thai, run—literally, run—to the grocery store at lunch, hope that grocery store sells fish sauce, then spend 40 minutes making the dish and 20 minutes cleaning up. The decision to cook from scratch may have many virtues, but ease is not one of them. Despite what we're told, cooking the way so many Americans aspire to do it today is never fast, and rarely easy compared to all the other options available for feeding ourselves.
Dunn quickly clarifies—she likes cooking from scratch. But with a full-time job and a young son, there rarely (if ever) seems time to make the sorts of meals she sees in Bon Appetit. "It's not that the best way to feed yourself is always the fastest one—it almost always isn't," she writes. "…But I think we should talk more realistically about what's involved in from-scratch cooking, the sacrifices it entails, and the fact that little of the complexity offered by today's published recipes is really essential to cooking a delicious meal."
Cooking is hard when you don't have time for it and carving out that time does indeed require sacrifices. But the question is: are we really too busy to cook? Dunn is right to some extent: meals rarely (if ever) take a mere 15 minutes to put together. But when one considers the breadth and length of a 12-hour day, it seems a bit silly to think we should be putting less than half an hour into the sustenance of our minds and bodies. It makes sense that cooking food—creating the nutrients that nourish and sustain us through all the commutes, work tasks, classes, and soccer practices we might face in a day—should require some time and effort.
Food experts have had similar complaints over Americans' meal budgets: we spend less than 10 percent of our budget on food, and of that 10 percent, only 5.5 percent is allotted for cooking at home. We spend less of our cash on food than any other country—about half as much as French households do. Cooking is not a priority to us where money or time are concerned. We've put cooking on the back burner (excuse the pun), replacing it with other concerns.
And yet the average U.S. adult spends over an hour on his phone, and checks it about 80 times throughout the day. That average adult also spends four and a half hours watching shows and movies. All in all, we spend about 10 hours a day staring at screens.
Surely we have time to chop and sauté some vegetables. We could boil some rice and pan-fry some chicken, even while an episode of that must-watch Netflix show plays in the background. The biggest drawback to cooking in our modern world often arises from long commutes, when workers arrive home frazzled and exhausted, with big appetites and little inspiration. But even here, there is room to cook: my mother-in-law taught me to make omelets and toast for dinner when it's late and everybody is tired. It's not a fancy solution by any means, but it gets the job done—and it's much cheaper than takeout. Another solution I learned growing up was to make freezer meals: cooking a huge batch of soup or chili on the weekend, freezing half, and then pulling it out during a busy week.
From-scratch cooking isn't impossible in our world, but its rhythms and processes are slower and harder than we've been conditioned to appreciate. We don't like waiting for things. We don't like 10 steps where one might do. And we don't like undue labor when someone else could do the "hard" stuff for us.
But perhaps this is why we need cooking: not because it fits perfectly with our frantic and frenzied lives, but because it is so contrary to the other rhythms and patterns that characterize our days. Cooking is the perfect time-consuming ritual to remind us of what's real: the hunger in our bellies, the crisp clack of a knife as it slices through a potato, the sizzle of olive oil in a pan. It's a communal activity that enables us to spend time together, to draw even young persons into the kitchen and teach them important skills. My two-year-old can't do much in the kitchen, but she can help me peel garlic, squeeze limes, or stir cornbread batter. She loves sitting on the kitchen counter, listening to music, and watching as I cook.
Today's Americans may need easier recipes and culinary methods in order to cook from home. But perhaps the problem is not that we need these things, but rather that we've been conditioned to expect them in our instant-gratification culture. The answer to our cooking dilemma might not be a new five-minute meal cookbook or Grub Hub app. It might instead be a deepening encouragement to slow things down, to embrace a little difficulty in the kitchen, and to set aside the distractions (technological and otherwise) that prevent us from feeding our bodies as we ought.
Gracy Olmstead is a writer and journalist located outside Washington, D.C. She's written for The American Conservative, The Week, National Review, The Federalist, and the Washington Times, among others.
Sourse: theamericanconservative.com