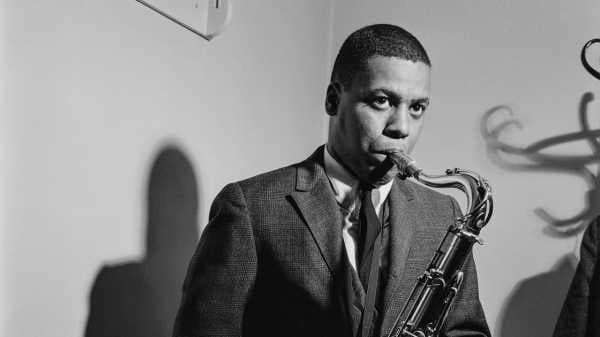 Jazz history is recent history. Wayne Shorter, who was born only thirteen years after Charlie Parker and seven years after Miles Davis and John Coltrane, turns eighty-five today. Shorter is the greatest living jazz composer and a key participant in iconic recordings by Art Blakey, Miles Davis, Weather Report, Joni Mitchell, and Steely Dan. His current quartet—with Danilo Pérez, John Patitucci, and Brian Blade—makes terrific music. Now that Ornette Coleman is gone, Shorter is also the heavyweight champion of elliptical musical thought, especially in conversation.
In Shorter's very first press profile, from 1959, the author LeRoi Jones (later Amiri Baraka) begins by saying that when they were teen-agers, he knew Wayne as a metaphor: their shared Newark crew would refer to unexpected events as being "as weird as Wayne." Shorter has only got more oblique over the years, seemingly content to treat interviews as excuses to spontaneously invent Zen koans and review films. In 2014, when Tavis Smiley asked Shorter how much his quartet rehearses, Shorter replied, "How do you rehearse the future?" When I interviewed Shorter for the BBC, he talked about how he wanted his band to sound like the movie "Interstellar," and made a special point to praise Anne Hathaway.
Shorter's press office doubles down on his abstract conversational style, suggesting that Shorter is a seer and a superhero. The lovely, poetic note by Esperanza Spalding accompanying Shorter's new recording and graphic novel, "Emanon," falls right in line: "After reading and listening to Emanon, you might begin to notice alternative realities glimmering beneath the everyday world around you."
Shorter might indeed be a superhero, but he's also more practical than his reputation suggests. Like most durable artists, he takes common material and reshapes it in his own image. His first three records as a leader for Blue Note display especially thrilling powers of transmutation. Shorter's done a lot since, but, on the occasion of his birthday, many fans—and especially many musicians—will be reaching for "Night Dreamer," "Juju," and "Speak No Evil" to celebrate and give thanks.
1964 was a peak year for jazz, a time when the whole continuum was vibrating with extraordinary power. Louis Armstrong's "Hello, Dolly!" was a hit song on the radio. The big bands of Duke Ellington and Count Basie were at full strength. Singers like Sarah Vaughan, Ella Fitzgerald, and Nina Simone swung ballads from a whisper to roar, and pianists like Erroll Garner, Oscar Peterson, and Ahmad Jamal were glamorous stars. The avant-garde, led by Coleman, Cecil Taylor, and Albert Ayler, drove intellectual discussion and provoked the greatest out of the slightly more conventional small-group leaders: Blakey, Davis, Charles Mingus, Thelonious Monk, Sonny Rollins, and John Coltrane.
Shorter was right in the mix. This was the year that he left Blakey, joined Davis, and signed as a leader to Blue Note—a label that was the great laboratory of mixing traditional values with the cutting edge. For a modern jazz fan, looking at the Blue Note catalogue from around this time is like being a kid in the Willy Wonka factory: It's all so great, how can we even decide what to consume first? A digit or two away from the Shorter releases in the Blue Note catalogue are disks like Blakey's "Free for All," Horace Silver's "Song for My Father," Joe Henderson's "Inner Urge," Freddie Hubbard's "Breaking Point," Dexter Gordon's "One Flight Up," Andrew Hill's "Black Fire," Eric Dolphy's "Out to Lunch," Sam Rivers's "Fuchsia Swing Song," Herbie Hancock's "Empyrean Isles" and "Maiden Voyage"—the list literally goes on and on.
Pressure creates diamonds. In the liner notes to "Night Dreamer," Shorter says to Nat Hentoff, "I knew that for my first album for Blue Note, I had to create something substantial!" "Night Dreamer" was tracked on April 29th, "Juju" on August 3rd, and "Speak No Evil" on December 24th. It's intensely personal art, music that could only have been created by Shorter. But one could also say that "Night Dreamer" is in the style of a Blakey album, "Juju" is a Coltrane album, and "Speak No Evil" is a Davis album. These explicit references help explain why this trilogy is so beloved among musicians, who revel in how Shorter puts his own imprint on these major influences.
Shorter's tenor saxophone anchors the three disks with a surreal sonority, a wild cry that comes from the heart of sorrow. The first chunky and smeary saxophone phrases on the self-titled opening track of "Night Dreamer" tell you all you need to know: this is blues music. He is joined on the front line by another blues musician of the first order, the trumpeter Lee Morgan. These men didn't just play the blues, they lived the blues life style. Discussing "Charcoal Blues," Shorter said, "Things were so bad that the only way to go was to laugh—that kept you going." In 1972, Morgan would be shot and killed, at the age of thirty-three, by his common-law wife at Slugs', on the Lower East Side, effectively ending that club and an era of New York jazz. (Shorter is interviewed onscreen in the recent documentary about the trumpeter's death, "I Called Him Morgan.")
Beginning in 1959, the front line of Blakey's Jazz Messengers was made up of Morgan and Shorter, and within a few years, Shorter was the Messengers' music director and primary composer. Blakey was a powerful drummer, and his Messengers espoused the gospel of hard bop. After the brilliant and intellectual bebop innovations of Monk, Charlie Parker, Dizzy Gillespie, and Max Roach, in the nineteen-forties, hard bop tried to bring that brainy material back into a more local and humble perspective. All the hard-bop groups featured heavy syncopations: moments when the rhythm section emphasized discontinuity by ducking away from straight time for a moment. These big-band-derived syncopations were called "hits." No one set up a hit better than Blakey. After one of his famous press rolls, the launch of the full band into a syncopated figure would shake the walls and rattle the rafters.
Elvin Jones is cast in the Blakey role on "Night Dreamer." On the hits of "Armageddon," Jones unleashes his own furious cascades of percussion, a godlike combination of joy and terror. Every other tune on "Night Dreamer" has hits, even the ballad "Virgo." The hard-bop references on the album are mixed with Coltrane references. Shorter practiced with Coltrane and, in effect, became Coltrane's greatest student. Coltrane himself, after going all the way to the fastest, most intellectual harmonic jazz, in 1959, with "Giant Steps," backed off relentless changing harmony to seek more space and blues. His breakout record from 1960, "My Favorite Things," offered a nearly cheesy Broadway hit redone as a waltzing modal drone. The essential elements were supplied by Coltrane's pianist and drummer, McCoy Tyner and Elvin Jones. Tyner's harmonic language was based on quartal chords and pentatonic scales, while Jones played every permutation of threes and fours within the beat. These musicians seemed utterly new at the time, though both were essentially emphasizing elements of various classical musics of Africa and India.
Coltrane and Tyner's modal palette is heard more clearly on Shorter's next record. It's not as drastic a shift as the one from "Giant Steps" to "My Favorite Things," but there is a similar relaxation of harmonic motion from "Night Dreamer" to "Juju." The bassist on both is Reggie Workman, who had been with Shorter in Blakey's band for a few years. Workman had also played with Coltrane alongside Tyner and Jones. It's fair to call this LP "Wayne Shorter's quartet date with Coltrane's rhythm section." "Juju" is one of Workman's finest hours as a comparatively straight-ahead player, who came into his own not with Coltrane or Blakey but in later, more avant-garde styles. It all really jells on "Juju." The leader and composer is playing to the team's strengths, and the whole disk seems to be a concerto for the band. Tyner, Workman, and Jones groove like crazy on dark vamps, spicy turnarounds, and pure swing.
On top of the churn, Shorter plays a mix of simple and surreal. It's a Coltrane band, the tunes are not far from Coltrane, either, but the saxophonist is still "as weird as Wayne." Jones doesn't pick up brushes once; everything has a heavy vibe, with sticks. The tempos are generally on the slow to medium side, the tempo that showcases Jones's polyrhythmic style. The one faster piece, "Yes or No," has headlong momentum and an incandescent piano solo. At the end, the band plays a convoluted "Twelve More Bars to Go" with one of the greatest recorded tenor-saxophone solos in the blues idiom. Wayne is giving even Trane a run with this one. In the notes, Shorter gives an amusing commentary on the song: "The picture I had in mind was of someone having a very good time, going around to every bar in town, it was as if he had a list in his hand. . . . In certain spots, I interjected in the harmony what sounds like a backward progression. I did it both to get away from standard blues harmonies and also to picture a man, slightly intoxicated, who, as he tries to go forward, backs up."
In late summer, Shorter joined Miles Davis. No African-American jazz master loved European harmony more than Davis. Some of the most magical moments in musical history are when Davis picks up his trumpet and responds helplessly and hopelessly to gorgeous post-Debussy and Ravel harmony supplied by Gil or Bill Evans. Davis's pianist in 1964 was Herbie Hancock, who had studied Bill Evans and McCoy Tyner on the way to forging his own charismatic style. It was soon apparent that Hancock and Shorter were on the same page, as were the equally brilliant Ron Carter and Tony Williams. The collected recordings of the "Second Great Miles Davis Quintet" are one of the most treasured canons in all of jazz. As with Blakey, Shorter would become that band's most important house composer.
Hancock and Carter appear on "Speak No Evil," alongside the major virtuoso Freddie Hubbard (the other trumpeter Shorter played with in the Jazz Messengers) and the returning champion Elvin Jones. It's a one-time event, the only occasion this group of bona-fide jazz geniuses played together. It was Christmas Eve. There was booze and snacks for the band, so everyone was relaxed, but the material was fresh and beautiful, so everyone was focussed.
The compositions on "Speak No Evil" occupy a rarified plane. They aren't quite hard bop, they aren't quite modal. Elements of everything are just there, hanging out in a new and inspired way. The musicians at large loved it, then and now. Every song on "Speak No Evil" has been learned by each new generation of jazz students. Every solo by Shorter, Hubbard, and Hancock has been transcribed and assimilated. A fabulously laid-back drum fill going into the scalding and lyrical tenor solo on "Witch Hunt" is almost enough to place it in my personal pantheon. However, if pressed, I would have to admit that I love "Juju" even more than "Speak No Evil." After listening for decades, I can hear how Jones is not used to playing with Hancock's breezy "hide and seek" comping, or maybe Hancock is not always ready to dig into the beat as deeply as Jones. Whatever the case, between them the punctuation is not always exactly right. Ron Carter is deeply swinging and fearlessly experimental—there's simply no one else like Ron Carter—but he is a shade low in the mix.
Wherever fans and musicians congregate, there are wonderful barstool arguments about Shorter's career since the heyday of the nineteen-sixties. Weather Report, Joni Mitchell, the fusion albums "Atlantis" and "High Life," the current quartet: everyone has an opinion and nobody agrees exactly with everybody else. Many of the debates can be stalled by noting that Shorter's works are all of a piece, a grand statement about American music. However, the 1964 LPs will always elicit consensus. If Shorter had made no other records than this trilogy, his perpetual place in the pantheon would still be assured.
Sourse: newyorker.com