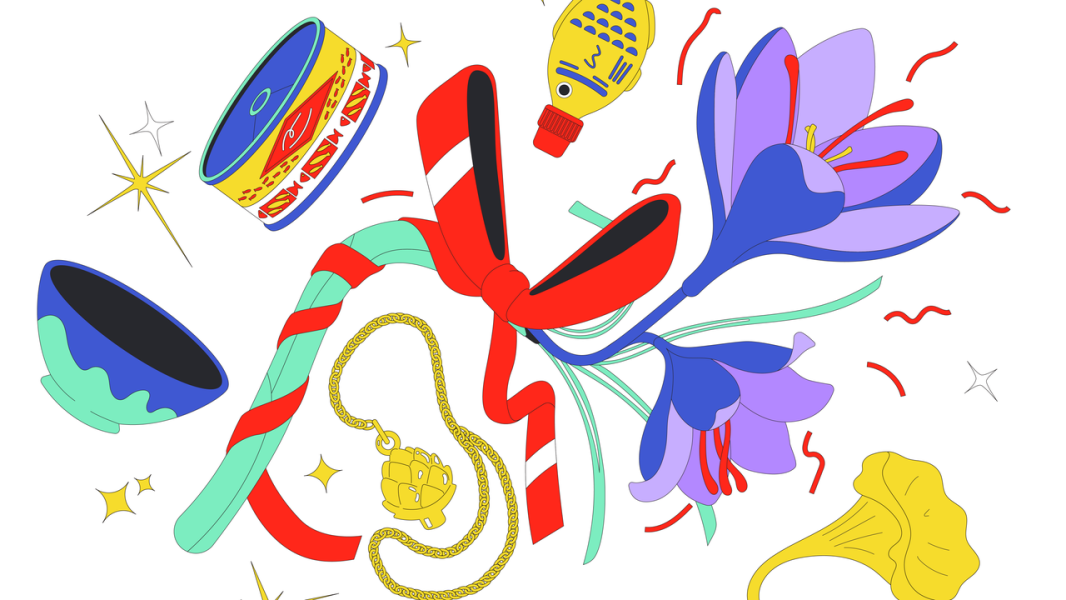 Save this storySave this storySave this storySave this storyYou're reading the Food Scene newsletter, Helen Rosner's guide to what, where, and how to eat. Sign up to receive it in your in-box.
Being tasked with buying a gift for a food lover is, itself, a gift, because few categories of human are easier to shop for. A person of appetites is likely to be just as thrilled by a bottle of excellent hot sauce (like Empress's pineapple-miso concoction, $14) as by a first-edition set of both volumes of "Mastering the Art of French Cooking," signed by Julia herself ($7,950.40). This expansiveness can lead to trouble, however: too little effort can come off as thoughtlessness; too much can seem like pandering. The secret to giving a wonderful gift is the element of delight: if you can see how marvellous something is—its beauty, its function, its rarity, its cleverness, its absurdity—then so will whoever you give it to. The world is full of cruelty; life is hard enough. Why give a gift unless it makes you happy, too? These are some of the most delightful things I've come across this year—consider them starting points, ideas rather than dictates. And don't forget local abundance: treats, trinkets, snacks, and gift cards from shops and restaurants in your own neighborhood.
Kitchen Tools, Beautiful and True
A tool that works properly is beautiful; a tool that only looks beautiful is merely lovely. The most worthy gifts do both. Masienda's Doña Rosa tortilla press ($90), for example, available in a range of candy-bright colors, is an ideal gift, especially when paired with a sampler of multihued masa harinas ($39). And a Japanese mortar and pestle, a brilliant little tool whose ceramic bowl has a toothy, rough interior, effortlessly grinds spices to a fine powder. The elegant suribachi, or mortar bowl ($24-48), made by Motoshige, a century-old potter in Shimane Prefecture, is formed with a little lip for easy decanting; the wooden surikogi pestle ($6-9) is light and strong. Tongs are terrific when it comes to agitating a boiling pot of long pasta, but it's even nicer if they're wildly futuristic hand-forged titanium tongs ($180), anodized to reveal swoops of space-age color—or, moving in the opposite direction, a handcrafted cherrywood spaghetti fork ($24), whose wiggly tines echo the rippled surface of the water. You can't do better than stainless-steel mixing bowls ($59.95 for five), though anyone already committed to the life style will tell you that the biggest size is never big enough; a thirty-quart mixing bowl ($18.99, or $116.99 with its own rolling stand) will handle almost anything, though perhaps only the eighty-quart version ($404.99; $1749 with stand) will bring satisfaction. An ingenious two-sided cutting board from the Korean brand Modori ($259.99) has one surface made of wood, the other stainless steel with a raised lip, ideal for chopping kimchi, or anything else inclined to give off liquid. Permanent Collection's walnut salad servers ($100 each; you'll probably want two), made in Slovenia by Matija Rižner, are the minimalist, functionalist salad servers of one's dreams—perfect size, perfect shape—offering a firm grip on even the most overdressed piece of lettuce.
An Upright-Mixer Upgrade
Let's be honest: the KitchenAid tilt-head stand mixer, star of a million Pinterest boards and wedding registries, is not a serious piece of equipment. Good-looking, yes; available in a range of tasteful colors, sure. But put that sucker up to any substantial quantity of dough and you're likely to run into juddering, thudding, thumping, or outright engine failure. It's a simple matter of construction: the tilt-head model has a less powerful motor, and the hinging mechanism for the head tilt cuts into over-all stability. A committed home baker deserves a committed machine: upgrade them to the KitchenAid bowl-lift mixer ($449.99 for the five-quart model; $649.99 for seven quarts; $849.99 for a commercial-grade model that weighs thirty pounds and could probably survive the apocalypse).
Food, but It's a Candle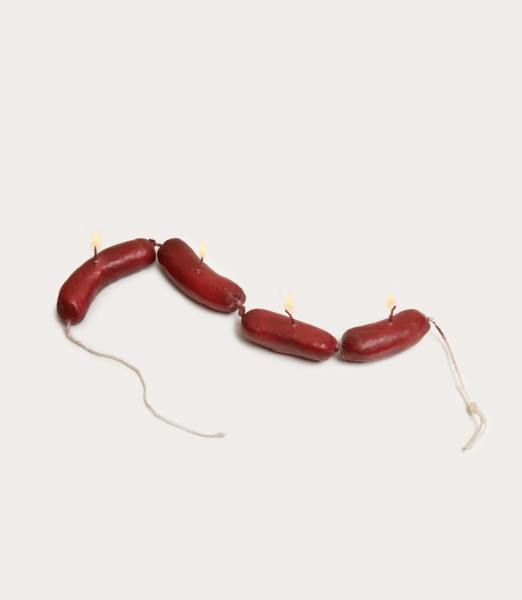 Photograph from Gohar World
A pile of olives, $150.
A string of sausages, $68.
Toast with butter, $34.
A bowl of ramen, $19.99.
A single fusilli noodle, $18.
A panettone, $98.
A potato, $20.
Something Fishy This Way Comes
The tiny, fish-shaped plastic vessels called shōyu-tai ("soy-sauce snapper"), with their squeezable sides and colorful plastic caps for mouths, emerged in Japan in the nineteen-fifties, and are perhaps the most adorable method of applying a dose of soy sauce to sushi, or any other thin liquid to any other destination: vinaigrette to salad, hot sauce to a burrito, vermouth to a Martini. (They are so popular in Japan that a Japanese taxonomist has sorted them—based on phylogenetic elements like cap length and dorsal-fin size—and published his findings as a book.) Buy a bundle of fifty tiny shōyu-tai for your favorite condimentalist ($9.99); or, for the aficionado of soy sauce, interior design, or mid-century Japanese packaged goods, go for Heliograf's Light Soy Portable Lamp ($199), an enormous shōyu-tai with a red cap, made of recycled plastic, that glows with a gentle, inviting light.
Banana Kisses
Who needs cherry ChapStick when you can have Filipinta's banana-ketchup lip gloss ($10)? The tube of sticky stuff is inspired by the tangy-sweet condiment ubiquitous in Filipino homes (and on the counter at all the best Filipino restaurants).
A Gazillionaire's Garden
Regardless of Eartha Kitt's sultry exhortations, a platinum mine for a Christmas gift is more ethical trouble than it's worth. So what do you get the person who deserves not just one of earth's most valuable substances but the means of production thereof? Allow me to turn your attention to saffron, the diamond dust of the culinary world. The vivid-red threads are sold in spice shops and supermarkets for the equivalent of five thousand dollars a pound or more. A bag of saffron-crocus bulbs ($9.32 for ten) makes for far more accessible opulence: once the purple flowers open (they bloom in the fall, and with proper care will return for many years), delicately remove their tiny, vivid-red stigmas, let them dry, and—very gently, very gently—toss your new unfathomable riches in the air all around you, relishing your tiny harvest of wealth and power.
Food, but It's a Soap
A bunch of grapes, $45.
A grilled steak, $8.99.
Hot wings and celery, $17.95.
Buttered bread with caviar, $19.87.
A wedge of cheese, $5.75.
A cinnamon bun, $13.99.
A potato, $12.95.
A Necklace That's a Metaphor
Consider the artichoke: spiky and unwelcoming on the outside, tender and yielding at its heart. Surely you know someone like that. Get them a golden artichoke necklace ($80) from Delicacies Jewelry, and—depending on how far along you are on your getting-to-the-tender-heart journey—don't go into too much detail about why.
The Discreet Charm of Charcuterie
A wooden board: round, dramatic, with a handle ($135-$175); round, simple, without a handle ($19.95); dark and moody ($115); checkered and colorful ($39); weathered and reclaimed ($183); jubilant and Seussian ($1,070). An arrangement of cured meats: a Spanish variety pack from Campo Grande ($49); Indiana's finest salumi, from Smoking Goose ($49.95); a whole country ham from Denver's Elevation Meats ($175); Renegade Foods' plant-based salami sampler ($42.75). A variety of cheeses: Murray's silken Bleu d'Auvergne ($21 a pound); Wisconsin's own tangy, semi-firm Capriko ($7.33); a flight of Cheddars from Saxelby ($80); a sampler of milk and funk from Cowgirl Creamery ($95). Buy some grapes at the grocery store. Throw in some sassy cheese knives ($35) from Fredericks & Mae, and maybe a faux Camembert ($39) for the kids to play with while you eat.
A Big Honking Knife
A chef's knife is a highly personal tool that reflects the image of its wielder. A paring knife is a thing of precision, nimble and sharp, a measure of the fineness of one's technique. A bread knife is a thing of respect, an emissary between the body and the loaf, a tool that honors the labor of the baker who made the bread and the yeast that leavened it. A serious cook is, almost by definition, a person with strong feelings about knives; let us not overstep by presuming to know the intimacies of their preferences. Here's what you should do instead: Buy them a cleaver. A brawny, hulking, freaking enormous cleaver. You can't do better than a Chinese model, like Chan Chi Kee's enormous butchery chopper ($119). I also like the blunt curvaceousness of the Suji Hand-Forged Cleaver ($99.95), the serious squared-off angles of Forge to Table's Classic Cleaver ($124.95), and the somewhat murderous intensity of the Jero 8″ Blade Long-Handled Cleaver ($105). All can make short work of a coconut, a butternut squash, or a chicken in need of a spatchcock. Sometimes a person just needs to own a big, heavy, stupid knife.
Bag It Up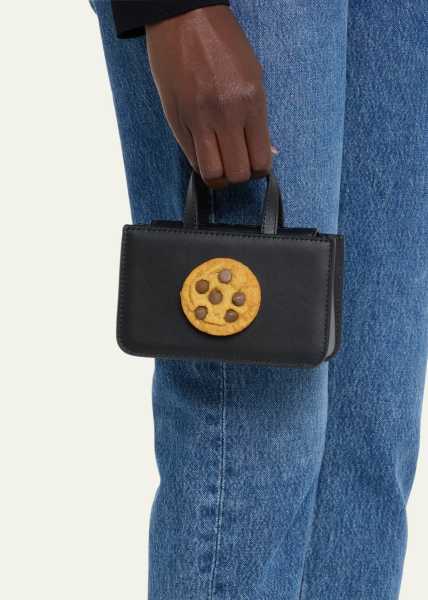 Photograph from Bergdorf Goodman
Liberate your loved one from lugging around a free-with-subscription canvas tote by giving them something more appetite-whetting: a Puppets and Puppets chocolate-chip-cookie purse ($425), a crossbody McDonald's fries ($59.90), an uncannily realistic basket of cherries ($428.97), a Judith Leiber pepperoni-pizza minaudière ($5,695), a sequinned double cheeseburger ($128) from Betsey Johnson, Anya Hindmarch's Heinz Ketchup carryall ($895). A baguette bag ($38)—not the designer kind, the kind for carrying actual baguettes. A soft-pretzel purse ($42) with a mustard-packet zipper pull. A bonito-tuna clutch ($56), for truly special formal affairs. A fully articulated lobster ($34.95).
A Drink, and Something to Drink It Out Of
As I have mentioned before, a foolproof holiday gift is a bottle of something nice plus a nice glass from which to sip it. This year, slip someone a bottle of Paranubes Oaxaca Rum ($44.50)—aguardiente de caña, as it's known regionally—made from wild-fermented juice of sugarcane grown on the farm of the master distiller Jose Luis Carrera. "It's got character by the pound," Ashtin Berry, the bartender, sommelier, and activist, said when she introduced me to the drink. "It's reminiscent of an agricole, for you rum nerds—and, for you novices, just know it's good shit that won't leave you with a hangover." Wrap it up with a set of Lexington Glassworks hand-blown tumblers ($40 each), overlaid with silver leaf that resembles far-off mountains, or the shadows of waves lapping on a sandy shore. For the more abstemious, a bottle of Non3 ($30), a zero-proof sipping drink with notes of cinnamon and yuzu and a slightly tannic finish, alongside a Massimo Lunardon weird-little-dude goblet ($155)—not its official name, but certainly an accurate description of its weird-little-dudeness.
Win with Tins
Helen, Help Me!
E-mail your questions about dining, eating, and anything food-related, and Helen may respond in a future newsletter.
There's something so satisfyingly efficient about food delivered in a metal container, and tinned fish is just a starting place. You could give someone a huge cylinder of Bonilla a la Vista potato chips ($58), for example, or a little bucket of French candies ($18.30), or a three-litre tin of buttery Tunisian olive oil ($40.99) that will look beautiful on the kitchen counter. If you do have tinned-fish lovers to appeal to, and they're of the weirder-the-better school (which, let's be honest, virtually all tinned-fishionados are), they'll be thrilled by Fangst's Faroe Islands salmon gently flavored with lemon verbena and sea buckthorn ($12), Ati Manel's mussels in escabeche ($10), or Minnow's dramatic, near-alien snails in brine ($14.99), maybe with a Staub cast-iron escargot pan ($99.99) to cook them in.
The Fussy Dinner Party as an Art Form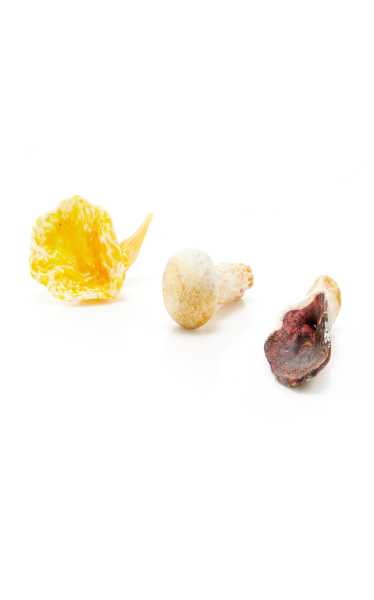 Photograph from Moda Operandi
There are those of us who throw together haphazard meals for friends and expect the sheer force of companionable affection to patch the aesthetic and social gaps. Then there are the artists of the dining room, who carefully plot each detail: the guest list, the menu, the table décor, the topics of conversation, the caftan in which to greet one's guests, communicating a precise balance of elegance and nonchalance. These people know that hosting is a matter of skill and strategy, not of happenstance. Aid this person in her endeavors with a leather plan de table ($175), which will enable the ideal seating arrangement, a set of shouldered-arch cocktail napkins ($312 for four), or a few handblown Murano-glass mushrooms ($595 for three), just for a bit of shine on the table. Your person has probably got quite the collection of tablecloths already, but it's impossible to have too many dazzling block-printed florals ($78), modernist swashes of color (from $75), or embroidered trompe-l'oeil table settings ($1,200). Intriguing flatware reliably sparks creative joy: utensils with red faux-coral handles ($72 for a set of five), the artist Natalia Criado's gold-plated hands ($180 per piece), deadstock Pan Am in-flight cutlery ($63.16 for twenty-four pieces), or translucent, neon-green wiggly tadpoles ($150 for two sets of six). Every good host knows that one enormous floral arrangement in the middle of the table is an obstacle to conversation; decorations should be below eyeline, and spaced among the guests—a set of miniature rattan vases ($55 for three), say, or green glass bud vases ($49.99 for twenty-two) to fill with flowers and scatter pleasingly hither and thither. The fussy dinner party need not be constrained to the home: give an artful, colorful picnic basket ($498) or a vintage nineteen-seventies "picnic ball" ($45): a full set of colorful plastic salad plates, dinner plates, bowls, and cups, neatly nested in a modish sphere.
A Bowl That Looks Like the Sky
Just looking at a piece from Haand ceramics' Cloudware line brings on a sense of calm. The bowls and mugs are made with a marbleized blue-and-white clay; the result—organic, full of flow and movement—calls to mind a morning sky streaked with clouds (pieces from $25).
One Whole Durian, in a Gift Box
One whole durian, in a gift box ($134). Be a hero.
Prices listed above are accurate as of publication but may fluctuate over time.
Sourse: newyorker.com