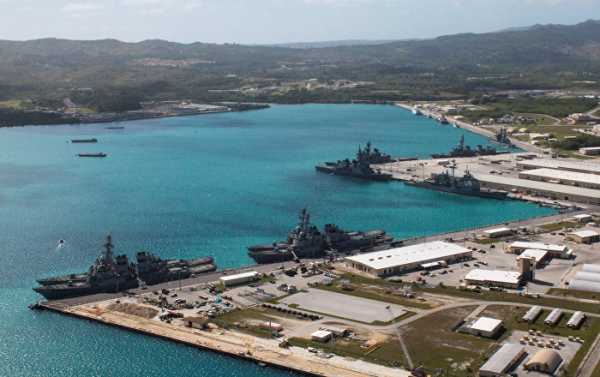 A multibillion US-Japan project to develop the island of Guam as a base for more US Marines is underway following years of complaints about the US military's footprint in Okinawa, Japan.
The $8.7 billion project is being funded in part by the United States, which is covering more than $5 billion of the project costs, while Japan is chipping in $3 billion, according to Stars and Stripes. The preparations and changes to Guam are intended to make the island ready to support more than 4,000 Marines slated to arrive sometime in the next decade, according to a report by Stars and Stripes published Monday.
"It is clearly moving forward. We're in the early stages of the main base… there are a lot of very senior leaders that are, I think, pleased with where we're going because we are showing actual progress with clear this site, and I think it's gaining momentum… so it's great to see," Capt. Daniel Turner, commander of Naval Facilities Engineering Command Marianas, told the outlet.
Part of the job has been to explode ordinances remaining from World War II, but there are some 60 projects that need to be completed on the island, including building new barracks for troops to live in. The island already has some significant military infrastructure, as the US' Andersen Air Force Base is located there.
The move to station more Marines in Guam is motivated by the near-constant complaints by Japanese residents regarding the US Marine presence in Okinawa, "the keystone of the Pacific that many Marines call home," in the words of veteran Marine turned Task and Purpose columnist James Clark.
Many Okinawa residents resent the Marines' presence, and some local politicians, including former Okinawa Governor Takeshi Onaga, took strong positions against the US base. A 1995 incident in which three US service members abducted and raped a 12-year-old Okinawan girl led to widespread protests against the US presence in the prefecture. Such crimes and less egregious ones committed by US service members have kept tensions between locals and US service members simmering.
As part of the Pacific "realignment" and attempts by Tokyo and Washington to resolve the issue, an agreement was struck in 2008 by then-Secretary of State Condoleezza Rice to move thousands of US troops from Okinawa to Guam, Hawaii and Australia.
Part of the plan also involved moving part of the Marine presence on Okinawa from a city to a remote area on the prefecture. Japanese residents have not been happy with this arrangement either. About 70,000 people gathered in Okinawa's capital of Naha to demonstrate their opposition to the relocation of Marines from a dense urban are to a remote part of the island, Japan Times reported Saturday.
Sourse: sputniknews.com