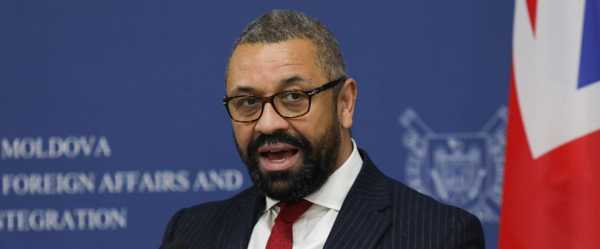 CHISINAU, Moldova — British Foreign Secretary James Cleverly visited Moldova's capital Thursday, where he is set to pledge 10 million pounds ($12.5 million) in financial aid to help the small, embattled country tackle what his office called "malign interference" from Russia.
Cleverly met with his Moldovan counterpart Nicu Popescu in Chisinau, where they will discuss efforts to support Moldova, a European Union candidate that has faced a protracted series of crises since Moscow launched its war in neighboring Ukraine.
"You are not alone, we, together with international partners will help the Republic of Moldova to face this unprecedented, brutal war on your doorstep," Cleverly said at a news conference. "With the exception of Ukraine, no other country has felt the impact of Putin's cruel war more deeply than Moldova."
The British official's visit marks the start of a regional trip that will also include Georgia, and comes at a turbulent time for the two former Soviet republics which both have aspirations of joining the EU and aren't members of the NATO military alliance.
The financial aid that the UK will pledge on Thursday will help Moldova's economic and governance reforms, and bolster anti-corruption efforts as it looks to forge closer ties with its Western partners, much to the ire of Moscow, its historic partner.
"Few societies understand the underhand tactics of Russian malign activity more than Moldova and Georgia," Cleverly said ahead of his visit to Chisinau. "We must reinforce their resilience to Russia's hybrid threats, safeguard the democratic choices of their people and protect them from the threat on their doorstep."
Moldova's Popescu said Thursday that the support from the UK shows "we have strong friends and we enjoy their steadfast support."
The UK's new financial pledge will be in addition to 12 million pounds pledged to Moldova last year, which Cleverly said helped it defend against cyber attacks, tackle Russian disinformation, reform its armed forces and fight official corruption.
In Moldova, police on Sunday said they foiled a plot by groups of Russia-backed saboteurs specially trained to cause mass unrest at protests against the country's new pro-Western government. Days earlier, U.S. intelligence officials had said that people with ties to Russian intelligence aimed to use the protests as a basis to try to topple Moldova's government.
The protest was one of several held in recent weeks organized by a group called Movement for the People, which is backed by Moldova's Russia-friendly Shor Party that holds six seats in the country's 101-seat legislature.
The Shor Party's leader, Ilan Shor, is a Moldovan oligarch currently in exile in Israel, who is named on a U.S. State Department sanctions list as working for Russian interests. The UK also added Shor to a sanctions list in December.
Georgia too was rocked this month by mass protests over a so-called "foreign agents law," which opponents said would curtail media freedoms and could be used to stifle dissent. Protesters in Tbilisi said the bill was inspired by a similar law in Russia that has been used to silence critics. Last week, the bill was overwhelmingly voted against by Georgia's parliament.
The UK is set to pledge 500,000 pounds to Georgia to protect the country from "external interference" ahead of parliamentary elections next year, according to Cleverly's office.
___
Stephen McGrath reported from Kidderminster, England.
Sourse: abcnews.go.com