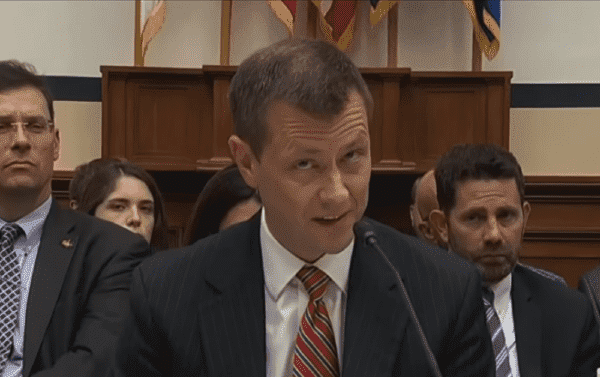 Fired FBI agent Peter Strzok has argued that his bias has never affected his work, but it appears it has now very positively affected his lack of work.
At least that's the case if one is to take the Washington Post at its word, which ran with the headline "FBI agent Peter Strzok fired over anti-Trump texts," although it proffered no evidence to its readers to support that being the reason for his firing.
Strzok was, however, kicked off of the team of special counsel Robert Mueller for precisely that reason, prior to being sacked. The 21-year FBI veteran headed up both the investigation into Hillary Clinton's use of a private email server while secretary of state and then the investigation into potential collusion between US President Donald Trump's campaign and the Russian government, which he launched July 31, 2016.
Not present in the mainstream media: any headlines along the lines of "FBI agent Peter Strzok fired over anti-Russia texts," which are also scattered throughout the uncovered messages Strzok sent to the FBI lawyer with whom he was having an affair, Lisa Page.
Those texts include statements like "F**k the cheating motherf**king Russians. Bastards. l hate them," that Russians are "f**king conniving cheating savages," and that they are "probably the worst."
Nonetheless, Strzok, whose collusion investigation was taken over by Mueller in May 2017, said he was "concern[ed]" there was "no big there there" in the probe. He also seemed to believe Guccifer 2.0, who claimed to have hacked the Democratic National Committee, was not actually 12 Kremlin hackers but really just a Romanian guy, as he said.
A Romanian guy, yes, but a "sleazy Romanian," nonetheless: Strzok said Romanians like Guccifer have the "crookedness of the Russians with the entitledness [sic] of the Italians."
Strzok became something of a Resistance hero after his June 2018 Congressional testimony, with some on Twitter calling for the top cop to run for president, Sputnik News previously reported.
Now that Strzok's been fired, the former No. 2 in the FBI's counterintelligence division is apparently strapped for cash. A GoFundMe was started by anonymous "Friends of Special Agent Peter Strzok" shortly after his firing, and as the donations have flooded in, the page's fundraising goal has increased.
The GoFundMe page says Strzok, who once texted his former lover Lisa Page that he is "partial to any woman sending articles about how nasty the Russians are," is really "a proud husband."
The fund raised $48,700 in just six hours toward its initial grand goal of $150,000. In the following hour, the fund for Strzok reached $60,000. In the eighth hour, it hit $70,000, Sputnik News reported.
Now, the page has raised more than $400,000 in just two days and has set a new goal of $500,000.
The huge sums did not go unnoticed on the Twitterverse, where many Americans are forced to promote personal fundraisers to take care of basic necessities, like medical expenses.
"[Former FBI Director Andrew] McCabe did the same thing. They're trying to elicit sympathy for the tough treatment that they've gotten from their masters," Ray McGovern, a 27-year intelligence analyst with the CIA, previously told Sputnik News. "Maybe they'll have to find some honest work."
Sourse: sputniknews.com