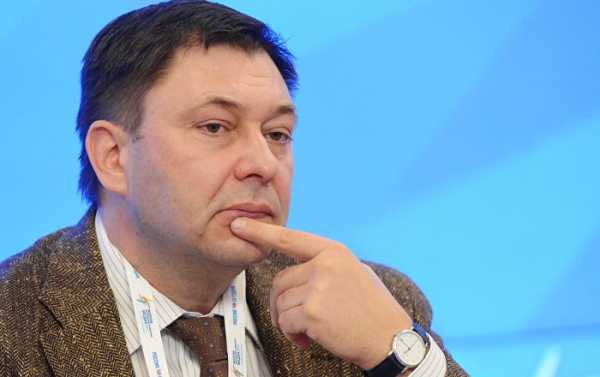 MOSCOW (Sputnik) — Sputnik Director General Dmitry Kiselev has urged the United States to remember its commitment to the freedom of speech and help protect head of the RIA Novosti Ukraine news portal Kirill Vyshinsky, who is detained in Ukraine on suspicion of supporting the eastern Ukrainian breakaway republics.
«I am addressing the colleagues from the United States because they [the Ukrainians], in Kiev, listen only to the United States that is guided by its First Amendment to the Constitution under which the freedom of speech is sacred. Let them protect the journalist,» Kiselev said.
Earlier in the day, a rally in support of the detained journalist was held in the courtyard of Rossiya Segodnya building in the center of Moscow. The rally participants were holding up posters that, when put together, made up a portrait of Vyshinsky with different hashtags, including #TruthnotTreason. White balloons were sent up into the sky.
«One rally will obviously not solve everything, but there will be hundreds of such rallies. And I hope that our colleagues, journalists from other outlets, will also support us,» Kiselev said before the beginning of the event.
Vyshinsky, a Ukrainian citizen, was arrested in Kiev in May and then transferred to the southern Ukrainian city of Kherson, where he was taken into custody by court order, which was later extended until November 4.
The detention of Vyshinsky has prompted widespread criticism by journalists and rights groups, which said that such moves were unacceptable in a democratic society.
Russian President Vladimir Putin has said that Vyshinsky's arrest was politically motivated, adding that the incident demonstrated an unprecedented and unacceptable policy of Ukrainian authorities targeting journalists who were just doing their jobs.
Sourse: sputniknews.com