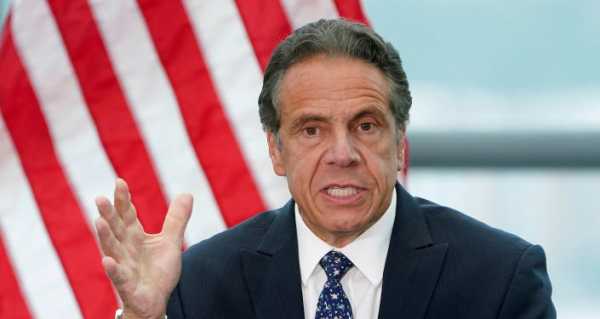 Inappropriately' />
Earlier on Tuesday, attorneys Joon H. Kim and Anne L. Clark, independent investigators appointed by New York Attorney General Letitia James (D), concluded that New York Governor Andrew Cuomo (D) sexually harassed several women "by engaging in unwanted groping, kissing, and hugging."
Shortly after the publication of the independent investigators' findings, the New York governor went live on Tuesday with a prerecorded briefing in which he claimed to have never touched anyone inappropriately. 
The independent probe, which interviewed Cuomo and 178 other individuals, determined that Cuomo's actions toward 11 women – many of whom happened to be government employees – violated multiple state and federal laws. 
Cuomo maintained on Tuesday that he has done nothing wrong. The New York governor also revealed that his attorney "has done a response to each allegation and the facts are much different than what has been portrayed." 
Cuomo argued that Bennett and her lawyer "read into comments I made and draw inferences that I never meant. They ascribe motives I never had – and simply put – they heard things I just didn't say." 
Meanwhile, Bennett called on the New York governor to resign, shortly after the findings were released. 
Even fellow Democrats, such as Senate Majority Leader Chuck Schumer (D-NY) and Sen. Kirsten Gillibrand (D-NY), have renewed their calls for Cuomo's resignation. 
"No elected official is above the law," they noted. "The people of New York deserve better leadership in the governor's office. We continue to believe that the Governor should resign." 
New York State Assembly Speaker Carl Heastief, a Democrat, said the findings in the independent investigators' report were "disturbing." 
He added that the Assembly intends to conduct an "in-depth examination" of the AG report with Assembly counsels and a legal firm that has been retained. The Assembly Judiciary Committee has also been forwarded the report.
Sourse: sputniknews.com