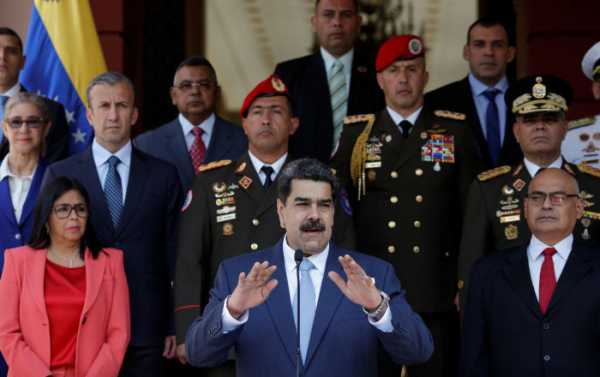 The United States on Thursday charged Venezuelan president Nicolas Maduro with "narco terrorism", offering a $15 million reward for his arrest. The Trump administration ceased its recognition of Maduro as the legitimate president of Venezuela, following accusations of election fraud and human rights abuse.
Venezuelan Foreign Minister Jorge Arreaza said on Thursday that drug trafficking charges brought forward earlier in the day by the Trump administration against President Nicolas Maduro showed the "desperation" of the "Washington elite".
Arreaza said that the White House decision to offer a reward for the capture of Maduro and other high-ranking officials for alleged drug trafficking and "narco-terrorism" prove the administration's "obsession" with Venezuela, and point to Trump's attempts to get better "electoral returns" in the state of Florida.
In response to accusations that Venezuela is involved with leftist Colombian guerrilla group FARC to help export large shipments of cocaine into the United States and other countries, the foreign minister recalled Venezuela's role in peace negotiations between the Colombian government and the rebel organisation.
Arreaza accused the US of allowing the drug to be produced and shipped to North American under the oversight of its allied government in Colombia.
The rare indictment from the US demonstrates a significant development by Washington in its ramping up of pressure against a sitting Venezuelan head of state. According to reports, Trump is increasingly frustrated with what he considers to be the lacklustre results of his Venezuela foreign policy.
The US has recognised the president of Venezuela's National Assembly, Juan Guaido, as the country's leader, although Guaido was not elected to the top office.
The United Nations, as well as UN Security Council member states China and Russia, continue to recognise the Maduro government.
Accusations against Maduro and other senior officials of exporting cocaine are suggested by Beltway pundits  as proof that Caracas is attempting to make up for revenue lost due to US-imposed oil sanctions.
Sourse: sputniknews.com