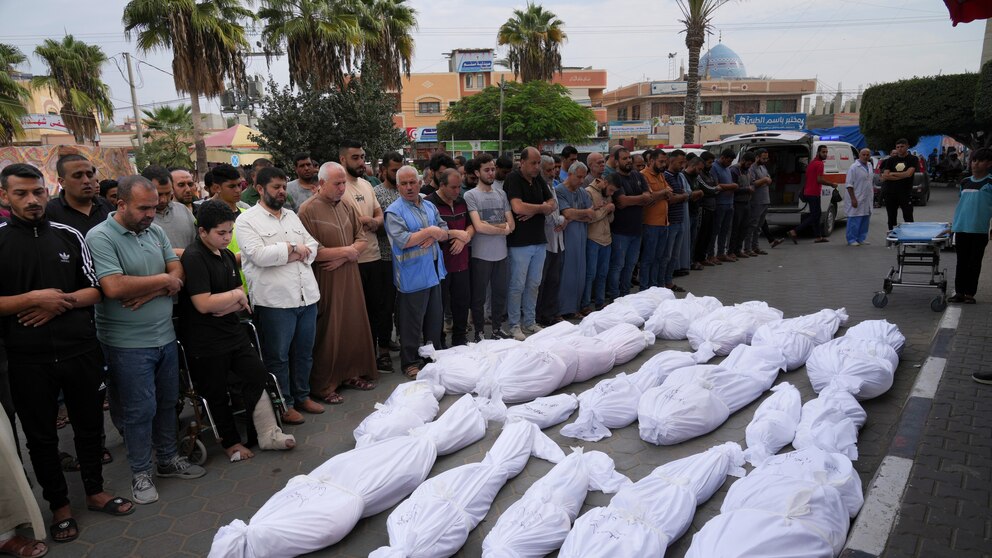 The Israeli military says its ground forces will expand their activities in Gaza Friday night. The announcement came hours after Israeli forces conducted a second ground raid as many days and after Israel's defense minister said the country expects to launch a long and difficult ground invasion of the Hamas-ruled territory.
The development also came after communication services in the Gaza Strip were cut, following a heavy round of Israeli airstrikes that lit up the night sky over the darkened territory.
The Palestinian death toll passed 7,300 as Israel launched waves of airstrikes in response to the bloody Hamas rampage in southern Israel on Oct. 7. The Health Ministry in Hamas-ruled Gaza, which tracks the toll, released a detailed list, including names and ID numbers on Thursday. In the occupied West Bank, more than 110 Palestinians have been killed in violence and Israeli raids since the war's start three weeks ago.
More than 1,400 people in Israel have been killed, mostly civilians slain during the initial Hamas attack. In addition, 229 people — including foreigners, children and older adults — were taken by Hamas during the incursion and remain in captivity in Gaza. Four hostages were released earlier.
Currently:
1. U.S. strikes Iran-linked sites in Syria in retaliation for attacks on U.S. troops.

2. How did they get it wrong: Israel-Hamas war has upended years of conventional wisdom.

3. Data from the Gaza Health Ministry, questioned after the hospital explosion, has withstood past scrutiny.

4. About 30 children were taken hostage by Hamas militants. Their families wait in agony.

5. The EU seeks to revive peace talks since no military answer seen in the Israel-Palestinian conflict.

6. Find more of AP's coverage at https://apnews.com/hub/israel-hamas-war.
Here's what's happening in the latest Israel-Hamas war:
WASHINGTON — White House National Security spokesman John Kirby repeatedly refused to comment on Israel saying its ground forces were expanding activity in Gaza and also refused to comment on what a satisfactory long-term objective might be for the fighting.
"We're not drawing red lines for Israel," Kirby said Friday on a call with reporters. "We're going to continue to support them" but "since the very beginning we have, and will continue to have, conversations about the manner that they are doing this."
Kirby said the U.S. is still evaluating the impact of airstrikes against Iranian-backed militias and "we will not hesitate to take further actions in our own self-defense."
He also said 10 additional trucks filled with humanitarian aid had made it to Gaza, bringing the total to 84, but that the U.S. is aware that fuel there "is only anticipated to last a couple of days."
The White House previously said President Joe Biden was briefed Friday morning by his national security team on the latest developments in Israel and Gaza.
RAMALLAH, West Bank — Aid groups say the communications blackout in the Gaza Strip has not only left them unable to contact their staff, but has also impeded their operations in the territory.
"It doesn't only mean that Gaza is isolated from the world but also it means people can't connect to each other. Our emergency line is down so people are literally not able to call an ambulance," said Nebal Farsakh, a spokesperson for the Palestinian Red Crescent. "We are extremely worried because we are completely cut off from our teams."
The International Committee of the Red Cross also said it's currently unable to reach its staff in Gaza.
"We are deeply worried for their safety and the safety of all civilians where hostilities are taking place. Without access to information in a communication blackout, people don't know where to go for safety," the organization said in a statement. "Blackouts impede humanitarian and medical personnel from working safely and effectively."
JERUSALEM — The Israeli military on Friday said its ground forces were "expanding their activity" in the Gaza Strip, as the army moved closer to a full-on ground invasion of the besieged territory.
Rear Adm. Daniel Hagari, the army's spokesman, said aerial attacks had been targeting Hamas tunnels and other targets.
"In addition to the attacks that we carried out in recent days, ground forces are expanding their activity this evening," he said. "The IDF is acting with great force … to achieve the objectives of the war."
Israel has amassed hundreds of thousands of troops along the border with Gaza ahead of an expected ground offensive against the Hamas militant group.
Israel has been pounding Gaza with airstrikes since Hamas militants carried out a bloody cross-border incursion on Oct. 7.
VATICAN CITY — Amid signs of escalating tensions in the Middle East, Pope Francis led special prayers Friday evening in St. Peter's Basilica for a world "in a dark hour" and in "great danger" from what he described as the folly of war.
In his remarks, delivered in the form of a prayer to the Virgin Mary, Francis didn't mention by name the Israeli-Palestinian conflict, which exploded into war after the Hamas attack against Israelis on Oct. 7.
Instead, he said he was praying for "especially those countries and regions at war."
"Intercede for our world, in such turmoil and great danger,″ the pope prayed, in apparent reference to widespread anxiety that the Israeli-Hamas war could quickly develop into a wider, regional war in the Middle East.
RAMALLAH, West Bank — The Palestinian telecom provider Paltel says internet service in Gaza Strip has been cut off by Israeli bombardment. Services were cut Friday evening, following a heavy round of Israeli airstrikes that lit up the night sky over the darkened territory.
Rights groups and journalists also say they lost contact with colleagues in the enclave. The Associated Press's attempts to contact people in Gaza did not go through.
DEIR AL-BALAH, Gaza Strip — A 14-year-old boy and his father were killed Friday when the roof of a mosque they were praying in collapsed during an Israeli airstrike in Deir al-Balah in central Gaza, witnesses said.
Several people were killed and an unknown number trapped when a bomb also destroyed a home and damaged the mosque next door.
Bloodied survivors were rushed to a hospital. A girl wearing pink who was covered in dirt grimaced as doctors poured liquid on an open leg wound.
Dozens of men gathered to view the blast zone where cars were crushed and buried up to their axles in dirt. Several homes appeared to be destroyed and the half-open remains of one house tilted precariously toward a crater full of rubble and metal scraps.
The father and son who died in the mosque were from the northern town of Beit Lahiya. Several others in the mosque were also feared dead.
Outside a United Nations-run school that's since become a shelter, funeral prayers were said over the shrouded body of the teen.
BUENOS AIRES, Argentina — One of the youngest hostages being held captive in Gaza by Hamas is a 9-month-old Argentine baby, according to the head of Argentina's embassy in Israel.
"The youngest hostage, a baby of only nine months, is Argentine. It's very difficult to talk about such painful topics," Francisco Tropepi told Vis á Vis, a news outlet focused on reporting related to Israel and the Jewish community in Argentina, in an interview. Tropepi did not reveal the baby's identity.
There are 21 Argentine citizens who remain missing and are presumed to be held hostage by Hamas, Foreign Minister Santiago Cafiero said in a radio interview Friday morning. An estimated nine Argentines have been killed in the conflict.
"In some cases, we have precise information that they've been captured, and in others, we've been actively searching for them," Cafiero said, adding that he had spoken with U.N. Secretary-General Antonio Guterres to request his intervention for the release of the Argentine hostages who are being held in the Gaza Strip.
UNITED NATIONS — The U.N. General Assembly has scheduled a vote on a resolution calling for a "humanitarian truce" in Gaza leading to a cease-fire of hostilities between Israel and Gaza's Hamas rulers.
Jordan's U.N. Ambassador Ayman Safadi, speaking on behalf of the U.N.'s 22-nation Arab group which drafted the resolution, called for a 3 p.m. EDT vote Friday, before all 112 speakers get to the assembly's rostrum, because of the urgency of taking action.
The Arab group is seeking action by the 193-member world body because of the failure of the more powerful 15-member U.N. Security Council to agree on a resolution after four attempts.
Unlike the Security Council, there are no vetoes in the General Assembly so the resolution is certain to be adopted. But while council resolutions are legally binding, assembly resolutions are not. They do, however, serve as an important barometer of world opinion.
___
This has been corrected to show that Ayman Safadi is Jordan's U.N. ambassador, not the country's foreign minister.
NEW YORK — The American humanitarian organization, Project HOPE, says it has had primary health care, surgical and emergency medical supplies positioned in Egypt near the Rafah border crossing for over a week. Those now include emergency surgical equipment designed to support 700 interventions and basic medical supplies to support some 60,000 people for three months.
Arlan Fuller, head of the nonprofit's emergency response, said the organization is also ready to send Arabic-speaking medical teams from partner organizations in Morocco and Jordan, as soon as they would be allowed to enter the Gaza Strip or treat people coming out of Gaza.
ANKARA, Turkey — Turkish Foreign Minister Hakan Fidan appealed to Israel on Friday to "heed Turkey's call for peace," warning that the country could find itself in a growing spiral of violence.
Speaking during a joint news conference with Denmark's foreign minister, Lars Løkke Rasmussen, Fidan said: "Humanity is at a crossroads. Either there will be a great war that will spread all over the world, or a great peace will emerge."
Fidan continued: "Ignoring the existence of the Palestinians, ignoring the rights of the Palestinians, and applying pressure and cruelty to the Palestinians have not — and will not — bring peace to Israel. If Israel wants to be in peace and security, it must respect the right of the Palestinians to live their own state on their own land."
Rasmussen defined Hamas as a terrorist organization in an apparent rebuke of Turkish President Recep Tayyip who earlier this week described the militant group as "liberation fighters."
Fidan said Turkey regards Hamas as a political party "that is part of the Palestinian state system," but added that this did not mean that Ankara "accepts the killing of civilians."
BEIRUT — Social media messaging app Telegram has closed down several accounts for the militant Hamas group and its military wing that have been used to release messages and videos related to the Israel-Hamas war.
When clicking on the account of Hamas' military wing, the Qassam Brigades, which has nearly 693,000 followers, the page displays a message that reads: "Unfortunately, this channel couldn't be displayed on your device." The same message appears when opening the page of Qassam Brigades spokesman Abu Obeida that has 584,000 followers.
Telegram did not immediately respond to a request for comment by The Associated Press.
A Google spokesperson, who was not authorized to speak publicly to the media and spoke on the condition of anonymity, confirmed reports that Telegram closed the Hamas pages and said, "the reporting has been accurate."
The spokesperson said Google Play's policies require all apps that feature user-generated content to effectively moderate egregious content, including content that promotes terrorist acts, incites violence, or celebrates terrorist attacks.
"When violations are found we take appropriate action," the spokesperson said.
During the early days of the war, Hamas released graphic images and videos of its attack on southern Israel that left more than 1,400 Israeli civilians and troops dead as well more than 220 who were taken hostages.
Sourse: abcnews.go.com