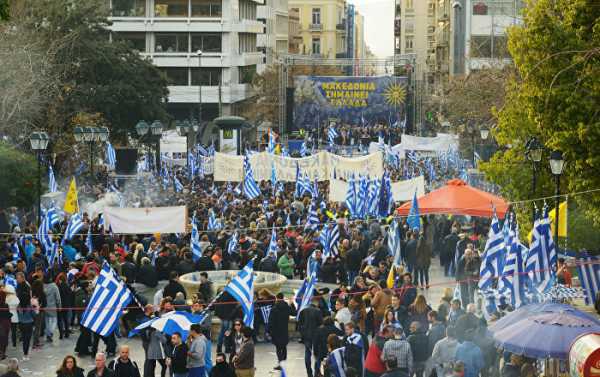 ATHENS (Sputnik) – Local police are trying currently to prevent clashes between the far-right and far-left protesters. The far-right demonstrators reportedly attempted to attack anarchists with stones, flag poles, and stun grenades. Police, in turn, used tear gas against demonstrators.
"Since 12 p.m. [10:00 GMT], demonstrations on the Syntagma square have been held involving around 140,000 citizens. They are occupying the area of 50,000 square meters [12.4 acres] on the Syntagma square," the police said in a statement.
According to the law enforcement data, 283 buses brought the protesters to the demonstration site.
Meanwhile, the demonstration's organizers said that over a million of people attended the rally.
"This information [of police] is not true. According to our data, 1.5 million people attended the rally. Final data will be announced on Monday morning," a member of the demonstration's organizing committee told Sputnik.
A Sputnik correspondent reported that the protesters were holding the flags of Greece and the Greek Orthodox Church, well as posters with the slogan "Macedonia is Greece."
The demonstrators say that they rally in support of Greece's unity and against "betrayal" of its national interests, referring to the government's willingness to a compromise with Skopje in the Macedonia name dispute.
Apart from the Macedonia name rally, a counter-protest is held by Greek far-left groups in Athens. According to the police data, the rally brought together around 400 people, mainly from the city's central Exarcheia neighborhood, popular among students, anarchists and anti-globalists.
Around 19,000 law enforcement official are maintaining order in Athens during the rallies.
Greece is involved in talks with Macedonia, referred to as FYROM by Athens, to resolve the decades-long dispute on the name of the country. Athens has been claiming that Skopje might have territorial claims over Greece's region of the same name.
Some 140,000 people attended a rally against the use of the word "Macedonia" in the name of the Former Yugoslav Republic of Macedonia (FYROM), which took place in central Athens on Sunday, the Greek police said.
Sourse: sputniknews.com