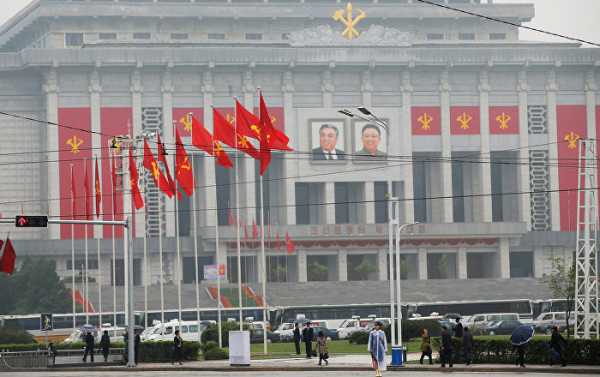 UNITED NATIONS (Sputnik) – North Korea's Permanent Mission to the United Nations in its statement criticized the organization for its refusal to organize an international forum explaining legal basis of the UN resolutions on anti-Pyongyang sanctions at North Korea's request.
"The UN Secretariat still turns aside from our justified requirement for organizing international forum of legal experts … The UN Secretariat should take value and listen carefully to the voices raised from numerous legal experts and lawyers of many countries, who are supporting our proposal for international forum, insisting that the Security Council has no single legality or moral justification for condemning nuclear test or launch of ICBM and satellite in violation of international law," the statement, released on Monday, read.
The North Korean Permanent Mission to the United Nations asked in the UN Secretariat to respond immediately to its proposal to organize a legal forum on the UN anti-Pyongyang sanctions resolutions "in a positive way, in conformity of the mission of the Charter of the United Nations."
"The 'sanctions resolutions,' cooked up by the Security Council in a most despicable and toughest manner, show its criminal nature of its offensive purpose in pursuit of suffocating all aspects of areas including our national economy, people's livelihood, public health, sports and humanitarian assistance. This clearly proves that the UN Security Council, overpowered by high-handedness and arbitrariness of the U.S., has only turned into the tool of infringement upon people's right and barbarous state sponsored terrorism, by fabricating such illegal 'sanctions resolutions' that hinders and threaten exercise of human rights of our people," the statement pointed out.
Since January 2017, North Korea has been calling on the United Nations to organize international forum of legal experts to clarify legal basis of the UN sanctions resolutions, the document noted. Despite that, the UN Secretariat has rejected such requests, saying it is for the UN Security Council (UNSC) to decide what measures need to be taken to maintain international peace and security.
Over the past years, North Korea has repeatedly held ballistic missile launches and nuclear tests despite criticism of the international community, and condemnation of the United Nations.
In response, the UNSC has repeatedly adopted economic and diplomatic sanctions against Pyongyang. The restrictive measures against North Korea were introduced by the United Nations for the last time in December.
Sourse: sputniknews.com