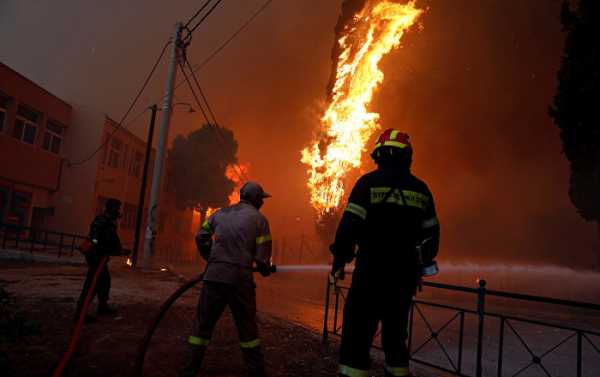 ATHENS (Sputnik) – In July, Greece suffered its most devastating fire in decades. The tragedy killed about 90 people, injuring some 190 more. Immediately after the tragedy, Citizen Protection Minister Nikos Toskas tendered his resignation but Tsipras did not accept it.
The Greek government has replaced heads of police and fire service after deadly forest fires near Athens last month which killed about 90 people, the Greek prime minister's press service said on Sunday. The decision was taken at an extraordinary meeting of the government council on foreign policy and defense earlier in the day.
Greece's new fire service chief is Lt. Gen. Vasileios Matthaipoulos, while Lt. Gen. Aristides Antrikopoulos is new police head, according to a statement obtained by Sputnik. Both of them were deputies in their respective forces.
Greek Prime Minister Alexis Tsipras accepted Friday the resignation of Citizen Protection Minister Nikos Toskas, who had refused to remain in office after dozens of people had been killed in a wildfire in Greece's Attica, Tsipras's press service said.
"I must sincerely thank the prime minister for his trust over all this time since he has entrusted me with public duties … The natural disaster and the loss of many of our compatriots in Mati [resort in East Attica] does not allow me to fulfill my responsibilities, as I have been saying publicly since the very beginning," Toskas said in a statement obtained by Sputnik.
According to the prime-minister's press service, Interior Minister Panagiotis Skourletis will be the acting citizen protection minister.
The wildfires in the Greek capital region of Attica broke out on July 23. The disaster is supposed to have been caused by 40 degree Celsius (104 degree Fahrenheit) heat and strong winds, which prevented emergency services from putting out the fire.
The Greek government said earlier it would pay 5,000 euros ($5,800) to each family of those injured, while those who suffered heavy losses would receive 8,000 euros ($9,300). In addition, owners of buildings which were severely or completely destroyed by the fire would be exempt from paying property taxes.
Sourse: sputniknews.com