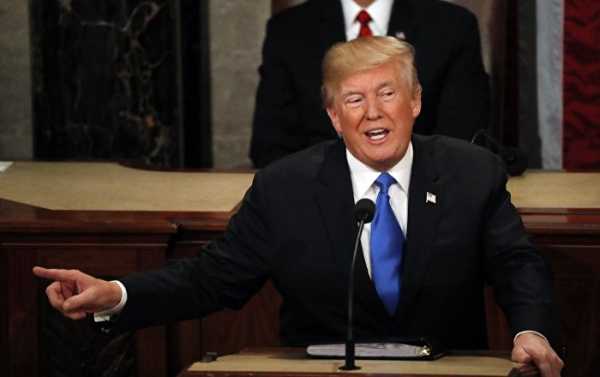 US President Donald Trump commented on the Republican memo, on the role of the FBI and the Justice Department in the investigation into Russia's alleged interference in the 2016 US presidential election.
"This memo totally vindicates "Trump" in probe. But the Russian Witch Hunt goes on and on. There was no Collusion and there was no Obstruction (the word now used because, after one year of looking endlessly and finding NOTHING, collusion is dead). This is an American disgrace!" the president stated.
The document, released on February 2, in addition to the data on Trump, mentions violations related to the wiretapping of former Trump adviser Carter Page.
The memo notes that the FISA surveillance applications relied on a dossier compiled by former British intelligence agent Christopher Steele on behalf of the Democratic National Committee (DNC) and the Hillary Clinton campaign.
The memo, in particular, accuses the Federal Bureau of Investigation (FBI) and Justice Department of political bias against President Donald Trump in their probe into alleged Russian interference in the 2016 presidential election and possible collusion with the Trump campaign. As the memo specifies, FBI and DOJ staff abused surveillance laws in the investigation of the Trump campaign.
The memorandum was released despite that on January 31, the FBI publicly called into question the credibility of the document and warned against its publication.
Nonetheless, the White House announced on February 3 that the Department of Justice would not be charged after the release of the document.
According to previous CNN reports, the FBI claimed that in the summer of 2016, "employees of Russian special services" tried to use Trump's advisers to "infiltrate" his election campaign. According to a source to the television channel, the Russian side in particular allegedly tried to infiltrate Trump's campaign through his former adviser Page.
Sourse: sputniknews.com