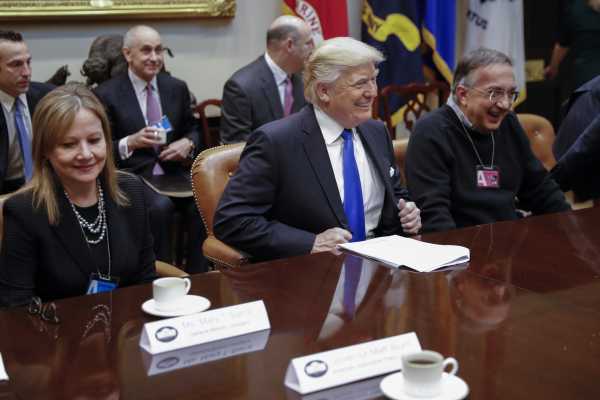 President Donald Trump appears to believe he can tweet General Motors out of closing a plant in Ohio.
Over the weekend and into Monday, he posted multiple tweets commenting on GM's recent closure of a plant in Lordstown, Ohio, casting blame on a local union leader and calling on the automaker's CEO to "do something quickly" about the issue. GM announced that it would shutter plants in Lordstown and other locations last year as part of a major restructuring plan. Trump has been unable to strong-arm the company into keeping operations open, and given the importance Ohio will have in his reelection bid, he's clearly concerned about it.
Here's the backstory: In November, GM announced that it would "accelerate its transformation for the future" by making overhauls that would lead to $6 billion in cost reductions by 2020, including shuttering up to five plants in the US and Canada and slashing 15 percent of its salaried workforce.
One of the plants it said it would close was in Lordstown. And on March 6, it did just that, resulting in about 1,500 workers being laid off.
Trump has been eager to point fingers over what happened in Lordstown — at everyone but himself and his trade policy, which has been particularly challenging for car manufacturers. On Saturday, he tweeted that GM should reopen the plant "maybe in a different form or with a new owner, FAST!"
On Sunday, he tweeted that David Green, president of United Auto Workers Local 1112, should "get his act together and produce." Green has sent two letters to Trump asking him for help in keeping the Lordstown plant open, both of which went unanswered.
Also on Sunday, Trump tweeted that he had spoken with Mary Barra, GM's CEO, and claimed she blamed the UAW.
And on Monday, Trump said GM and the UAW should start talks over what to do immediately and suggested GM close a plant in China or Mexico instead. "Bring jobs home!" he wrote.
The Lordstown plant's closure is bad optics for Trump, and he knows it. He campaigned on a promise of bringing jobs back to the United States, especially in manufacturing, and his reelection campaign may very well hinge on the Rust Belt. He has made a habit of trying to shame specific companies into bending to his will, rather than trying to engage with the underlying economic issues that are at work behind these decisions.
What's going on with GM and Lordstown, briefly explained
As mentioned, GM in November announced a restructuring plan to basically try to make its business more profitable and cut costs. It said the plan would cost it up to $3.8 billion initially but by the end of 2020 would lead to annual cash savings of $6 billion. Key components of the plan: idling five assembly plants, including one in Canada, two in Ohio, one in Michigan, and one in Maryland.
The announcement wasn't a huge surprise — last fall, GM offered voluntary buyout packages to 18,000 salaried workers in North America and said it was taking multiple "proactive steps" to cut costs. Over the summer, it also warned that tariffs under the Trump administration could lead to a "smaller GM."
The issue with the specific plants being shut down is that they make types of vehicles that Americans no longer buy, Basically, demand is declining for smaller, traditional passenger ones, and instead, consumers are buying crossover vehicles, SUVs, and light trucks.
In the case of the Lordstown plant, specifically, it made the Chevy Cruze, a small sedan. And it's been limping along for a while. It laid off hundreds of workers in January 2017 when the third shift was eliminated there, and in April 2018, the plant went down to one shift.
"Those just don't sell," Clayton Allen, an analyst at the research firm Height Capital Markets, told me. "Sales numbers on four-door sedans have dropped basically through the floor over the last several years."
There are options for GM to try to reopen the Lordstown plant, Allen said. The GMC Terrain, Chevrolet Equinox, and Buick Envision all have an underpinning that is similar to the Cruze, and the Lordstown facility could be retooled to make one of those cars there. Right now, he said, a lot of the production of those vehicles is in Mexico. "Do they have the demand for those to justify an additional production line in the US?" Allen said.
GM said in a statement that the future of the closed plants will be resolved between GM and the UAW. "We remain open to talking with all affected stakeholders, but our main focus remains on our employees and offering them jobs in our plants where we have growth opportunities. We have now placed over 1,000 employees from our unallocated plants to other GM locations, and we have opportunities available for virtually all impacted employees," the company said.
According to the Washington Post, about 700 Lordstown workers have transferred out of state. Otherwise, they will likely have to get another job in the area, which will probably pay less.
Trump wants someone to blame here
Green, the IAW president, responded to Trump's tweet in a statement published by the Detroit News, saying that the union is doing "everything we can with the Drive it Home Ohio Campaign to convince General Motors CEO Mary Barra to reinvest in GM Lordstown" and that GM and the UAW will discuss the plant's fate in the fall.
"Folks here in the Mahoning Valley are True Blue, hard working, loyal, dedicated and ready to help General Motors and this country build the cars and trucks of the future," he said.
Regarding Trump's tweet specifically, Green said separately, according to the Post, that it won't do much to save Lordstown jobs. "The fact that we've seen our Kmart distribution center in Warren close, a hospital close out here, all these brick and mortar businesses are closing and now unallocated status at [GM] Lordstown … people are starting to wake up" about Trump, he said.
Sen. Sherrod Brown (D-OH) also jumped to Green's defense, telling Trump to stand up to GM and join the fight.
This isn't the first time Trump has gone after union leaders in lieu of corporate America. He lashed out at AFL-CIO president Richard Trumka on Labor Day last year after Trumka criticized him in an appearance on Fox News Sunday. And in 2016, he attacked a steel union boss in the midst of his efforts to keep a Carrier plant in Indiana from shuttering.
Trump has been nicer with regard to Barra. When GM first announced the plant closures last year, he said he told the GM executive that "you better get back in there soon."
This obviously isn't the best deal for Trump
GM's decision making has little to do with Trump or government policy in general — though the steel tariffs aren't helping — but Trump is well aware that this plant closure isn't a great look for him. As Heather Long at the Post notes, Trumbull County, where Lordstown is, voted for a Democrat in every election since the 1970s — until Trump in 2016.
Ohio, Michigan, and Wisconsin were what pushed Trump over the top in 2016 and will likely be very important for his reelection bid as well. There was a mini recession in parts of the economy leading up to the 2016 election that resulted in reduced investment in manufacturing in the Upper Midwest and localized economic pain that could have bolstered support for Trump there. If things get worse, not better, under his watch, that could harm his reelection prospects.
Trump is well aware of the optics, though it's not particularly clear he is hyper-concerned about the loss of the jobs themselves. As mentioned, Green has twice written to Trump about the state of affairs in Lordstown and hasn't received a response. Instead, the president is complaining about it on Twitter.
It's not dissimilar from what he's done with Harley-Davidson, which after the Republican tax cut bill was passed announced a nearly $700 million stock buyback plan and plans to close a plant in Kansas City. The president of the International Association of Machinists, like Green, sent a letter to Trump asking for help and, also like Green, received no answer. Trump publicly bashed Harley when it subsequently announced it would shift some production overseas.
The news moves fast. Catch up at the end of the day: Subscribe to Today, Explained, Vox's daily news podcast, or sign up for our evening email newsletter, Vox Sentences.
Sourse: vox.com