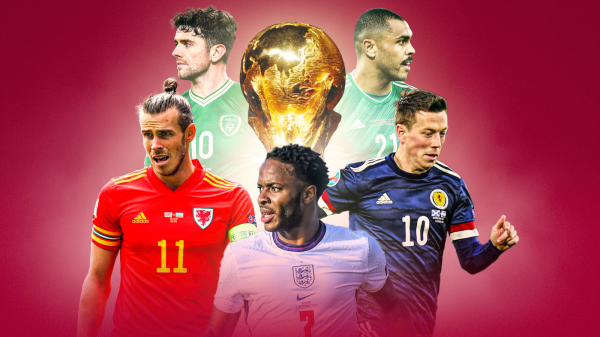 It's crunch time on the road to Qatar 2022 for European nations – who has qualified and who is in position to reach next year's World Cup finals?
Two of Europe's 13 FIFA World Cup spots have been secured and eight more teams can book their spots during the final set of group fixtures.
The winners of each group automatically qualify for the tournament, which runs from November 21 to December 18, 2022, and three more teams will seal their place at the end of the play-offs in March.
Here, we run through the state of play in each of the 10 groups at the business end of the qualification process, with several heavyweights under pressure.
Who has qualified?
How do the play-offs work?
The play-offs take place from March 24 to 29, with 10 group runners-up joined by the two best group winners from the 2020/21 UEFA Nations League overall ranking that have neither qualified directly as group winners, nor entered the play-offs already as group runners-up.
These 12 teams will be drawn into three play-off paths for one-off semi-finals and a final. The three path winners qualify for the World Cup.
What are the groups?
Group A: Portugal, Serbia, Republic of Ireland, Luxembourg, Azerbaijan
Group B: Spain, Sweden, Greece, Georgia, Kosovo
Group C: Italy, Switzerland, Northern Ireland, Bulgaria, Lithuania
Group D: France, Ukraine, Finland, Bosnia & Herzegovina, Kazakhstan
Group E: Belgium, Wales, Czech Republic, Belarus, Estonia
Group F: Denmark, Austria, Scotland, Israel, Faroe Islands, Moldova
Group G: Netherlands, Turkey, Norway, Montenegro, Latvia, Gibraltar
Group H: Croatia, Slovakia, Russia, Slovenia, Cyprus, Malta
Group I: England, Poland, Hungary, Albania, Andorra, San Marino
Group J: Germany, Romania, Iceland, North Macedonia, Armenia, Liechtenstein
Trending
Maguire defends goal celeb after Keane says: 'Embarrassing'
Hamilton under Brazil investigation | Verstappen now summoned too
FREE STREAM: Women's Amateur Asia-Pacific C'ship
England player ratings: Kane, Maguire hit back
'Fury predicts I'll be the champ – listen to him!'
World Cup Euro Qualifiers: Who's through, who needs what?
Alves agrees Barca return on free transfer
The F1 Gossip Column
Smith expected to be offered Norwich job
Hamilton leaves Verstappen trailing in qualifying triumph
World Cup qualifying fixtures | Results
World Cup Qualifiers live on Sky
Get Sky Sports | Get NOW to stream the big moments
When can England qualify for the 2022 World Cup in Qatar?
Group A – Can Ronaldo's Portugal avoid play-offs?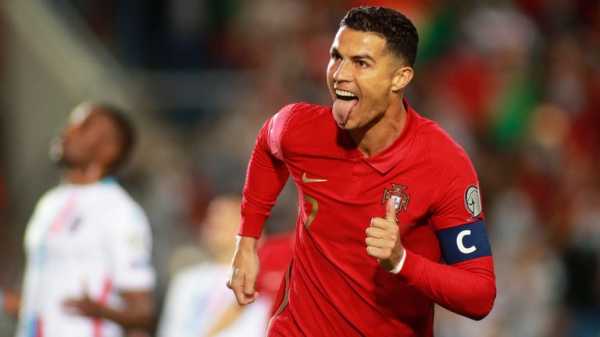 Image: Cristiano Ronaldo keeps setting records for Portugal but his team-mates have work to do
Portugal's 0-0 draw with the Republic of Ireland means they will play a winner-takes-all final game against Serbia on Sunday.
Portugal are currently top of Group A on goal difference. A draw would be enough for them to qualify as group winners, while Serbia must win to go through automatically.
Also See:
World Cup 2022: All you need to know
World Cup 2022 Qualifiers
Get Sky Sports
Live football on Sky Sports this week
The group winner will be one of those two sides as Luxembourg and Republic of Ireland now sit eight and 11 points behind Portugal respectively.
Azerbaijan remain stranded at the bottom of the group on one point.
Remaining fixtures:
November 14: Luxembourg vs Republic of Ireland – kick-off 7.45pm
November 14: Portugal vs Serbia – kick-off 7.45pm
Group B – Spain need a point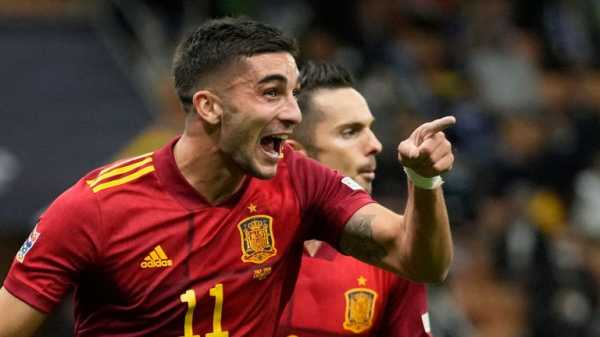 Image: Ferran Torres's Spain are under pressure
Spain have returned to the top of Group B after their narrow win against Greece. Sweden are a point behind in second place courtesy of a shock defeat away to Georgia.
Spain and Sweden will now face each other in the final World Cup qualifier on Sunday. A draw would be enough to send Spain through as group winners.
Greece, Kosovo and Georgia are out of contention, with the latter ending their campaign with seven points from eight games.
Remaining fixtures:
November 14: Greece vs Kosovo – kick-off 7.45pm
November 14: Spain vs Sweden – kick-off 7.45pm
Group C – Italy-Switzerland showdown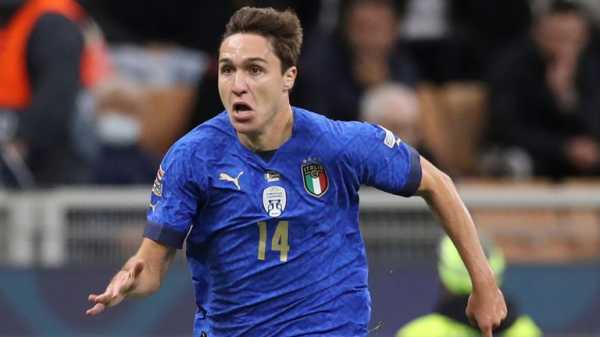 Image: Federico Chiesa's Italy face a crunch match against Switzerland
Italy and Switzerland remain locked together at the top of the group with one game to play.
Jorginho missed the opportunity from the spot to seal qualification in a 1-1 draw between the teams. Italy hold a slight advantage going into the final games as they have the better goal difference (+2). They just need to match Switzerland's result at home to Bulgaria on Monday in their trip to Northern Ireland to finish top.
Remaining fixtures:
November 15: Northern Ireland vs Italy – kick-off 7.45pm
November 15: Switzerland vs Bulgaria – kick-off 7.45pm
Group D – France in pole position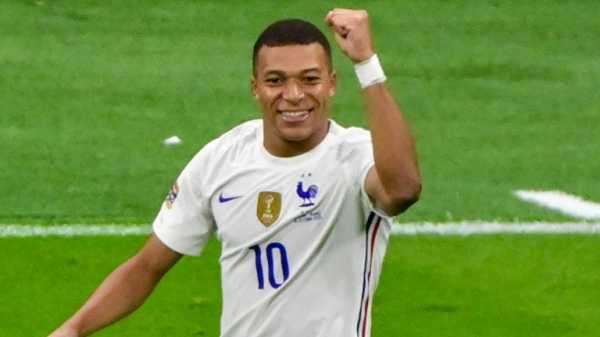 Image: Kylian Mbappe's France are in good shape
Ukraine's 1-1 draw with Bosnia and Herzegovina means France are three points clear at the top with a game in hand, putting them on the brink of winning the group.
Ukraine are followed in the standings by Finland and Bosnia and Herzegovina, with the three nations only separated by two points and therefore all still in with a shout of securing a top-two finish.
Kazakhstan, however, have too much to do.
Remaining fixtures:
November 13: Bosnia and Herzegovina vs Finland – kick-off 2pm
November 13: France vs Kazakhstan – kick-off 7.45pm
November 16: Finland vs France – kick-off 7.45pm
November 16: Bosnia & Herzegovina vs Ukraine – kick-off 7.45pm
Group E – Can Wales seal the deal?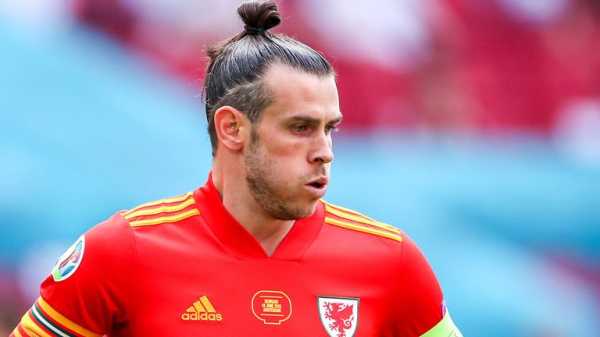 Image: Gareth Bale is hoping to lead Wales to a World Cup finals
Belgium sit at the top of the group, but they are not yet certain of qualification as Wales are five points behind them with two games to play.
However, Spain's 1-0 away win in Greece means Wales have at least a play-off semi-final place for the World Cup via their Nations League standings.
Wales were ranked fifth via the Nations League – but now Spain, France, Italy and Belgium will all either win their qualifying group or come second, which would secure a play-off spot.
If Wales fail to finish second in Group E, they will still be in the play-offs as an unseeded team, playing away.
Czech Republic sit above Wales on goal difference in second place, but cannot overhaul Belgium as they have played a game more.
Belgium can seal their qualification with victory over fourth-placed Estonia, with Wales taking on bottom side Belarus in their next game as they continue to fight for a place at the tournament.
Remaining fixtures:
November 13: Wales vs Belarus – kick-off 7.45pm
November 13: Belgium vs Estonia – kick-off 7.45pm
November 16: Wales vs Belgium – kick-off 7.45pm
November 16: Czech Republic vs Estonia – kick-off 7.45pm
Group F – Scotland seal play-off spot with game to spare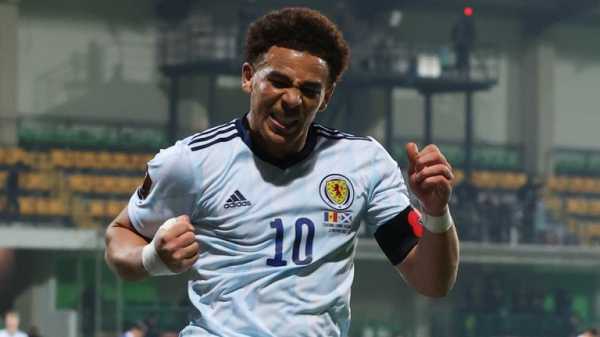 Image: Scotland's Che Adams celebrates scoring to make it 2-0 against Moldova
Denmark became the second European team to book their place at the 2022 World Cup as their 1-0 win over Austria last time continued their perfect record in Group F.
Scotland secured second spot – and a play-off place – with a 2-0 win over Moldova in their penultimate group game.
Steve Clarke's side now cannot be caught but are also unable catch Denmark, although they will be seeded for the play-offs if they win their final game against the Danes at Hampden Park.
Remaining fixtures:
November 15: Israel vs Faroe Islands – kick-off 7.45pm
November 15: Scotland vs Denmark – kick-off 7.45pm
November 15: Austria vs Moldova – kick-off 7.45pm
Group G – Netherlands closing in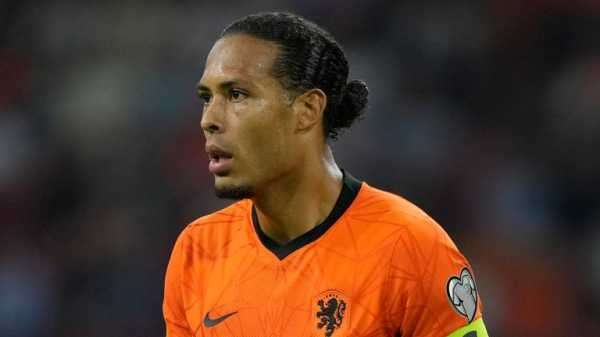 Image: Virgil van Dijk's Netherlands are closing in on automatic qualification
The Netherlands are closing in on automatic qualification after beating Gibraltar last time out, but they are still only two points ahead of Norway with two games to play.
Louis van Gaal's side complete their qualifiers away against Montenegro and home to Norway.
Turkey snatched a 2-1 win against Latvia last time out as Burak Yilmaz scored from the penalty spot deep into injury time to revive their hopes of qualifying for the 2022 World Cup.
The victory left them four points behind Group G leaders the Netherlands and two points behind Norway with two matches left to play.
Remaining fixtures:
November 13: Norway vs Latvia – kick-off 5pm
November 13: Turkey vs Gibraltar – kick-off 6pm
November 13: Montenegro vs Netherlands – kick-off 7.45pm
November 16: Gibraltar vs Latvia – kick-off 7.45pm
November 16: Montenegro vs Turkey – kick-off 7.45pm
November 16: Netherlands vs Norway – kick-off 7.45pm
Group H – Russia, Croatia to do battle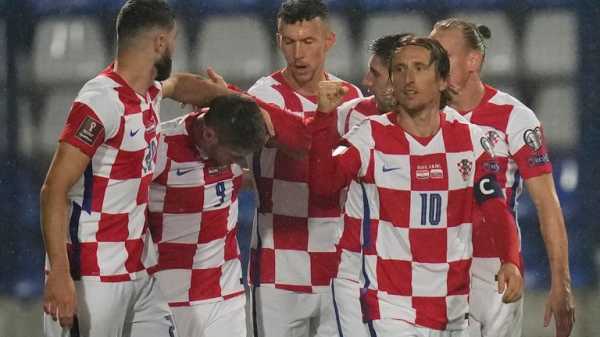 Image: Croatia and Russia are set to scrap for top spot
Croatia and Russia both secured big wins in their penultimate World Cup qualifiers. Croatia beat Malta 7-1 while Russia saw off Cyprus 6-0.
It sees Russia top of Group H by two points, ahead of Croatia in second. The pair will also meet in a final showdown on Sunday as they battle it out for the automatic spot. Croatia must win outright to secure their place at the 2022 World Cup, having finished as runners up in 2018.
Slovakia and Slovenia sit in third and fourth respectively, joint on 11 points after their 2-2 draw on Thursday. Malta and Cyprus are also level on five points in the final two places in the group.
Remaining fixtures:
November 14: Malta vs Slovakia – kick-off 2pm
November 14: Slovenia vs Cyprus – kick-off 2pm
November 14: Croatia vs Russia – kick-off 2pm
Group I – England's top-spot task clear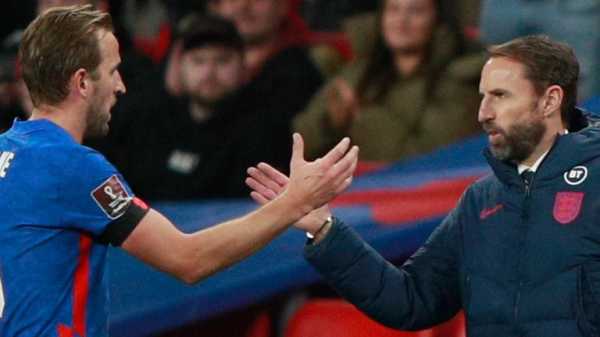 Image: Harry Kane's hat-trick against Albania has put England on the brink
England coasted to victory over Albania as Harry Kane's hat-trick all-but secured World Cup qualification.
The Three Lions eased to a 5-0 Wembley win, meaning they need just a point away to San Marino to be sure of a place in Qatar next winter.
Poland secured at least a play-off spot with one game to spare after Paulo Sousa's side beat Andorra 4-1 in Group I, thanks to a double from striker Robert Lewandowski.
Remaining fixtures:
November 15: San Marino vs England – kick-off 7.45pm
November 15: Albania vs Andorra – kick-off 7.45pm
November 15: Poland vs Hungary – kick-off 7.45pm
Group J – Germany through, second up for grabs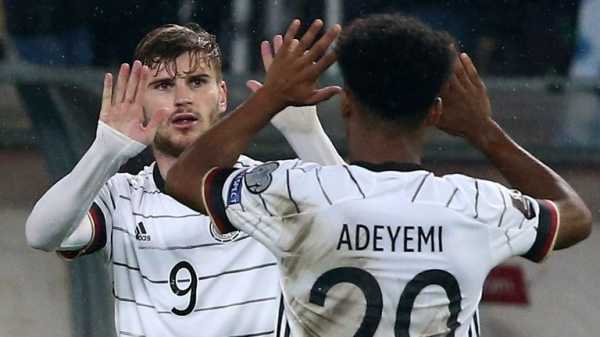 Image: Timo Werner helped Germany booked their place in Qatar with games to spare
Germany became the first European team to qualify for the 2022 World Cup by crushing North Macedonia 4-0 away in October to secure top spot in Group J with two games to spare. They followed this up with a 9-0 thrashing of Lichtenstein on Thursday.
Heading into the final game, North Macedonia and Romania look likely to battle it out for second place. North Macedonia currently occupy the spot with 15 points, one ahead of Romania in third, but also have a significantly better goal difference.
Armenia are fourth and have 12 points, but with a goal difference of -8, are unlikely to finish in second. Iceland and Lichtenstein can no longer qualify.
Remaining fixtures:
November 14: Armenia vs Germany – kick-off 5pm
November 14: Liechtenstein vs Romania – kick-off 5pm
November 14: North Macedonia vs Iceland – kick-off 5pm
World Cup 2022 Euro Qualifiers: All you need to know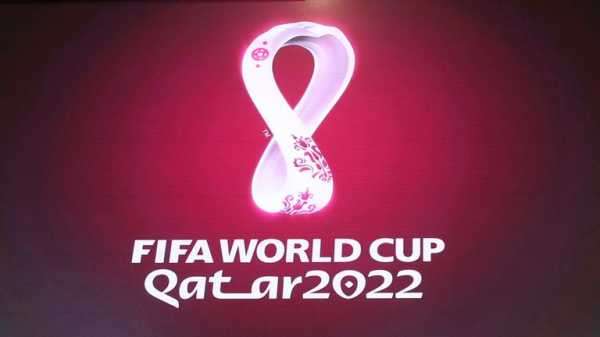 How many European nations qualify?
A total of 13 slots in the final tournament are available for UEFA teams. The 55 teams have been split into five groups of five and five groups of six.
The winners of the 10 groups will qualify automatically for the finals, which for the first time will be played in November and December of 2022 to avoid the punishing summer heat in the Middle East.
What happens if you finish second in your group?
A further three places will be fought out between the 10 group runners-up and the two highest-ranked teams from the Nations League who have not already qualified or finished in a runners-up spot.
These 12 teams will be divided into three play-off paths, each featuring four countries, to determine the final three European berths. The format will consist of two knockout rounds from which the three additional teams qualify.
What is the World Cup format and schedule?
The 2022 World Cup in Qatar will feature 32 teams in eight groups of four.
Four matches will be played each day during the group stage, which will run over a 12-day period and see winners and runners-up progress to the round of 16.
Matches will only be assigned to particular venues after the finals draw, so organisers can choose optimal kick-off times to suit television audiences in different countries, as well as supporters out in Qatar.
The finals draw is scheduled to take place in April 2022, after the March window for international fixtures.
Unlike at Euro 2020, there will be a third-place play-off game on December 17.
Group stage: November 21- December 2
Round of 16: December 3-6
Quarter-finals: December 9/10
Semi-finals: December 13/14
Final: December 18
When will the matches kick off?
FIFA has confirmed the first two rounds of matches will kick off at 1pm, 4pm, 7pm and 10pm local time (10am, 1pm, 4pm and 7pm in the United Kingdom).
Kick-off times in the final round of group games and knock-out round matches will be at 6pm and 10pm local time (3pm and 7pm UK time).
The final is scheduled to kick off at 6pm local time (3pm UK time)
What are the venues?
The group games will take place across eight stadia: Al Bayt Stadium, Khalifa International Stadium, Al Thumama Stadium, Ahmad Bin Ali Stadium, Lusail Stadium, Ras Abu Aboud Stadium, Education City Stadium, Al Janoub Stadium.
What happens to the Premier League in 2022/23?
The Premier League has confirmed key dates for the 2022/23 campaign, with the season adjusted to accommodate a World Cup that takes place in the middle of the domestic calendar.
The season will start a week earlier than normal on August 6 2022, with 16 matchdays taking place up to the weekend of November 12/13, before the tournament kicks off on November 21.
The Premier League will resume on Boxing Day following the World Cup final, which takes place on December 18.
The final match round of the 2022/23 season will be played on May 28 2023.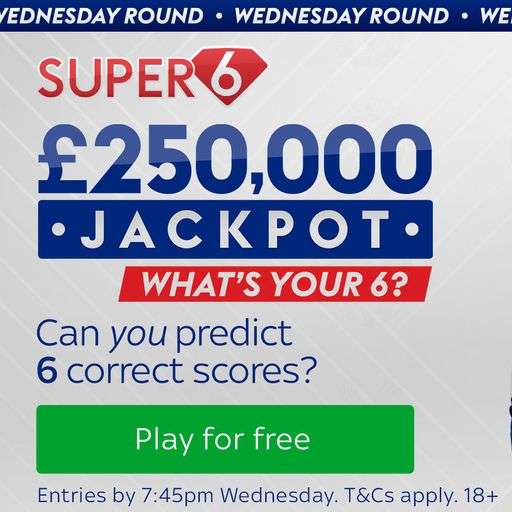 Win £250,000 on Wednesday!
The Champions League returns, with the £250,000 Super 6 jackpot up for grabs. Play for free, entries by 7:45.
Sourse: skysports.com