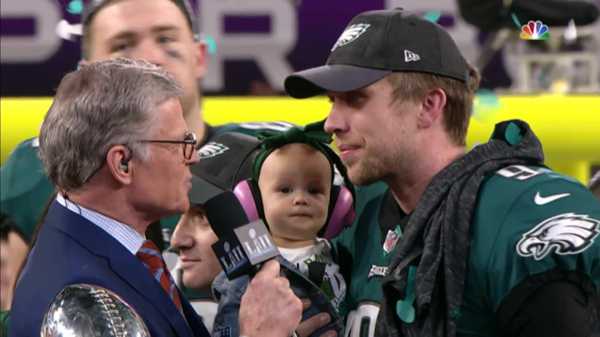 Nick Foles grabbed the Super Bowl LII MVP after his impressive display for Philadelphia Eagles.
Nick Foles' career so far has been full of ups and downs. A third-round draft pick in 2012, he's been released twice, but this season he brought Philadelphia their first ever Super Bowl. We take a closer look at the quarterback's journey.
The Philadelphia Eagles are world champions. The 'underdogs' fought through injuries and adversity all season, and on Sunday they defeated the New England Patriots 41-33 in one of the most thrilling Super Bowls we've ever seen.
Nick Foles, who started this season as a backup behind star sophomore and face of the franchise Carson Wentz, had one of the greatest postseason runs we've ever seen – capping it with a three-touchdown, 373-yard and MVP-winning performance in Minnesota.
It was just a short time ago that Foles was contemplating retirement after a tough time as a St. Louis Ram – but on the biggest stage, he was cool, calm and collected and gave Philadelphia what they've desired for decades.
We outline his journey from high school record-setter to Super Bowl winner…
Who is Nick Foles?
Full name: Nicholas Edward Foles
Age: 29
Born: Austin, Texas
Drafted: 2012 (Round 3, Pick 88)
How did he start out?
Just over 10 years ago, in 2007, Nick Foles graduated from Westlake High School as an accomplished and record-breaking quarterback. They weren't just any old records – he surpassed current Saints superstar Drew Brees with over 5,000 yards and 50 touchdowns for the Chaparrals.
He may have out-dueled Brees in high school, but he didn't have the same storied college career as the Super Bowl XLIV MVP. Foles initially joined Michigan State University on a roster with Kirk Cousins and New England's Brian Hoyer, but sat on the bench and ultimately transferred to the University of Arizona to seek a starting role.
There, he had tremendous individual production (10,011 yards, 67 touchdowns and a 138.2 passer rating), but didn't enjoy great team success as his teams went 15-18 over three years – including just four wins in his final season.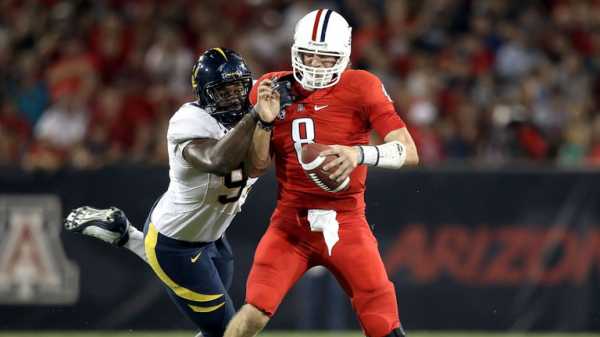 FACT
Foles said the Eagles were the only team that worked him out, and the coach who flew out to Texas to hold the workout was… Doug Pederson, the Eagles quarterbacks coach at the time.
When the 2012 NFL Draft rolled around, Foles was hailed as a team player, a great character and someone who wasn't fazed by anything. He had the size and a strong arm, but his lack of mobility and losing seasons pushed him down a loaded quarterback class.
The Eagles selected Foles with their third round selection (88th overall), even though head coach Andy Reid had his eyes on Russell Wilson. The Seahawks took the Super Bowl XLVIII winner one selection before Philadelphia's original pick (76) that was given up in a pre-draft trade – and the team picked up Foles as a consolation prize.
Nick's NFL Pedigree
Foles has had an unpredictable career so far – a case of "good Nick, bad Nick". After Reid was fired at the end of Foles' rookie season and Chip Kelly took over, the QB was on fire.
He set a new NFL record for TD-INT ratio with 27 passing touchdowns compared to just two interceptions, surpassing the previous record held by Tom Brady.
FACT
Foles was actually recruited by a number of colleges to play basketball.
In that same season, he became the first quarterback ever to throw seven touchdowns and post a perfect passer rating in a game – at the Raiders in a 49-20 win. Despite a strong playoff performance (two touchdowns and a 105.0 passer rating), the Eagles fell just short in a 26-24 loss to New Orleans.
However, as Kelly's offense was sussed out by opponents, Foles' production also dipped in 2014, and he was subsequently traded to the St Louis Rams for Sam Bradford. As a Ram in 2015, he couldn't regain his early career form, and between the two seasons threw for same number of scores as he did picks (20-20).
After the Rams drafted Jared Goff in 2016, Foles was released and was seemingly entering the pool of career backups in the league. He re-joined Reid in Kansas City for the 2016 season, and returned to Philadelphia at the start of this year to back Carson Wentz.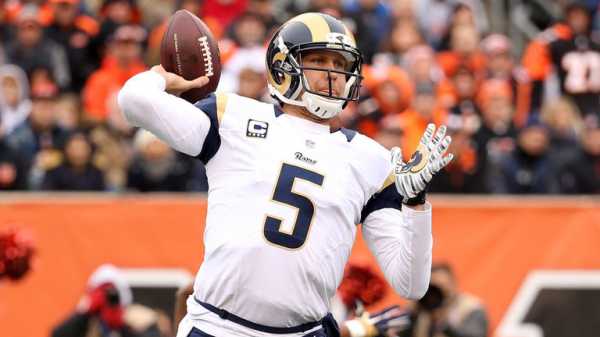 FACT
After being released by the Rams, Foles contemplated retirement before Andy Reid helped him 'find love' for the game again.
The 2017 season
We saw both sides of Foles after he stepped in for the injured Wentz in Week 14. He played well enough to secure a road win against the Rams when Wentz went down and in his first start the next week, four touchdown passes and another road win against the Giants followed. 'Good Nick' was alive.
However, in Weeks 16 and 17, the Eagles offense collapsed. Against Oakland, Foles completed only 50% of his passes and had just 163 yards on 38 attempts. In the season finale against the Cowboys, he played just one quarter, but posted a 9.3 passer rating as the Eagles were shut out. Very much 'bad Nick'.
Ultimately, the regular season means nothing compared to what he's achieved in the playoffs – where he's been supreme. In the 15-10 win over Atlanta, he didn't throw any touchdowns, but completed 23 of his 30 passes (76%) for 246 yards and a 100.1 quarterback rating.
In the NFC Championship game, he unleashed on the NFL's No 1 defense. He topped his completion percentage again (26-of-33, 78%), yards (352) and also tossed three touchdowns. His 141.4 passer rating made him the first player in NFL history with a mark of 100 or more in his first three playoff games.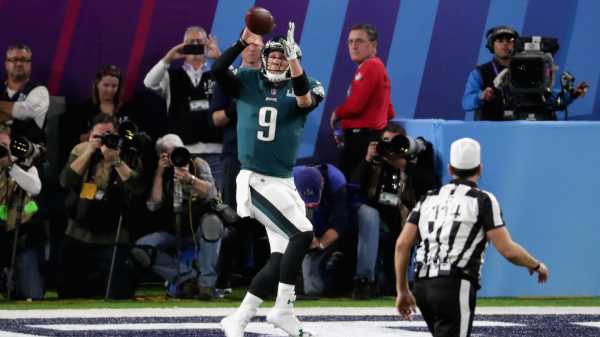 The Eagles pulled off a superb play, with Nick Foles receiving a touchdown on their fourth down.
In Minnesota, Foles wrote himself into the history books with another phenomenal performance. He completed 28 of 34 passes for 373 yards, threw three touchdowns as well as running for another memorable one and led his team a whopping 41 points in the biggest game of the season. He also continued his streak of 100-plus passer rating games, with a mark of 106.1.
FACT
Foles celebrated his 29th birthday on the 20th January, the day before the NFC Championship, while head coach Doug Pederson celebrated his on January 31st, just four days before the Super Bowl.
Stay with us through the week for all the reaction and fall-out to Super Bowl LII and follow us @SkySportsNFL through the off season we track the Draft, Free Agency and get ready for a new season!
Also See:
Eagles claim thrilling first Super Bowl
WATCH: Graham's game winning sack
Super Bowl LII – as it happened
Follow us @SkySportsNFL
Sourse: skysports.com