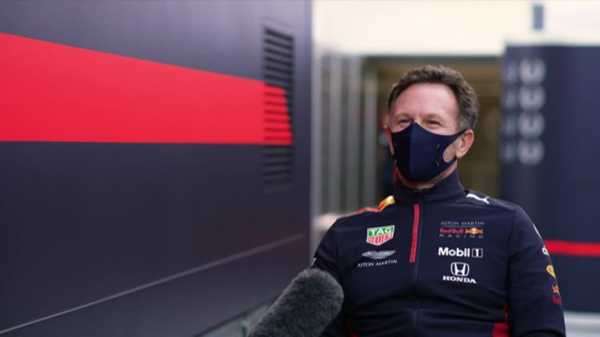 4:41 With Honda leaving F1 in 2021, Christian Horner indicates that instead of switching to a different engine supplier, Red Bull will seek to continue using Honda's hardware
But the Red Bull boss also insisted, with only five races to go in 2020, the clock is ticking for Albon to secure his future.
He added to Brundle that Albon had "two or three weeks" to impress while he also told reporters, via Reuters, before the Portuguese GP that Albon "needs to bounce back" at Portimao and Imola "with a strong weekend from start to finish". Albon responded with a 0.533s deficit to Verstappen in Saturday's qualifying, sixth on the grid, and 12th in Sunday's race.
But even after that result, Horner re-enforced Red Bull's stance on Albon.
"Everybody is doing their very best to try and help Alex to find a setup, to find a balance he's got confidence with, because we all still believe in him," he told Sky F1 on Sunday. "He's got great talent, he's only in his second year of F1, and everyone is rooting for him to claim that seat."
But Gasly won't be filling the seat
Pierre Gasly would more often than not have been a prime contender to replace Albon. Though Gasly was dropped by Red Bull back down to Toro Rosso (now known as AlphaTauri) just over a year ago, he has been one of the drivers of the season in 2020, securing an incredible maiden victory at the Italian GP, and is only one point behind Albon in the standings with a much slower car.
He has also scored more points already this season (63) than any driver has managed over a single campaign in the team's history – including the likes of Daniel Ricciardo and Verstappen, who both earned promotions.
But Red Bull weren't interested, and AlphaTauri have now confirmed Gasly is staying for 2021.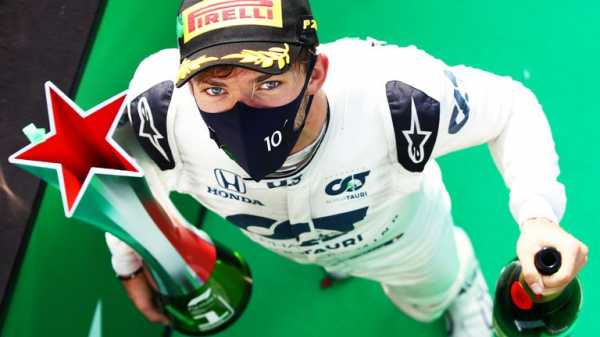 Even Gasly's brilliant drive to fifth on Sunday didn't convince Horner to change his mind, as he insisted Albon would be shining in the AlphaTauri car, and Gasly struggling in the Red Bull, if they swapped.
"I think Pierre's doing a great job and he drove another great race today, some great moves, and you can see his confidence is there," he told Sky F1. "That AlphaTauri car is an easier car to drive, and it was an easier car last year when Alex moved across – that was one of the first comments he made.
"But I've got [every] reason to think that if the tables were turned, it would probably be exactly the same situation. I think Alex in that [AlphaTauri] car would probably perform equal to how Pierre is at the moment."
Free agents Perez & Hulkenberg are on Red Bull's radar
There are, however, other drivers who Red Bull do have their eye on.
Both Sergio Perez, a free agent for 2021 despite his typically strong Racing Point drives, and Nico Hulkenberg, off the grid since 2019 but an impressive stand-in at three 2020 races, have both boosted their reputations this year, and Horner admitted interest.
"When you've got drivers of that calibre that are on the open market then, of course, you have to look and evaluate all possibilities," he told Brundle, while also confirming Red Bull will look outside AlphaTauri should they need a replacement.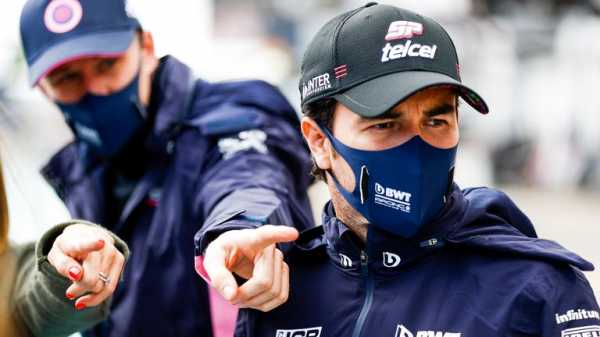 "We've always had a talent pool of young drivers coming through but occasionally we have to look outside of that pool, as we did with Mark Webber."
The next few weeks and races will be pivotal, particularly for Albon who is still, without doubt, the front-runner.
"We know the options that are available to us," Horner said after the Portuguese GP. "We want to give Alex every opportunity to find his form and claim that seat."
Watch this space.
Sourse: skysports.com