Central Council confirmed at their meeting on Saturday that all eight teams in the All-Ireland senior football championship quarter-final stages will have a home game.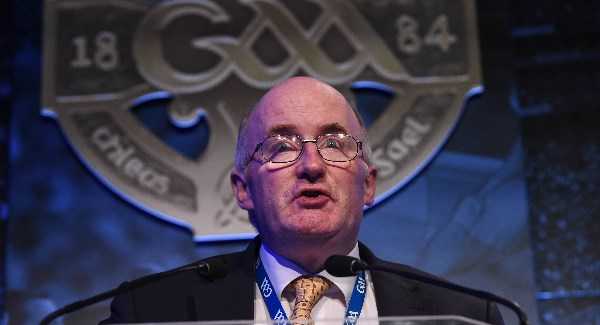 GAA president John Horan yesterday made it clear that Kildare, should they beat Fermanagh this Sunday, will enjoy home advantage in their round-two game against Galway on July 21 or 22.
Horan admitted regret about the stand-off between the GAA's Central Competition Control Committee and the Kildare County Board regarding the venue for the county's third-round qualifier against Mayo.
"I'm sorry that such a situation did develop, that one of our national committees locked horns with one of our county boards. But look, at the end of the day we did find a resolution, the game went ahead, and I think we will have learned lessons from that going forward, I think we'll be better for the experience."
He took exception to the suggestion that the Kildare stand-off was evidence of a disconnect between Croke Park and the GAA's grassroots.
Horan, who said neither Galway nor Kilkenny had an issue with the Leinster final replay being fixed for Thurles on Sunday, said he would seek to ensure there are no concerts in July and August in Croke Park in the future. Michael Bublé plays HQ this weekend, meaning the hurling replay or football qualifiers can't be played there.
"It's certainly something I want to change, that the months of July and August will have no non-GAA hurling or football events taking place in Croke Park. Going forward I'd like to see that change."
Meanwhile, hurling's Super 11s have been given the go-ahead for a second successive season in Boston this November. Although no counties have yet to be confirmed for the event, Clare are likely to defend their title while Galway and Kilkenny are set to play an exhibition game in Sydney that same month.
PaperTalk GAA Podcast with Anthony Daly, Mark Landers and PM O'Sullivan: Harnedy's dream comes true, Clare's Western DNA, Cats dent Galway aura


Sourse: breakingnews.ie