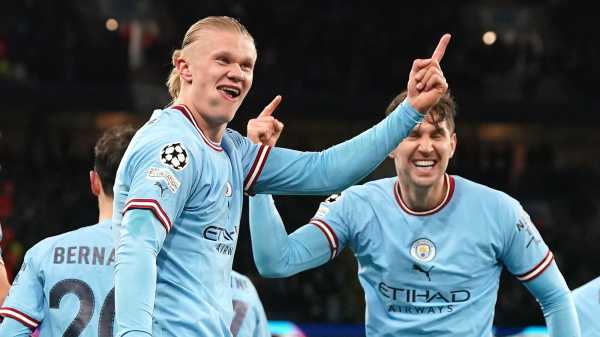 Pep Guardiola says Manchester City's Champions League failures have been down to their defence, not the lack of Erling Haaland.
Haaland struck an incredible five goals as City hammered RB Leipzig 7-0 on Tuesday evening to reach the quarter-finals with an 8-1 aggregate victory.
Guardiola has been on a quest to win the Champions League with the club but so far has fallen short, losing in the semi-finals last season after being beaten in the final by Chelsea the previous year.
Report: Man City 7-0 RB Leipzig (Agg: 8-1)
How the teams lined up | Match stats
Champions League quarter-final and semi-final draws
Champions League fixtures | Results
But the City boss insists it hasn't been the lack of Haaland, who now has 39 goals this season, in his squad that has been the problem. He said: "Always we have scored goals here. We scored four goals against Real Madrid. We scored six goals against Monaco. We scored four goals against Tottenham here.
"The problem is not that we do not score goals. The problem is that we conceded stupid goals in the past. We gift them. Most of the time, we gift them.
Trending
Cheltenham Festival LIVE! The Real Whacker clings on in thriller
Transfer Centre LIVE! Lukaku to return to Chelsea, says Inter CEO
Ferrari? Red Bull? Stay put? Brundle analyses Hamilton's future
LaLiga: FIFA has shown 'complete disregard' with World Cup changes
Sheikh Jassim to meet with Man Utd tomorrow | INEOS on Friday
Pep: Man City's CL failures down to defence, not lack of Haaland
Klopp: 'A one per cent chance at Bernabeu? We give it a try'
Premier League relegation fight: Who's in trouble?
Merson Says: Liverpool have no chance at Real Madrid
Spurs unwilling to sell Kane in summer | Man Utd can't afford saga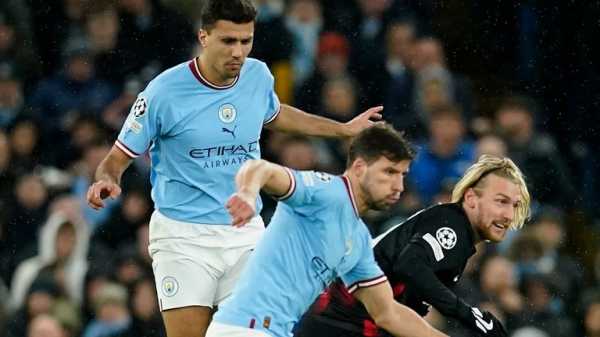 Image: Manchester City's Rodrigo and Ruben Dias helped keep a clean sheet against RB Leipzig
"In this competition, one of the reasons is the build-up, but to play the four central defenders in this way does not mean you are a defensive team. It is difficult for people to understand.
"Nathan [Ake] is so focused for 90 minutes, so stable here [in the head]. Ruben [Dias], Manu [Akanji], they are so stable here. John [Stones] as well. That is what we need in this competition because the chances they had today, we gave them. The process with Edi [Ederson], we have to be careful. We have to do it but we have to be careful.
Also See:
"Because since I arrived, with Sergi [Aguero], with Gabi [Jesus], always we scored a lot of goals."
Haaland becomes fastest player to 30 Champions League goals
Haaland became the fastest and youngest player to reach 30 Champions League goals. Tuesday's haul gave him 33 goals in 25 games in the competition, still aged 22.
He began the night level with Ryan Giggs and Edin Dzeko on 28, joint 28th in the Champions League era, and passed David Trezeguet, Patrick Kluivert, Roy Makaay, Kaka, Wayne Rooney, Antoine Griezmann, Samuel Eto'o and Arjen Robben, moving level with Fernando Morientes in 19th place.
Edinson Cavani is next in his sights on 35, with fellow young phenomenon Kylian Mbappe on 40 and Sergio Aguero 41, including a club-record 36 for City.
Surprisingly it is only his second hat-trick in the competition, the first coming for RB Salzburg against Genk in 2019, though he has scored twice in a game on a further 10 occasions.
He is only the third player to score five in a single Champions League game, following Lionel Messi for Barcelona against Bayer Leverkusen in 2012 and Luiz Adriano for Shakhtar Donetsk against BATE Borisov two years later.
'Haaland will be criticised forever if he doesn't score two or three'
Haaland has now broken Man City's 94-year record for most goals scored in a season, beating the previous record of Tommy Johnson that has stood since 1929.
The 22-year-old has scored five hat-tricks in all competitions this term, three more than any other player in Europe's big five leagues.
Guardiola said: "Yeah, it is a lot. And most of time, after scoring a hat-trick, after 65 minutes I make a substitution.
"If he had achieved this milestone [scoring a double hat-trick], the record at 22 or 23 years old, it would be boring, his life. Now he has a target to do it in the future. Here and everywhere. So that is why I made the substitution.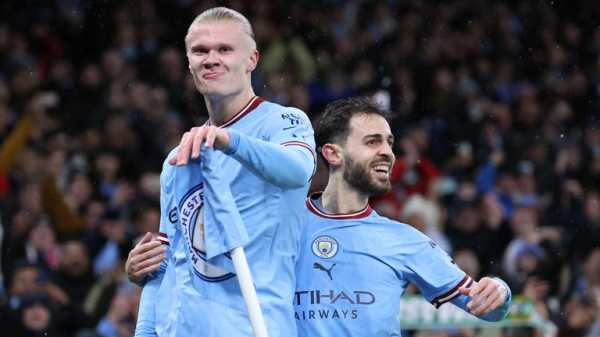 Image: Erling Haaland celebrates scoring one of his five goals for Man City vs RB Leipzig
"Just today he scored five goals but I think he touched 30 or 35 ball contacts. This is what we are looking for. I have a feeling that when you are involved in the game – defensively and offensively – when the ball comes to you, you are more clever, more precise.
"He can do it but it is difficult to score a goal when you have not touched the ball for 40 or 50 minutes. Sometimes it is his fault. He does not move. For example, at Crystal Palace, I said to him, you did not play good today. But other days it is our fault. For example, at RB Leipzig, when we could not find him in the second half.
Hat-trick heroics
Haaland is the first Premier League player to score five hat-tricks in a season in all competitions since Harry Kane in 2016-17.
West Brom, Fulham – in the FA Cup – Stoke, Leicester and Hull were Kane's victims, with four goals in the 6-1 win over the Foxes. Haaland went one better with his five against Leipzig to add to four trebles in his first 13 Premier League games.
Manchester City 4 Crystal Palace 2, August 27
Trailing 2-0 at half-time to a John Stones own goal and Joachim Andersen's header, City pulled one back through Bernardo Silva before Haaland took centre stage with three goals in 20 minutes.
Manchester City 6 Nottingham Forest 0, August 31
Just four days later he put Forest to the sword with a perfect hat-trick, taking him to a record nine goals in his first five Premier League games.
Manchester City 6 Manchester United 3, October 2
Haaland and Phil Foden both scored hat-tricks as City savoured a derby success which was even more one-sided than the final scoreline appeared, after Anthony Martial's late double for United. It was Haaland's third treble in successive Premier League home games, interrupted by the international break.
Manchester City 3 Wolves 0, January 22
Three in 14 minutes either side of half-time took Haaland through the 30-goal mark for the season in all competitions, and 25 in the league.
Manchester City 7 RB Leipzig 0, March 14
Haaland had recorded his second perfect hat-trick of the season by half-time and finished with five in a 35-minute spell before he was substituted with his night's work well and truly done.
"But sooner or later, we are talking and we are working on it. We are trying to make the process quicker. I would say we can be slower. But once we have broken the holding midfielder we have to be quicker.
"Sometimes people think it depends on the line up whether we are going to play slowly or comfortably. Our mentality has been so aggressive from day one but sometimes we cannot do it because of the opponent.
"Five goals. What can I say, the numbers of this season. The problem for this guy is that every time we do not score two or three goals he will be criticised for the rest of his career. This is the reality."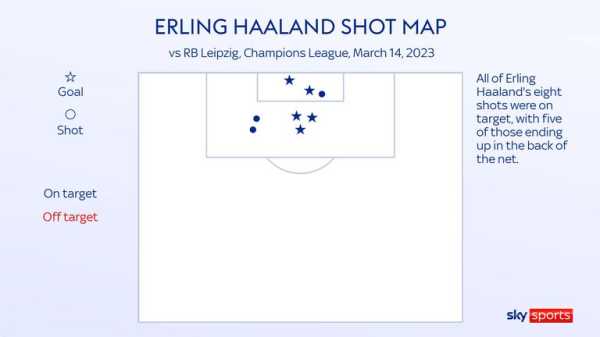 Guardiola hits back at Twitter critics of his selections
The City boss also reflected on some of the criticism he has received for his team selections, including explaining the reasons why Kevin De Bruyne has occasionally been omitted.
"Kevin is a player for the dynamic. If he is not dynamic in his movements, he is not a player who can play at his top level.
"People say I have to play Kevin De Bruyne all the time. Yes, do you think I am stupid? That if he is at that level, he is not going to play? He was not playing at that level. Sometimes you have to see it and realise.
"Did Bernardo [Silva] not deserve to play? [Ilkay] Gundogan? Gundo is the best midfielder that we have this season. What is the problem? They have to compete with one another to reach the highest level, otherwise another player is going to play."
It was Riyad Mahrez who missed out against Leipzig and Guardiola revealed that it was the qualities of Bernardo without the ball that persuaded him to pick the Portuguese on the right flank.
"The left side of Leipzig is amazing with Gvardiol, the ability to build-up, wow. Bernardo had the ability to press three people with two movements. There is nobody in the world that can do that. No one. It is not the physicality. He is so intelligent. And that is why he played.
"People say play Riyad. I have more info, guys. I have more info than the Twitter guys. I am right. I am sorry. Today, I am right."
Guardiola: I will always be a failure because Roberts chose United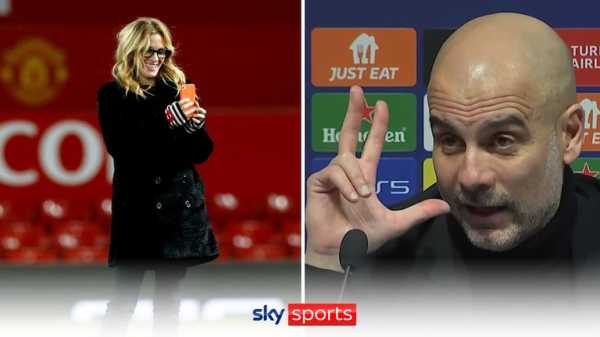 Manchester City's Pep Guardiola admits he was sad that his idol Julia Roberts went to watch United rather than his team when she was in Manchester!
Guardiola was in a buoyant mood following City's huge victory although revealed he could never be a success at the club due to actress Julia Roberts' association with rivals Manchester United.
"I am a failure in the Champions League, so don't worry. Listen, I am going to explain a secret. Whatever happens this year in the Champions League. Even if we win this Champions League and three Champions Leagues in a row, I will be a failure," said Guardiola.
"I am going to tell you something. I have three idols in my life: Michael Jordan, Tiger Woods and Julia Roberts. These are my three idols. For obvious reasons, Michael Jordan and Tiger Woods are good, and Julia Roberts as well.
Twitter Due to your consent preferences, you're not able to view this. Open Privacy Options
"Julia Roberts, years ago, came to Manchester. Not in the 1990s when Sir Alex Ferguson was winning titles and titles and titles. This was in the period when we were better than United, this four or five years. She went to visit Man Utd. She did not come to see us.
"This is why even if I win the Champions League it will not compare to the fact that Julia Roberts came to Manchester and did not come to see us. Even if I win the Champions League it will not compare to this disappointment that I had. This you have to know."
Haaland: I don't think, I just shoot!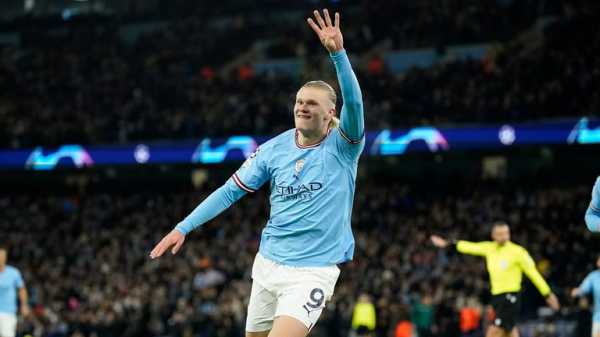 Image: Manchester City's Erling Haaland celebrates after scoring his side's fourth goal vs RB Leipzig
"It is a big night," Haaland told BT Sport. "I am really proud to play in the Champions League, I love this competition. Five goals to win 7-0 at home – I am so happy.
"I do not remember the goals, I just shoot, I do not think!
"A lot of goals today I did not think, I just did it. On the penalty, I just wanted to get it in the back of the net, same with the second goal, same with the third goal and every goal.
"A lot of it is being quick in the mind and try to put it where the keeper isn't. A little bit of it is quality but a lot of it is in the head."
Asked about Guardiola's decision to substitute him with half an hour remaining, he added: "I told him, I would love to score a double hat-trick but what can we do?!"
When is the draw?
The draws for the quarter-finals and semi-finals take place at 11am UK time on Friday, March 17 in Nyon, Switzerland at UEFA's headquarters.
The eight last-16 winners are involved in an open quarter-final and semi-final draw.
There are no seedings and no country protection, so clubs can face opposition from the same country. They can also draw teams they previously played in the group stage.
A final draw will also take place to determine the 'home' side for administrative reasons for the showpiece event in Istanbul, Turkey on June 10.
You can follow the draw with Sky Sports' live blog, so you can keep across everything right here.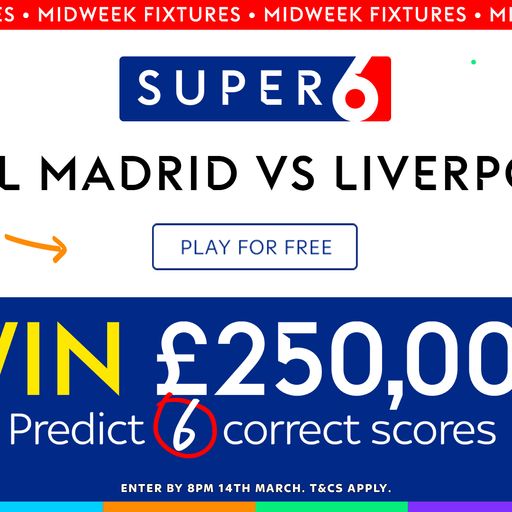 Win £250,000 with Super 6!
Could you win £250,000 for free on Tuesday with Super 6? Entries by 8pm, good luck!
Sourse: skysports.com