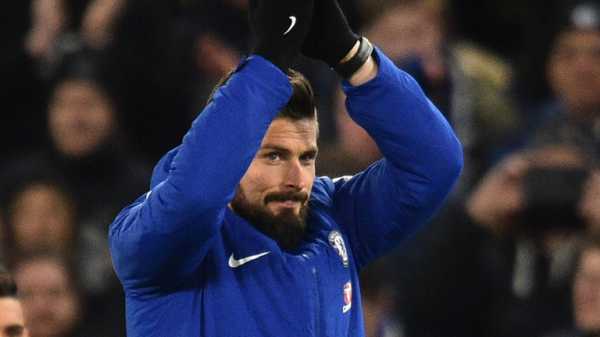 Olivier Giroud has joined Chelsea following Pierre-Emerick Aubameyang's arrival at the Emirates Stadium. The Frenchman had his ups and downs at Arsenal, but the stats underline his importance to Arsene Wenger – and show why he could become key for Chelsea…
There is a buzz around Arsenal and it is easy to understand why. Tuesday's defeat by Swansea was forgotten in the excitement which greeted Pierre-Emerick Aubameyang's £60m arrival from Borussia Dortmund, and a morale-boosting Deadline Day got even better with news of Mesut Ozil's is set to sign a new contract at the Emirates Stadium.
With Henrikh Mkhitaryan and Aubameyang secured and Ozil committed, Arsenal have moved on swiftly from the acrimony of Alexis Sanchez's exit to Manchester United. It remains to be seen how exactly it will all come together on the pitch, but if there is one cause for regret amid the optimism, it is that the new arrivals have spelt the end of Olivier Giroud's time at the club.
Giroud was not the A-list striker Arsenal supporters craved in the years immediately after Robin van Persie's departure in 2012, but he leaves as a three-time FA Cup winner and one of only 19 players to have hit 100 goals in the club's history.
Others might not be forgiven for choosing Chelsea as their next destination, but the goodwill that greeted his exit is testament to the service he gave Arsenal. Giroud had earned the right to decide his own fate.
"He has been a player with an immaculate attitude, particularly in the last six months of this season when he has just been sitting on the bench," said Alan Smith on Sky Sports News.
"And when he has been called on, he has scored a lot of goals. It is not easy to have a player like that in your squad. You can understand why Arsenal fans maybe upset to see him go."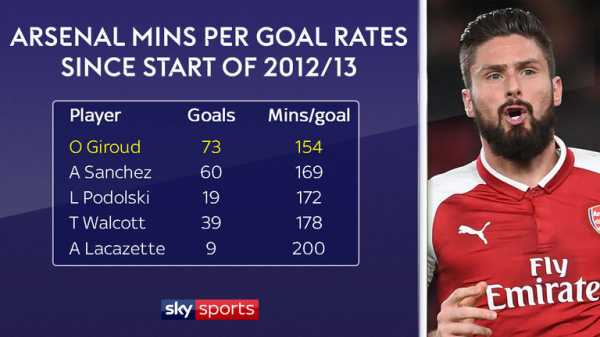 In total, Giroud scored 105 goals in 253 appearances for Arsenal. It is a fine return and it becomes even more impressive when you consider the amount of time he actually spent on the pitch. Since 2012/13, his strike rate of a goal every 154 minutes is superior to anyone else's at Arsenal and ranks him among the 10 most efficient goal scorers in the Premier League.
It is three years since he last enjoyed consistent status as Arsenal's first-choice striker, but the reality is that his importance increased with his reduced role. Giroud's big frame and modest speed across the ground could make him appear awkward alongside fleet-footed forwards such as Ozil and Sanchez, but his physicality, hold-up play and aerial strength were invaluable attributes.
Giroud became the perfect Plan B, a focal point for set pieces and an outlet for direct passing when the intricate approach play was not paying off. The statistics show he has scored more headers (27) than any other Premier League player since 2012, and no one can claim to have been more effective from the bench. In fact, Giroud's total of 17 substitute goals is nearly twice as high as anyone else's.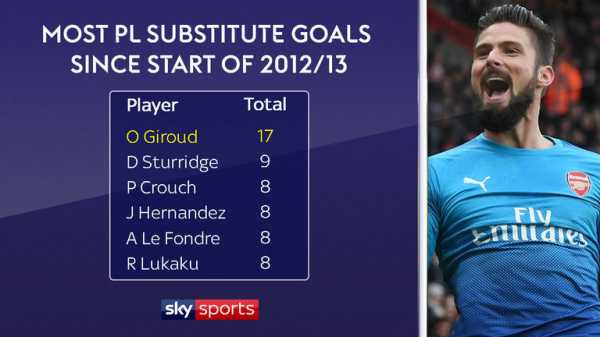 Many of those goals were decisive. Even in the first half of this season, when Alexandre Lacazette's arrival limited him to just 1,203 minutes of action, Giroud produced winners against Leicester and Red Star Belgrade and rescued a draw against Southampton. "He saved us many times," acknowledged Arsene Wenger on Wednesday. In total, 33 of Giroud's 105 goals clinched victories.
Of course, Arsenal are right to be excited about what comes in his place. Aubameyang arrives at the Emirates Stadium as one of the most prolific strikers in Europe. Last season he hit 40 goals for Borussia Dortmund and this season he is already up to 21. They are the kind of numbers no Arsenal striker has produced since Van Persie or Thierry Henry.
Giroud could never reach those levels, but he was still valuable to Arsenal and it is not difficult to understand why Chelsea were willing to meet their £18m valuation. Andy Carroll, Peter Crouch and Edin Dzeko were the players previously under consideration in their search for a tall targetman, but none of them tick as many boxes as Giroud.
After five-and-a-half seasons in north London, Arsenal can certainly testify to that.
Also See:
Arsenal to sign extension
Henry's Arsenal transfers verdict
Sourse: skysports.com