By Brendan O'Brien
Limerick has wasted no time in setting out their stall between now and the All-Ireland final in three weeks time.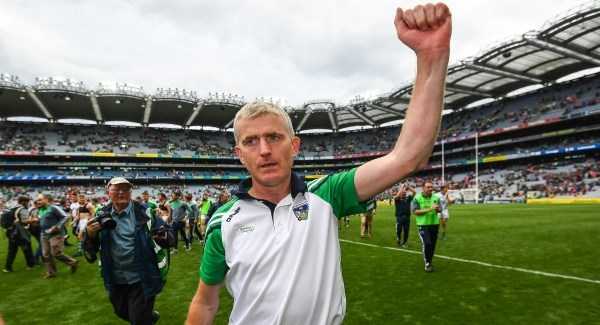 Limerick manager John Kiely celebrates following the GAA Hurling All-Ireland Senior Championship semi-final match between Cork and Limerick at Croke Park in Dublin. Photo by Stephen McCarthy/Sportsfile.
Shane Dowling, who contributed 1-4 off the bench in their epic extra-time semi-final defeat of Cork on Sunday afternoon, addressed the crowd in a TV interview immediately after the game and appealed for space to do their thing over the next 21 days.
And manager John Kiely followed suit shortly afterwards when starting his own post-match interview with the majority of the assembled media. It was made abundantly clear that the Munster side would be battening down the hatches outside of the usual pre-final press day.
"Just before we start, if I could just ask for one piece of cooperation over the next three weeks," Kiely explained. "Do not contact any of our group or I will shut the whole thing down. Okay? That's it. Please give us the space to manage it. We will work with you. You know that. We have always worked with you.
It sounded like a coordinated response to what had been a thrilling come-from-behind victory although Kiely insisted that this was absolutely not the case. Either way, it sounded a needlessly combative tone after such an exhilarating afternoon.
Again, Kiely begged to differ there and he was insistent that the prospect of Limerick winning a first All-Ireland senior title since 1973 — and the hype that will naturally generate — will not be an issue as they contemplate the biggest stage in hurling.
"There is no hype whatsoever. Hype is for the supporters. Right? We have our own objectives, our own goals, our own work. We have our own routines, our own patterns and, like, we don't have open training sessions, for example.
"It's not an issue and that's it."
Sourse: breakingnews.ie