By John Fogarty
The antennas in Kerry are up and pointed east to south-east, says Bryan Sheehan, as Cork are "planning something".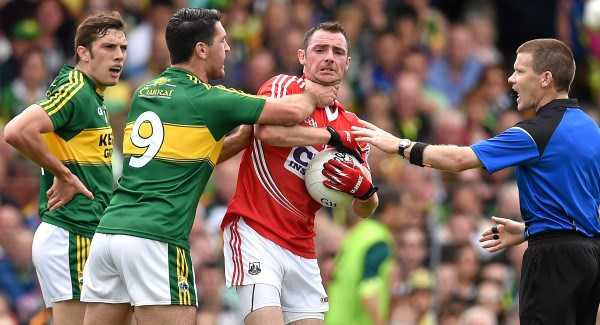 As Éamonn Fitzmaurice hopes to extend his 100% Munster SFC record as manager against Clare this Sunday, Sheehan believes Kerry have suffered by having too easy a time of it in the province in recent years.
Starting with Cork's fellow Division 2 side Clare and then onto Páirc Uí Chaoimh on June 23, he hopes they are challenged before the Super Eights in July. "Kerry have sometimes come to Croke Park having beaten Clare, Cork, Tipperary by seven, eight, nine points on some occasions. When you are coming up here to Croke Park you really have to know where you are at. That's where the Super Eights should benefit Kerry this year if they have those games under their belt and they'll be learning and ironing out those cracks as they go along.
"Comparing back in the early 2000s when Jack O'Connor and Pat O'Shea were there, when Cork were competing for All-Irelands and Kerry were competing for All-Irelands, the Munster championship was a great indication of knowing where you are at. You were playing an All-Ireland contender in Cork, Cork were playing an All-Ireland contender in Kerry and the Munster final was one of those games where you went for it and, okay, you knew where you were at and you knew what you had to correct going into an All-Ireland quarter-final. Kerry needs Cork and Cork need Kerry at the same time."
Cork's handsome win over Tipperary has Sheehan believing they will be formidable opponents in the final. "There hasn't been a word out of Cork and when Cork are quiet, they're planning something. Definitely, the performance that they put in last weekend against Tipperary, they are after changing their tune inside there, I can see it.
"They didn't get the Munster final in Páirc Uí Chaoimh last year. I know they wanted it, it didn't happen for them and now they will hopefully have Kerry coming down to Páirc Uí Chaoimh and they'll really eye up that one."
After Mikey Sheehy spoke of a lack of backing from Kerry supporters in last year's All-Ireland semi-final replay defeat to Mayo, Fitzmaurice this week spoke of the need for the team and fans to reconnect. Sheehan, speaking at Super Valu's "Behind The Ball" Championship launch in Croke Park yesterday, knows the players have to give their followers something and they will reciprocate.
"At the end of the day, the performance put out there against Mayo was not up to scratch. Not good enough. The Kerry people have every right to be mad about it. I know the players were bitterly disappointed. We were very disappointed with our own performances.
"I can see where Éamonn is coming from. It's a two-way thing. If the players are really putting the effort in on the field, the crowd are getting behind them and like that then you can feel the crowd getting behind you and it will get you going again."
Sourse: breakingnews.ie