Five points may have been the turnaround but there was a lot more to Limerick's 12-month transformation from losing to Kilkenny on July 1 last year to beating them earlier this month.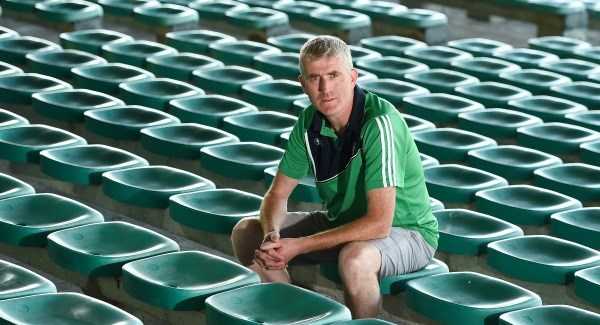 And the metamorphosis is anything but finished, John Kiely knows. The Limerick boss used the time wisely in the aftermath of their 2017 Championship exit — instead of wallowing in defeat he was already looking down the road and new challenges and objectives.
"For me, I would have taken three or four weeks to switch off for a few weeks," he recalls of that loss to Kilkenny.
"And then we begin a process of consultation with the other members of the management team and the players to see where we can do things better. We did a really good job of that phase last year, thinking about what we can do better. We also have to take into account that it is our second season and we should be better. Of course, we should.
"If we weren't, we wouldn't be doing the right thing in the first place. There is an expectation on ourselves to be better in the second season.
"Even having a good Munster league was important to us, getting off to a good start at the start of the season. There was a lot of work done and we went out to win every single game we played this year. That's the bottom line. I think that everyone bought into that desire to be better week to week and go for the win, week-on-week."
Strategising is a strong point of Kiely's and he freely admits he has to look ahead of the game in hand.
He explained: "I think every year we sit down to plan the season, we plan for every eventuality. Even last year, we had plans in place for training, post the match in Nowlan Park against Kilkenny. So we plan to go the whole way every year.
"You have to have that expectation of yourself and you have to have those plans in place if you are going to be effective in your planning. You have to prepare for all eventualities. So yes, we had planned to go through the next two weeks.
Kiely, though, is slightly more circumspect about Limerick's extended vision when Cork are mentioned. Just because Limerick ended Kilkenny's season shouldn't detract from their opponent's Munster success, he stresses.
"If Cork played last night, Cork would be in a better place. It is just that the Munster final was two weeks ago and we played last Sunday and we won, we suddenly have this magical potion. Know what I mean?
"Memories are very short and they only seem to be going back three or four days. That is only about what is in the air at the time.
"We just happen to be the team that won last Sunday (week)."
What happened in Páirc Uí Chaoimh when Limerick contributed to one of two epics this summer doesn't hold much significance for Kiely.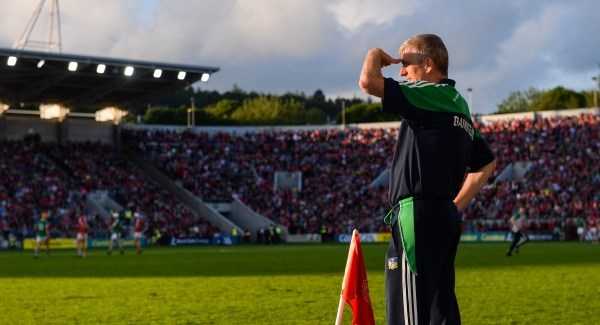 "They are different games. Different players playing even that didn't start in those games. There is a different prize at stake as well.
"This is different now. Teams have had a little bit of time to progress further. They have played a Munster final since and they won that.
"And they played extremely well in it to win it having come from behind against a strong Clare team who have now landed in the semi-final with Galway.
"Their form has been very very impressive during the course of the summer.
"They haven't lost a game yet in the Championship. They are one of the only teams to get a result out of all four games in the round robin series. Justifiably they are favourites for the game but that's not to deter us from putting in a good performance and having a cut."
Limerick won't be doffing any cap to Cork, he assures. "I think most teams now at this level, they're very aware of the opposition and a lot of information is there.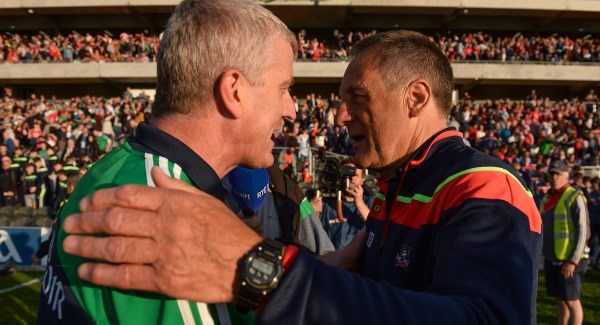 John Kiely and John Meyler shake hands after the draw in the round robin series
"We have our own systems in place in terms of monitoring all the teams that we play. It's a routine that we probably operate a 90-10 balance. 90% is about ourselves but yet the remainder is an awareness of the opposition and a couple of considerations around their strengths and maybe potential areas that we might like to attack, that's all. It is ultimately about ourselves.
"I've been involved with teams up along the line and you get obsessed with the opposition and you take your eye off yourself and next thing you find out the biggest problem wasn't the opposition, it was yourselves that were the biggest problem.
"So we've learned from our mistakes along the way."
PaperTalk GAA Podcast: How David Clifford saved Kerry and the Super 8
Sourse: breakingnews.ie