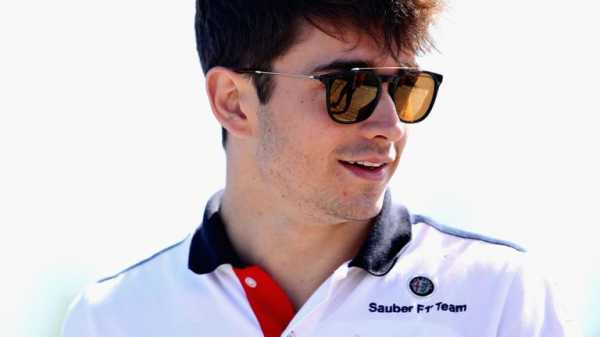 An impressive Charles Leclerc says his confidence just keeps on growing in Formula 1 amid praise from the Sky F1 team after another superb drive.
Billed as a rising star after a record-breaking Formula 2 championship victory last year, Ferrari protege Leclerc has recovered from a tricky start to life in F1 by scoring points in three of the last four races, holding on for 10th at the Canadian GP in a less-fancied Sauber.
Vettel: Leclerc could be my team-mate
Brundle: What now for F1 2018?
The Monegasque driver now has 10 points in 2018, one less than experienced team-mate Marcus Ericsson has accumulated in his entire F1 career. He has also made Q2, the second segment of qualifying, four times in a row – something Ericsson hasn't done all season.
"Formula 1 is a very complex environment and week after week I keep understanding it more," Leclerc, 20, told Sky F1.
"It's very difficult and very complex and I did not expect that much of a step from Formula 2 to Formula 1. Definitely my confidence keeps growing."
Sauber battle: Leclerc v Ericsson in 2018
| | Leclerc | Ericsson |
| --- | --- | --- |
| Australia (qualifying/race) | 18/13 | 17/DNF |
| Bahrain (qualifying/race) | 19/12 | 17/9 |
| China (qualifying/race) | 19/19 | 20/20 |
| Azerbaijan (qualifying/race) | 13/6 | 18/11 |
| Spain (qualifying/race) | 14/10 | 17/13 |
| Monaco (qualifying/race) | 14/DNF | 16/11 |
| Canada (qualifying/race) | 13/10 | 18/15 |
| Points | 10 | 2 |
Leclerc announced himself in the sport with a superb sixth place in Azerbaijan before scoring a point in Spain and Montreal, and his latest showing was another display of mature, calm, but menacingly quick driving.
Avoiding the first-lap chaos, Leclerc then held off Pierre Gasly in a faster Toro Rosso to give Sauber their most profitable scoring streak since 2015.
"I'm extremely happy," Leclerc added. "It was probably the hardest race for us, coming from a brake failure in Monaco to probably the hardest track for brakes.
"We learnt from our errors and we managed it very well. P10 with one point again, I'm extremely happy for the team."
And the youngster's performances won't have been going unnoticed.
Not many drivers graduate from the Ferrari academy to a full-time seat but Leclerc is positioning himself nicely for 2019, when Kimi Raikkonen is expected to leave F1's most successful team.
Red Bull's Daniel Ricciardo will also be in the frame, but Ferrari may feel it is now beneficial to promote from within – armed with the potential star from a talented generation of young drivers.
As 2016 world champion Nico Rosberg put it in Canada: "He's getting bigger and bigger on Ferrari's radar."
Sky F1's Martin Brundle also reserved the highest of praise for Leclerc, claiming Ferrari shouldn't be caught out as they look to replace Raikkonen, who he believes has reached "the end of the road".
"Leclerc looks the real deal to me," he wrote in his latest column. "He is out-performing his Sauber car just like Alonso and Webber did in a Minardi, like Senna did in a Toleman and Schumacher in a Jordan.
"He stands out a mile and really impressed me a month ago in Spain when he didn't wilt with Fernando Alonso on his tail. He clearly has the head for F1, and he just looks like the complete package."
Sky Sports F1 is the only place to watch every Formula 1 Grand Prix, qualifying and practice session live in 2018. Get Sky Sports F1.
Also See:
Canadian GP driver ratings
Find out more about Sky F1
The F1 Gossip Column
Latest title standings
Sourse: skysports.com