Will Downing, Berlin
So, so near and yet so far for Ireland on the final day of the European Athletics Championships in Berlin, with Ciara Mageean finishing fourth in the final of the women's 1500m.
Favourite Laura Muir dominated from early on, leaving Mageean in a two-way battle for bronze, until silver became available in the closing straight.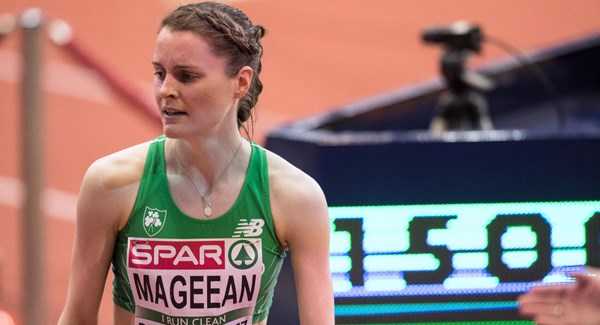 Laura Weightman held the early lead until Muir took it up after 500m and looked to spread the field out.
The two British athletes held a significant margin over the rest, with Mageean well placed throughout, before pushing into contention at the bell.
From there, it was all about a chase for bronze for the Portaferry athlete against Poland's Sofia Ennaoui, with both pushing for opportunities throughout the final lap.
With 150m to go and Muir well on the way to gold, it was obvious Weightman was seriously beginning to struggle in the silver-medal position.
Ennaoui smelled blood and took her chance, leaving Mageean behind and chasing the second-placed Briton.
With the Pole moving up into second spot herself, Mageean saw her chance to grab another bronze medal having won a prize of the same colour in Amsterdam two years ago, but Weightman just had enough legs to get over the line in third, with the Irishwoman in fourth.
Muir's winning time was 4:02.32, with Ennaoui 4:03.08, Weightman 4:03.75 and Mageean 4:04.63.
There was still a philosophical tone from the Irish athlete despite narrowly missing out: "I definitely in that last 200 metres and in that finishing straight felt a medal was in my sights.
"It wasn't out of my grasp, and it definitely was a close-fought battle.
"Laura (Weightman) just had a little bit more come the end there.
"So she had a few metres ahead of me over the last lap, and that was just too much for me to make up.
"It was a tough battle out there. I'm proud of my effort, and disappointed it wasn't a medal out there today for Ireland, but I'll be back and aiming to get more metalwork to bring home for Ireland.
"I felt good, I felt fine.
"I knew at some point somebody was going to inject some pace into it and we all suspected that would be Laura (Muir), and she did. She went out there and pushed the pace a little bit.
"My plan was not to get too worried and get too hasty early on and just to wind it up, and that's what I did.
"Between me and Ennaoui battling out for third, she got a little pace that I just wasn't able to match, and then I saw Laura wavering ahead and thought 'Okay, this is in my grasp now'.
"Laura managed to stave me off and hold it to the finish.
"I was so bitterly disappointed when I crossed the line.
"You would like to rewind it and try it all again. That's not how it works so I'm disappointed to have crossed the line, you saw me just put my hands on my knees.
"I left everything on the track, I wish it was different and it was me walking out onto the victory podium."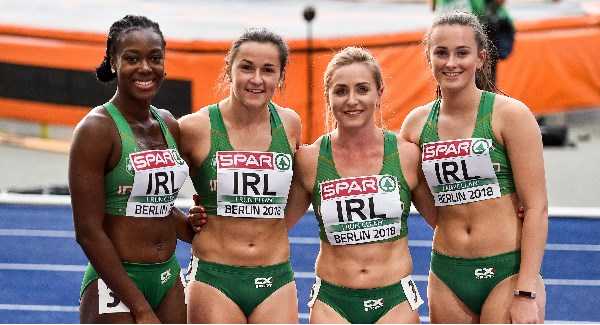 Gina Akpe-Moses, Phil Healy, Joan Healy and Ciara Neville of Ireland after competing in the Women's 4x100m Relay. Photo: Sam Barnes/Sportsfile
Earlier, Ireland's women's 4x100m relay team had the same mixed emotions themselves, missing out narrowly on their final, but still breaking the national record.
The Irish quartet of Joan Healy, Phil Healy, Ciara Neville and Gina Akpe-Moses were competitive throughout, and were third after the final changeover from Neville to Moses, behind Germany and Switzerland but ahead of Italy.
European junior champion Moses looked strong, but Italian anchor Audrey Alloh had just enough pace in the final 10 metres to edge third place.
Italy squeezed through in 43.74, denying Ireland's 43.80 the final automatic qualifying place. However, it was still a national record.
Germany and Switzerland took the top two positions, with Poland and Spain going through as fastest losers from the first semi.
Ireland's previous national record was 43.84 from the 2014 Europeans in Zurich, and tonight's new mark is the fastest time ever to not qualify for a European final in the history of the Championships' 4x100m.
Because of all this, Moses pondered afterwards: "This is definitely bittersweet. We could have made it had things not gone a bit awkward, but it's cool.
"It was a good last leg. I think I did stumble towards the end, which did throw me off a bit.
"Luckily I didn't fall so that's a plus side, but we finished the race – it could have been a bit better but yes, I'm content.
"We're glad we've got the national record, and we're just going to get better and better.
"We're definitely getting stronger and stronger. I think next year and the year after that we're constantly going to get faster.
"Making finals should be easier for us in the next few years, so I'm not really worried about now.
"It's just a learning curve for all of us, we'll keep building and getting stronger, and yes – it's exciting for all of us."
Britain went on to take the gold after an incredible anchor leg from sprint double champion Dina Asher-Smith saw her move up swiftly from fourth to first, and in a world lead too of 41.88 seconds.
The Netherlands won silver in 42.15, with Germany third in 42.23, and Switzerland edged into fourth on 42.30.
Britain's men won their corresponding relay title also in 37.80 ahead of national record runs from Turkey in second (37.98) and the Netherlands in third (38.03).
Another teen dream was fulfilled in the men's pole vault as 18-year-old Armand Duplantis of Sweden became the youngest athlete ever to clear six metres, and didn't just do that.
The youngster also sailed over 6.05m to take the gold ahead of neutral athlete Timur Morgunov, who could only clear 6.00m, and the great Renaud Lavillenie in third, whose last clearance was 5.95 – both men had attempts at 6.05, but couldn't get over.
Duplantis' height is a new World Under-20 record.
Sifan Hassan of the Netherlands set a Championship record time of 14:46.12 to win the women's 5000m, but a bizarre incident on the bell looked at the time to have cost Israel's 10,000m champion form earlier in the week, Lonah Salpeter, another medal.
Salpeter crossed the line in second place behind Hassan with a lap to go, but started celebrating, thinking she had won silver.
The Kenyan-born runner quickly got back into her stride and started racing again, but her momentum was gone and she trailed in fourth.
To add further insult, Salpeter was later disqualified for breaking out of her lane early.
Germany's Gesa Krause retained her 3000m steeplechase title, overtaking Switzerland's Fabienne Schlumpf on the final water jump, to storm through and win in 9:19.80.
Poland's Anita Wlodarczyk claimed her fourth hammer title on the trot for the Championships' most successful nation of the week – her Championship record throw of 78.94 metres earning the Poles their seventh gold.
A French record 74.78 placed Alexandria Tavernier second.
Despite his successful career, Nelson Evora had never won a European outdoor medal before tonight, but the reigning European indoor champion came good in the men's triple jump with a leap of 17.10 metres.
With a final night crowd of 42,350 and over 60,000 inside the Olympic Stadium on Saturday night, the aggregate attendance for the week was in excess of 460,000 – remarkable for a European Championships, proof that athletics stronghold cities are best for hosting major events, and on top of this it was potentially the highest-standard Europeans that have ever been seen.
Sourse: breakingnews.ie