Plus: Erik ten Hag still has issues to solve at Man Utd despite 1-0 win at Fulham; Jeremy Doku stars as Man City thump Bournemouth; another step in the right direction for Everton; resurgent Brentford the kings of London
Arsenal's attacking firepower under scrutiny again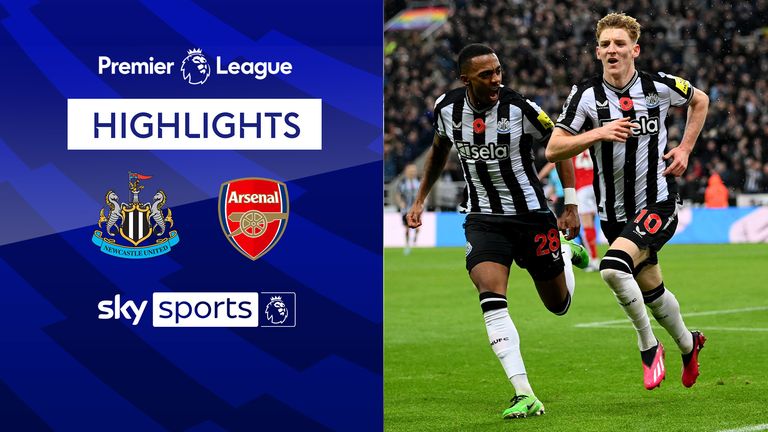 FREE TO WATCH: Highlights of Newcastle's win over Arsenal in the Premier League
"Arsenal have to do some business in January – they are ending the game with Leandro Trossard in attack."
Gary Neville's words were ominous as Arsenal suffered their first Premier League loss of the season to Newcastle at St James' Park. But Neville's observation is not a new one.
Arsenal's lack of firepower up front has been questioned before, and although Mikel Arteta was furious with the decision to allow Anthony Gordon's winner to stand, the fact remains that the Gunners failed to register a shot on target in the second half against the Magpies.
Newcastle 1-0 Arsenal – Match report and highlights
How the teams lined up | Match stats
Live Premier League table | Fixtures | Results
Watch free Premier League highlights | Download the Sky Sports App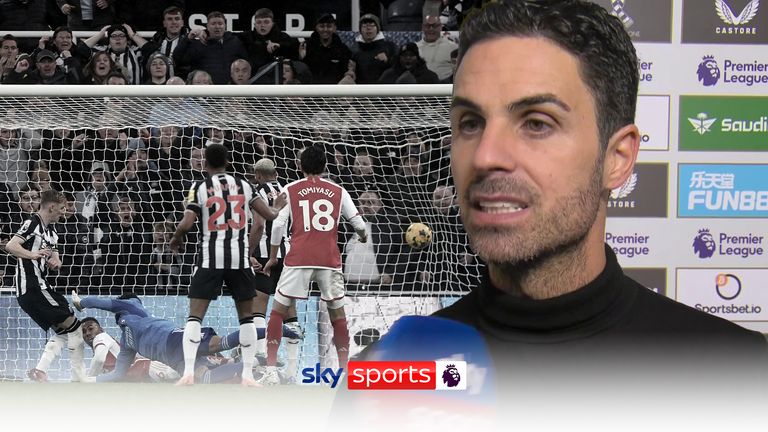 Mikel Arteta slams the decision to allow Anthony Gordon's goal to stand in Newcastle's 1-0 win over Arsenal
Eddie Nketiah's superb hat-trick in last weekend's 5-0 thrashing of Sheffield United perhaps fooled some into thinking there's no need for Arteta to add to that area of his squad – but not everyone.
"When we are discussing whether he's the real deal and whether he can lead Arsenal to the title, the goals came against a Championship team," Paul Merson said ahead of his former club's trip to Newcastle. And on his 100th Premier League appearance, Nketiah struggled against a vastly superior side.
Arsenal's lack of clear-cut opportunities was not helped by the absence of influential playmaker Martin Odegaard, who was deemed unfit to feature despite coming off the bench to score in Wednesday's 3-1 Carabao Cup defeat at West Ham.
But if Arsenal are to seriously push Manchester City – and perhaps north London rivals Tottenham – all the way this season, Arteta might need to take Neville and Merson's advice on board.
Doku delivers a stunning display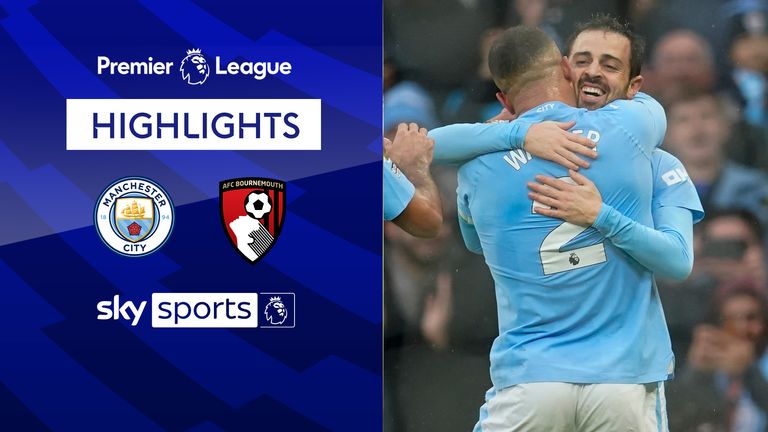 FREE TO WATCH: Highlights of Manchester City against Bournemouth in the Premier League.
Man City have got one on their hands here. Oh my, Jeremy Doku was sensational on Saturday afternoon. A goal and four assists from a performance which will leave the Bournemouth defenders with nightmares. He's box office.
The electric pace. The agility and close control to twist and turn at speed. And the combination of finishing quality and awareness of when to roll in a team-mate to make sure all that eye-catching approach play has a final product. Doku seems to have the lot. And he's just 21!
He even finished the match with most duels won by any player. Pep Guardiola will love that.
Man City 6-1 Bournemouth – Match report and highlights
How the teams lined up | Match stats
Man City aren't short on attacking options but right now Doku is the one you'd pay to watch. He had the fans out of their seats and was a threat from start to finish. Jack Grealish may be wondering whether this young speedster is going to take his place on that left flank.
The truth is there is likely to be opportunities for both of them, depending on how Guardiola wants to approach it. But one thing is for sure: he has an incredible asset on his hands in Doku.
Peter Smith
Another step in right direction for Everton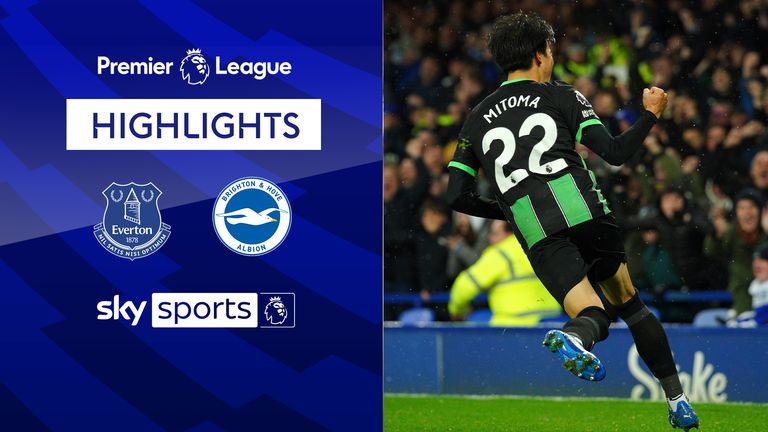 FREE TO WATCH: Highlights of Everton against Brighton in the Premier League.
Given the plaudits Brighton have received throughout Roberto De Zerbi's reign, Everton's backs-to-the-wall draw had the feel of a cup tie to it from the first whistle.
A pulsating start, an early lead, and then the Alamo. Brighton had 79.8 per cent possession but recorded just seven shots.
Prior to Saturday, the highest amount of possession a side had managed in a Premier League game on record (from 2003-04) while having a maximum of seven shots was 72.3 per cent by Chelsea against Nottingham Forest in January last season.
Everton 1-1 Brighton – Match report and highlights
Watch free Premier League highlights
Stream the Premier League and more with NOW
Get Sky Sports | Download the Sky Sports app
Pascal Gross, the German midfielder, said: "We were the better team for the whole 90 minutes. We tried to play active football. We came here to play football. They played for a result from the first minute. We approached the game differently. I'm proud of the boys for keep going."
Perhaps, but this was a gutsy display from Sean Dyche's men, typified by the indefatigable Abdoulaye Doucoure, and the dejected body language from the players in blue at full-time was a mark of the progress being made.
The bottom three remans in the rearview mirror and this could prove a very important point come the end of the season.
Ben Grounds
Ten Hag still has plenty of issues to solve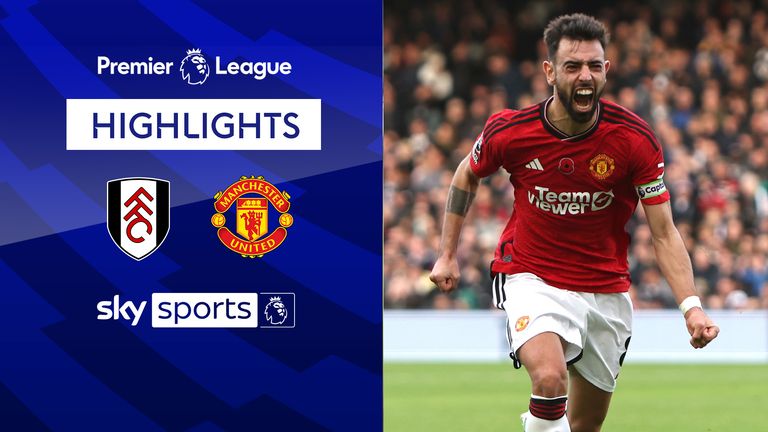 FREE TO WATCH: Highlights from Manchester United's win against Fulham in the Premier League
As Gary Neville pointed out, there's unlikely to be a more relieved manager this weekend than Erik ten Hag, who ends a week in which his job started to come into question by seeing his side claim a dramatic win.
But while Ten Hag will no doubt savour that all-too-rare winning feeling, he will know more than anyone that he still has numerous issues to solve.
Fulham 0-1 Man Utd – Report and highlights
How the teams lined up | Match stats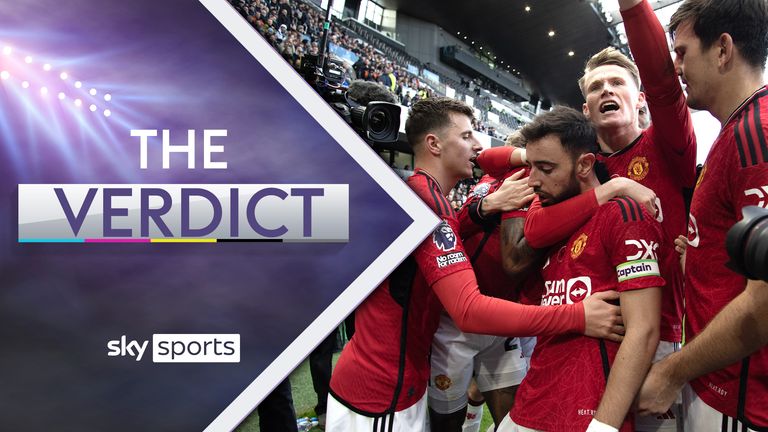 Sky Sports' Michael Bridge and Joe Shread analyse Manchester United's dramatic 1-0 win at Fulham, including how Bruno Fernandes stepped up when it counted and why Erik ten Hag still has problems to solve
While Man Utd got unlucky with Scott McTominay's disallowed goal, they spent the next 80 minutes doing almost nothing from an attacking sense. It was only Joao Palhinha's uncharacteristic late error that presented Bruno Fernandes with the chance to score the game's only goal.
At the other end, Fulham looked the most likely team to break the deadlock in the second half, with Andre Onana keeping them at bay with some unconventional saves.
The goalkeeper is growing into his role after some high-profile errors but the same can't be said for many of Ten Hag's signings – namely Rasmus Hojlund, who received just one pass from his team-mates in the Fulham box.
Man Utd will celebrate the win – as they should – but Ten Hag and his side are not out of the woods yet.
Joe Shread
Toothless Burnley have to find their bite – and fast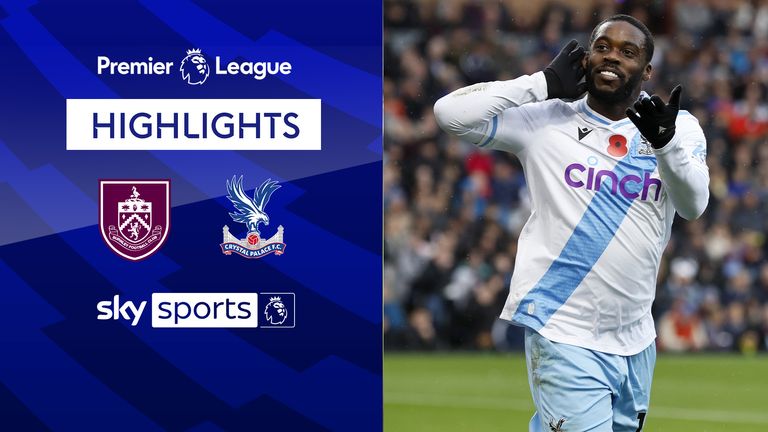 FREE TO WATCH: Highlights of Burnley against Crystal Palace in the Premier League.
Burnley gave their all against Crystal Palace. But, for a record-breaking sixth home game at the start of a top-flight season, it wasn't enough as they ended up on the losing end yet again.
The Clarets enjoyed 68 per cent of the ball, had 17 shots to Palace's four, and completed almost double the passes of their visitors.
"They made it very difficult for us, they wouldn't give us much time on the ball at all," said a magnanimous Eagles boss Roy Hodgson.
Burnley 0-2 Crystal Palace – Match report and highlights
How the teams lined up | Match stats
But he saw what we all did – a side strong in the press, confident on the ball, but woeful in front of goal.
Even with 15 of those efforts coming from inside the area, the Clarets accumulated an xG of just 1.12 and aside from Jay Rodriguez's header from a corner, they never gave Sam Johnstone anything to worry about.
Vincent Kompany has called on his side to be more pragmatic, but there was little sign of that against a Palace performance which embodied that quality on Saturday.
Nice football is all well and good, but a good dose of the Sean Dyche era – something Kompany will probably be sick of hearing – is exactly what the doctor would be ordering right now.
Ron Walker
Resurgent Brentford the capital kings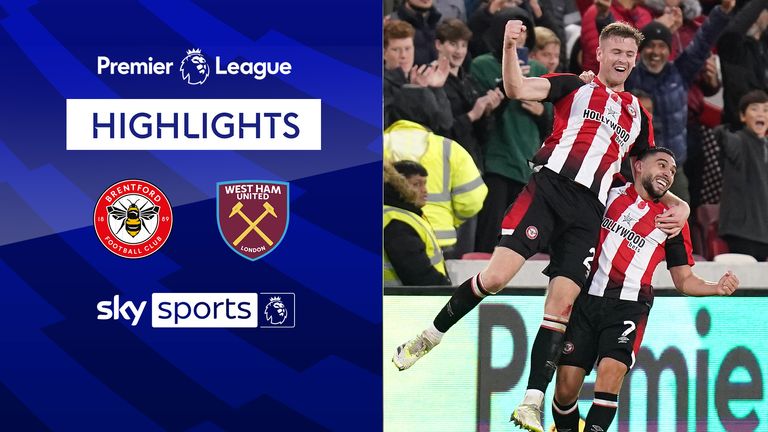 FREE TO WATCH: Highlights from Brentford's win against West Ham in the Premier League.
Brentford just love a London derby.
Following their thrilling 3-2 home win over West Ham the Bees are now unbeaten in their last 14 Premier League matches against teams from the capital.
Brentford 3-2 West Ham – Match report and highlights
How the teams lined up | Match stats
"It's an unbelievable stat," Brentford boss Thomas Frank said in his post-match press conference.
"If you think about the amount of London clubs, but also the level of the clubs. I like the stat and hopefully we can keep building on it."
The win over the Hammers typified the spirit, determination and heart in Frank's side as Brentford, against a backdrop of injuries, became the first side to score the first goal, go in at half-time behind and come back to win a Premier League game since November 2022.
This character is what sometimes sets them apart from their London rivals, and has seen them go from a six-game winless run to winning three on the bounce.
Frank's side are resurgent and will be eyeing up another capital gain in their next London derby: Arsenal at home on November 25.
Mikel Arteta's side beware.
Declan Olley
McAtee shines in Blades first PL victory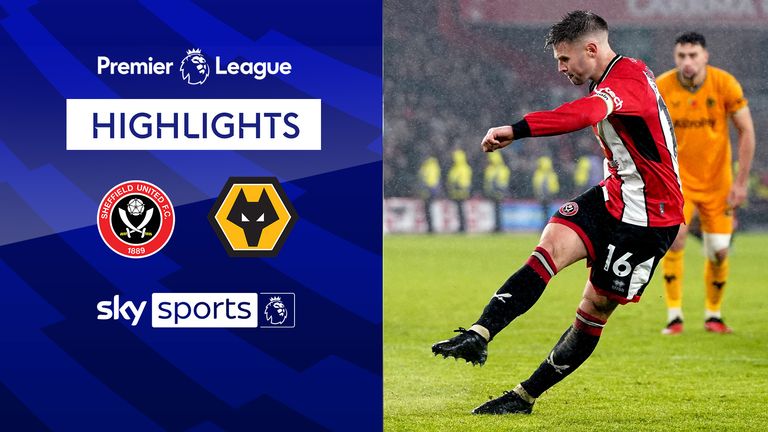 FREE TO WATCH: Highlights of Sheffield United against Wolves in the Premier League.
Having replaced Rhian Brewster at the end of the first half, Sheffield United's James McAtee had a huge impact during his 50 minutes of football.
The Blades were improved across the pitch after the break, but they had an extra attacking spark with McAtee going forward. Brewster has still not quite found his feet since returning from a hamstring injury.
The 21-year-old Man City loanee was top among his teammates for chances created and assists, as well as possessions won in the final third. He was also joint-second for shots and tackles as he made his presence felt across the pitch.
McAtee was key in Sheffield United's opener, and continued to try and open up the Wolves' defence for his team-mates, even if those chances did not always come off. It was an impressive performance and when his team needed it.
While losing Brewster does add to the Blades' injury woes, having a reliable back-up will certainly ease Paul Heckingbottom's concerns as Sheffield United look to build on a morale-boosting victory.
Charlotte Marsh
Sheffield United 2-1 Wolves – Match report and highlights
How the teams lined up | Match stats
Wolves cannot catch a break with VAR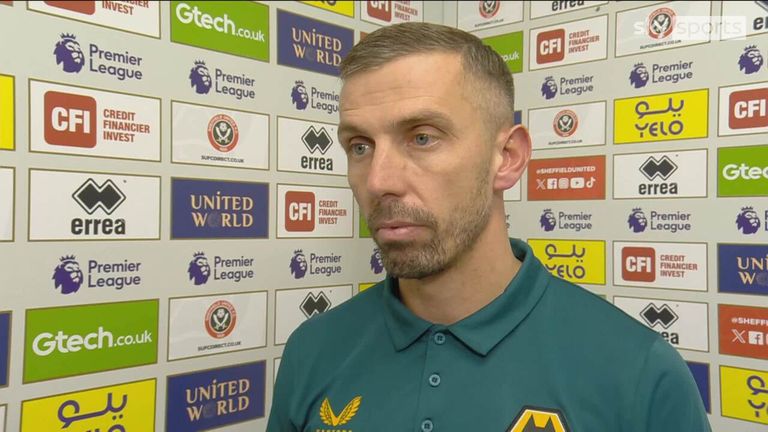 Wolves boss Gary O'Neil was frustrated with the officials' decision to award Sheffield United a late penalty, describing it as a 'terrible refereeing decision'.
You have to feel for Wolves. Four times in this season alone, VAR have ruled against them and their frustrations are understandable.
"We are six points down maybe from refereeing decisions," Wolves manager Gary O'Neil said after the game. "I have said a million times we need to be better so decisions don't affect us as much but the facts are they have had a big impact on our points total.
"A big impact on where we are in the league, the feel of the place, has an impact on how well I am deemed to have done as a new manager arriving at Wolves, 12 points is a big difference to 18."
Premier League table | Watch free Premier League highlights
Get Sky Sports | Stream the biggest moments on NOW
On the balance of play, a defeat is harsh on Wolves. The manner in which it happened too only compounds a second half where O'Neil's side were not at their best.
They had dominated the first half and should have been at least a goal ahead at the break. But they were second best to a rejuvenated Blades afterwards and while O'Neil will admit they should have done better, VAR is starting to have a detrimental impact on their season.
While Fabio Silva's contact on George Baldock was a clearer penalty than Hwang Hee-Chan against Newcastle last weekend, it was still soft. However, because it was not a clear and obvious error, VAR had to stick with referee Rob Jones' on-field decision to award the penalty.
While Wolves do not quite find themselves in battles at either end of the table just yet, no doubt the questions will be asked about VAR involvement should a few points here and there decide their fate for next season.
Charlotte Marsh
Sourse: skysports.com