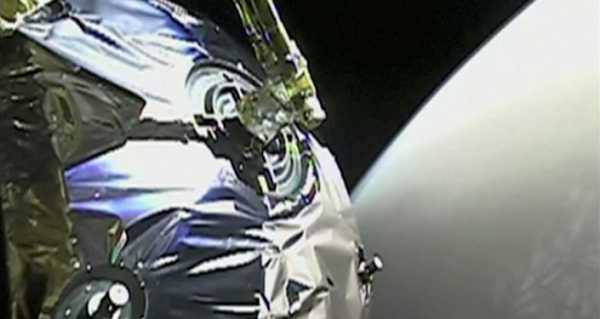 Earlier this year, three human spacecraft arrived in Mars orbit, two of which were national firsts: the United Arab Emirates' Hope orbiter and China's Tianwen-1 orbiter and lander. Another US lander, Perseverance, also arrived and brought a small helicopter to test flying about the thin Martian atmosphere.
The China National Space Administration has released a new image on Monday, showing the location on the Martian surface where its Tianwen-1 probe landed last month.
A new image released by the China National Space Administration (CNSA), taken by a high-resolution camera installed on the orbiter of Tianwen-1 at 6 p.m. on June 2 (Beijing Time), shows the landing platform and the Zhurong Mars rover on the Martian surface. The CNSA on Monday released a new image taken by the Tianwen-1 probe, showing the country's first Mars rover and its landing platform on the red planet's surface.
According to CNSA, the two bright spots in the top-right of the image are the Tianwen-1 landing platform, which had no specific name, and the Zhurong Mars rover. The three spacecraft are China's first orbiter, lander and rover, respectively, to successfully arrive at the Red Planet.
The mission is aimed at studying the atmosphere, surface, geological characteristics, and features of the Red Planet's magnetic field. As of June 7, Zhurong has been on the Martian surface for 24 Martian days, which are about 40 minutes longer than Earth days. Its battery has approximately 90 days' worth of power. 
Sourse: sputniknews.com