STOCK PHOTO/Getty Images
Health care workers are facing a severe mental health crisis, according to a new survey published Tuesday by the Centers for Disease Control and Prevention.
Workers said they are experiencing harassment, burnout, and other mental health symptoms — including anxiety and depression — at levels higher than before the start of the COVID-19 pandemic.
"Health workers and health-related professions have historically faced long work hours, often with unpredictable or rotating schedules or like what I experienced as an emergency physician working overnights and on holidays," Dr. Debra Houry, the CDC's chief medical officer, said during a press conference about the report Tuesday afternoon.
"Caring for people who are sick can also be intensely stressful and emotional. Exposure to human suffering takes an immense toll on this vital workforce," she continued.
The CDC analyzed data from the General Social Survey Quality of Worklife Module — conducted by the National Opinion Research Center at the University of Chicago — to compare self-reported mental health symptoms from 2018 to 2022.
Over the course of four years, health care workers saw an increase in poor mental health during the past 30 days from 3.3 days to 4.5 days. This increase was higher than among workers in other professions.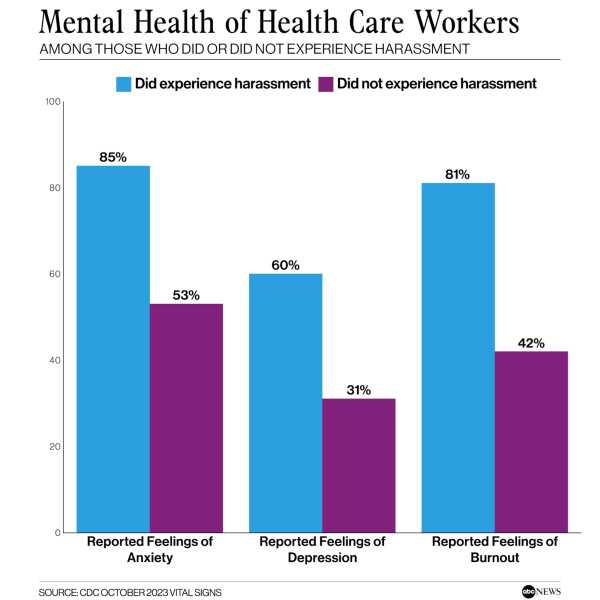 Mental Health of Health Care WorkersCDC October 2023 Vital Signs
The percentage of workers who reported feeling burnout very often increased from 11.6% in 2018 to 19.0% in 2022.
In total, 45.6% of health workers reported feeling burnout often or very often in 2022 compared to 31.9% in 2018.
Harassment was another major issue facing health care workers. More than double the number of workers reported harassment at work in 2022 compared to 2018.
This harassment included threats, bullying, verbal abuse, or actions from patients or coworkers leading to a hostile work environment, according to the report.
The survey also found that those who experienced harassment at work were more likely to experience feelings of anxiety, depression, and burnout.
For example, 31% of health care workers reported feeling depressed who did not experience harassment compared to 60% of workers who did experience harassment.
The CDC says this report is the first to describe and compare the well-being and working conditions of health workers and that the COVID pandemic may have presented unique challenges that worsened workers' mental health and led many to leave or with plans to leave their jobs.
Dr. L. Casey Chosewood, director of the CDC's National Institute for Occupational Safety and Health's Office for Total Worker Health, said that he believes many felt that health care workers were immune to many of the challenges that face other workers.
"They're incredibly resilient as the workforce but, at the end of the day, health workers are human and they're telling us as we listen to their stories that they really can't do anymore and that we must address the long-standing systemic issues that have been at play here," he said during the press conference.
Health care workers were less likely to report feelings of burnout if they reported trusting management, had help from a supervisor, had time to complete their work, and felt that their workplace supported productivity.
To improve working conditions, the CDC says employers can allow their health workers to participate in decision-making including on how work is done and what aspects could be improved.
The study showed that health workers experienced a decrease in the likelihood of feeling burned out if they trusted management, had supervisor help, had enough time to complete work, and felt that their workplace supported productivity, compared with those who did not have these things.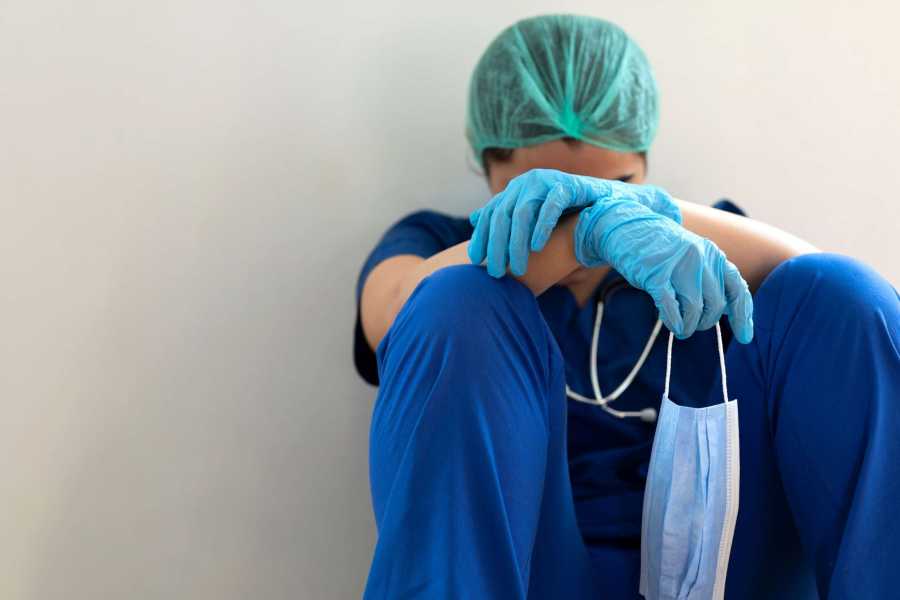 STOCK PHOTO/Getty Images
"There is hope," Chosewood said. "The Vital Signs report noted that poor mental health outcomes are less common when working conditions are positive and where health workers have the potential to thrive."
He said that a "supportive work environment had a positive impact on health workers. For example, the data shows that the odds of depression symptoms were half when health workers could take part in workplace decisions."
Employers should also carefully monitor staffing needs and pay attention to harassment reports, Houry said.
"Designing work and policies to support workers can help workers feel safe and protect their mental health," Houry said.
Sourse: abcnews.go.com