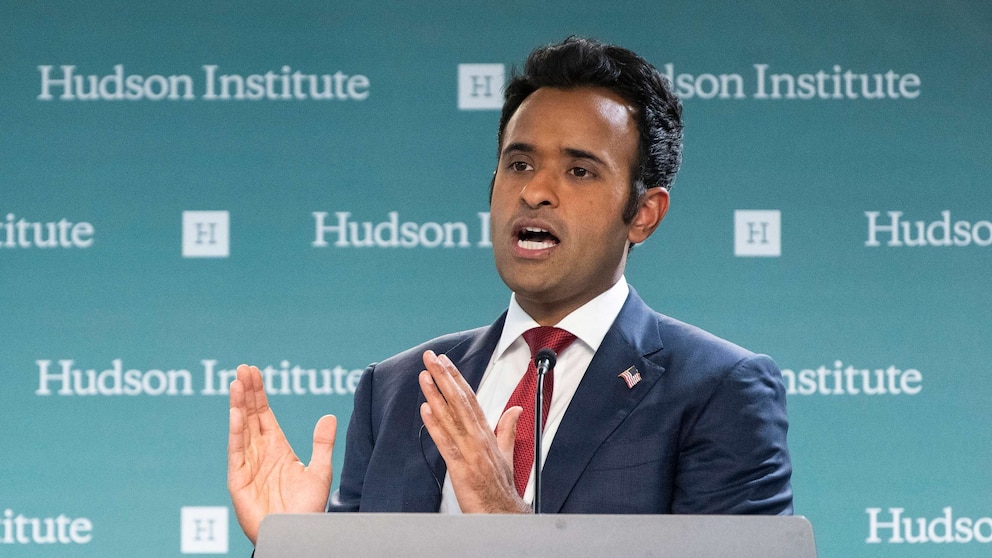 7:27Republican presidential candidate Vivek Ramaswamy speaks on "his vision for the defense of the American homeland," during an event at the Hudson Institute, Oct. 24, 2023, in Washington, D.C.Kevin Wolf/AP
Vivek Ramaswamy has built a national profile this year through his campaign for the 2024 Republican presidential nomination, but the entrepreneur and commentator says the GOP is just a "vehicle" for his larger goal, despite the criticism that may bring.
"I'm not a party man. Even now, I'm not a party man," Ramaswamy said on Tuesday during a fireside chat with Hudson Institute Senior Fellow Michael Doran in Washington, D.C., where he discussed international wars including in Israel and Ukraine.
"I'm using the Republican Party as a vehicle to advance what I see as a pro-American agenda that this country is hungry for," he continued as he answered Doran's first question, which kicked off a fiery conversation: "Why are you a Republican?"
Ramaswamy has been asked that several times on the campaign trail — including during another heated appearance this month, on Fox News.
Host Sean Hannity questioned when exactly Ramaswamy became a Republican voter as the two clashed over Ramaswamy's views on foreign conflicts. Ramaswamy previously claimed to have not voted until 2020, when he cast a ballot for Donald Trump,
"I voted libertarian in my first election [in 2004]," Ramaswamy acknowledged to Hannity. But, he added, "I voted Republican in 2020. I'm not a partisan hack. I'm an independent-minded patriot."
The day after that interview, during a trip to the southern border and amid some criticism from other Republicans, Ramaswamy suggested to ABC News that he strategically aligned himself with the GOP.
"It's a two-party system and I'm using the Republican Party to stand for 'America first' principles, and I'm pretty open about that," he said.
That unorthodoxy is reflected in some of his policy positions that break from the GOP mainstream — including appearing to say the U.S. should have a deadline beyond which they wouldn't defend Taiwan if China were to attack — and in his approach to who he appears with on the trail.
"Black, white, man, woman, Republican, Democrat. Doesn't matter," has been a recurring talking point throughout his campaign. As fiery as he is against Democrats and many liberal views, he's also slammed Republicans, such as criticizing former President George W. Bush for the U.S. invasions of Iraq and Afghanistan.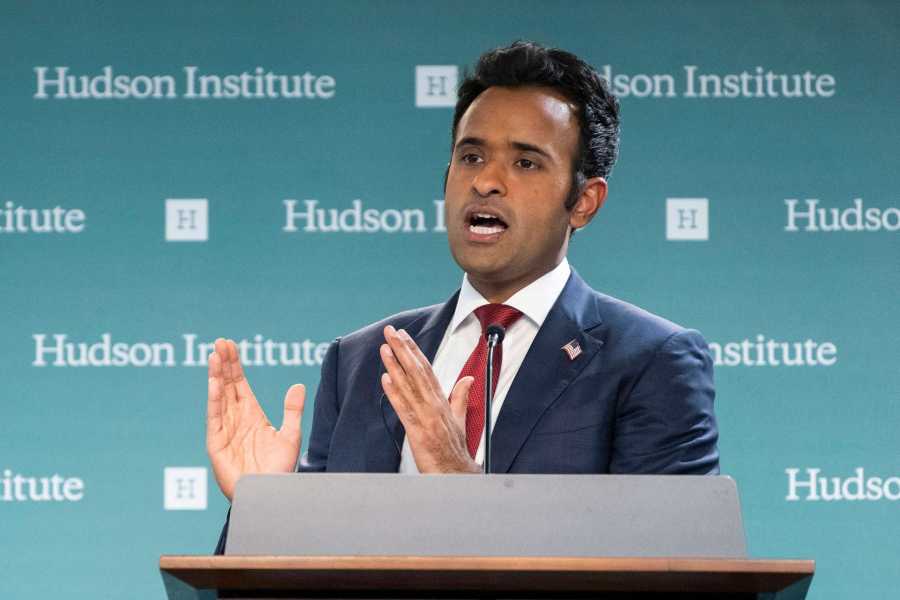 Republican presidential candidate Vivek Ramaswamy speaks on "his vision for the defense of the American homeland," during an event at the Hudson Institute, Oct. 24, 2023, in Washington, D.C.Kevin Wolf/AP
At the same time, Ramaswamy said Tuesday, there is "zero chance that I find any alignment with the domestic vision of the Democratic Party."
That style echoes former President Donald Trump, another 2024 candidate, whom Ramaswamy has repeatedly praised. During his 2016 campaign, Trump ran as an anti-establishment outsider against a slew of well established Republican politicians and was also vocal in criticizing Bush, the most recent GOP president — until him.
Ramaswamy has been joined by various guests from across the ideological spectrum on the campaign trail, including inviting Democratic Mayor Sheldon Neeley when he visited Flint, Michigan, earlier this month. He has not shied away from extreme figures either, sitting down for an hourlong discussion with far-right provocateur and conspiracy theorist Alex Jones when he visited the border a few weeks ago.
"My view is, talk to everybody," Ramaswamy said of his conversation with Jones, whose long history of incendiary comments includes falsely claiming that the Sandy Hook Elementary School mass shooting was a hoax — which resulted in him being ordered to pay $1 billion in damages to the victims' families.
Some Republican challengers seized on Ramaswamy talking with Jones to highlight what they called his unpreparedness to be president.
"His candidacy is a joke," former New Jersey Gov. Chris Christie said at a campaign stop in Derry, New Hampshire, on Wednesday.
"If Alex Jones walked by here right now and said hello to me, I wouldn't say hello back, let alone go on his show," Christie said. "And this shows what a pandering fool Vivek is."
The Ramaswamy campaign said Wednesday that he had scheduled a debate with Democrat Rep. Ro Khanna for next week in New Hampshire, after going back and forth with the California lawmaker for months. However, St. Anselm College in New Hampshire, where Ramaswamy said he and Khanna will face off, hasn't confirmed the event yet.
Ramaswamy's approach seems to have gotten the attention of some voters, one of whom asked in an Ames, Iowa, campaign event on Monday if he would consider running alongside Robert F. Kennedy Jr., who this month ended his 2024 Democratic primary campaign to run as an independent.
"I think one of the things he's doing that's useful is moving the terms of the conversation," Ramaswamy said of Kennedy. "But unfortunately the way that ballot access works, it's a two-party system. So I'm using the Republican Party as a vehicle to win this election."
Sourse: abcnews.go.com