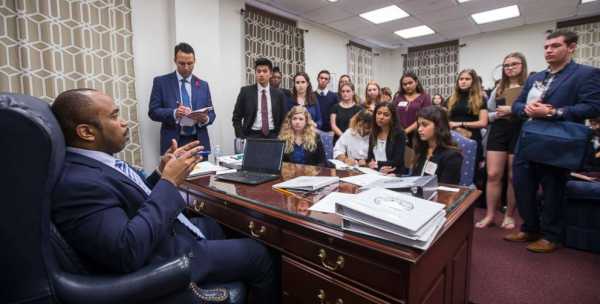 When Trump convenes stakeholders and victims of gun violence today, the pressure will be building for action by a president who claims to like to act.
Signs abound suggesting that skepticism is warranted. The president spent part of his weekend raging at the FBI. Ugly corners of the internet are maligning students motivated to act by what they witnessed in Florida.
Yes, "bump stocks" are now on their way to possibly being banned, but it took another massacre after Las Vegas to get that moving. Meanwhile, lawmakers in Florida quickly dispatched an assault-weapons ban, with students from Marjory Stoneman Douglas High School watching from the gallery.
There's a lesson there for students, and for the broader public. Other moments have felt different, too — until they weren't any longer.
The RUNDOWN with MaryAlice Parks
In Texas, one congressional candidate has had enough. Laura Moser, a Democrat running in the Houston area, launched a new television ad in the red state calling for action on gun control.
"Only a tiny fraction of members of Congress are mothers of school-aged children," Moser says in the ad, over footage of her with her young daughter. "Do you think this would still be happening if we had more?"
Across the country, candidates of all stripes are getting questions about gun violence this week. Florida politicians, in particular, are feeling the heat.
And while some Democrats have used the moment to reiterate ideas about stricter gun-safety measures and draw contrasts with their GOP opponents, the new messaging push from Moser seems to be more of an anomaly than a trend in districts Democrats hope to flip.
In Tennessee, the Democrat running for governor, was vague in an interview this week about the need for common-sense gun ownership and "making the gun background check process more rigorous as it relates to mental illness."
Conor Lamb, the Democrat running in a special congressional election in a redder part of Pennsylvania next month, had previously positioned himself as pro-gun. He met with the local Moms Demand Action group in the aftermath of the Florida shooting, but has continued to be lukewarm about supporting new gun laws.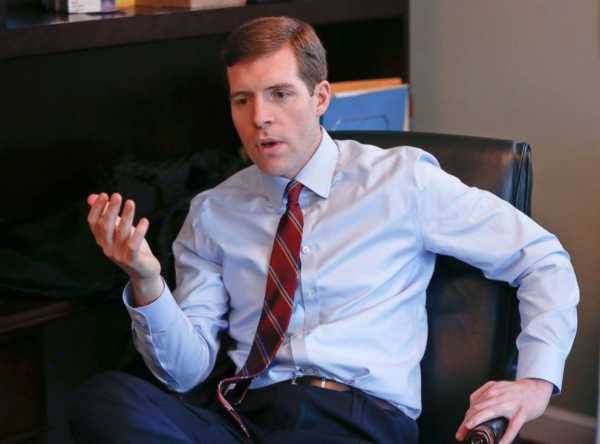 Keith Srakocic/APConor Lamb, the Democratic candidate for the special election in Pennsylvania's 18th Congressional District, talks about his campaign at his headquarters in Mount Lebanon, Pa. on Feb. 7, 2018.
In Colorado, one Democrat called on the incumbent Republican to return NRA money, but in Washington state's 8th Congressional District, where the Republican frontrunner is also a big-time NRA beneficiary, Democrats were tamer, calling for universal background checks, the closing of gun-sale loopholes and funding for a select committee to study the issue in Congress.
The TIP with Meridith McGraw
One of the three main Republican candidates in the very heated — and very close — West Virginia primary race was endorsed Tuesday by Wisconsin governor Scott Walker.
West Virginia Attorney General Patrick Morrisey said Walker's endorsement "will excite the many conservatives across West Virginia and the nation who have rallied to our campaign."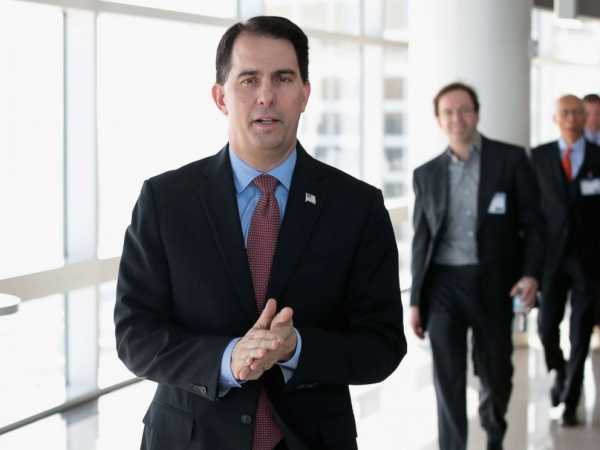 Scott Olson/Getty ImagesWisconsin Governor Scott Walker arrives at an event in Milwaukee, Feb. 6, 2018.
In a statement, Walker praised Morrisey, who is running neck-and-neck with Republican Rep. Evan Jenkins in a nasty, mudslinging primary to take on Democratic Sen. Joe Manchin.
"Attorney General Morrisey's strong, conservative record is exactly what West Virginia needs in its next senator," Walker said. "Patrick has fought for West Virginians while defending the rule of law, and he is ready to keep fighting for them as a champion of conservative reform in Washington, D.C."
This is Morrisey's first major endorsement of the primary, but it's not clear how many conservatives in West Virginia will be swayed by Walker's stamp of approval.
WHAT YOU NEED TO KNOW TODAY
President Trump holds a "listening session" with high school students and teachers in the wake of the recent shooting in Parkland, Florida, at 4:15 p.m. at the White House.
Earlier, the president reviews the Economic Report of the President with the Council of Economic Advisers in the Oval Office at 11:30 a.m.
Survivors of the Florida high school shooting will rally and lobby legislators for stricter gun control laws and school safety in Tallahassee, Florida.
QUOTE OF THE DAY
"Claiming some of the students on tv after #Parkland are actors is the work of a disgusting group of idiots with no sense of decency." — Sen. Marco Rubio, R-Fla., tweeted Tuesday, responding to those who say Parkland students featured on television are paid actors.
NEED TO READ
Trump moves to ban 'bump stocks' 4 months after Las Vegas shooting. President Donald Trump announced Tuesday he has signed a memorandum directing Attorney General Jeff Sessions to propose new regulations that would ban devices that can effectively turn legal weapons into machine guns. (Alexander Mallin) https://abcn.ws/2CyMta9
President Trump says he wants to improve background checks, but budget calls for cuts. After the White House said President Donald Trump is "supportive of efforts" to update the nation's background check system in the wake of the Florida high school shooting last week, a deeper look at the president's proposed budget for 2019 shows the administration may actually roll back federal grants to help states in reporting to the national background check system. (Jordyn Phelps) https://abcn.ws/2GvRUsw
Secret meeting between Pence and North Koreans scrapped at last minute: US official. In a statement, Nick Ayers, Pence's chief of staff said, "North Korea dangled a meeting in hopes of the Vice President softening his message, which would have ceded the world stage for their propaganda during the Olympics," adding Pence would have confronted the North Koreans about human rights abuses and their nuclear weapons ambitions. (Alexander Mallin) https://abcn.ws/2om6RWQ
FACT CHECK: Administration's actions on Russia sometimes tougher than Trump's words. Under heavy criticism for still not condemning Russia's interference in the 2016 presidential election, President Donald Trump is defending his record on Russia — and claiming he's been tougher than his predecessor, President Barack Obama. (Conor Finnegan) https://abcn.ws/2FhiGFL
Trump to host school shooting victims for listening session. President Donald Trump will host individuals impacted by some of the country's worst school shootings for a listening session at the White House on Wednesday, according to press secretary Sarah Sanders. (Alexander Mallin) https://abcn.ws/2BFDarO
Army awards Medal of Heroism to 3 cadets killed in high school shooting. Cadet Peter Wang, 15, killed while saving the lives of his classmates in the Parkland, Florida, shooting, was one of three recognized by the Army with a Medal of Heroism Tuesday, the highest honor for ROTC students as well as posthumous admission to the prestigious military academy. (Elizabeth McLaughlin) https://abcn.ws/2C9Akg2
Which lawmakers got the most NRA money? In the past 15 years, the pro-gun group has spent a total of more than $132 million on ads supporting or opposing presidential or congressional candidates. Here are the three U.S. senators and House members who have benefited the most from the NRA's ad buys, according to Federal Election Commission records. (Soo Rin Kim) https://abcn.ws/2CAV24a
Ukrainian-linked lawyer pleads guilty to lying to feds in ongoing Russia elections-meddling probe. The felony charge is punishable by up to five years in prison and a fine of up to $250,000. U.S. District Judge Amy Berman Jackson indicated that a finding of guilt could result in Attorney Alex Van Der Zwaan's deportation. (John Santucci, Trish Turner and Matt Mosk) https://abcn.ws/2ohakpw
New Pennsylvania congressional map could impact balance of power in the U.S. House. The Pennsylvania Supreme Court has issued a new congressional map for the state — a decision that could have major ramifications for the balance of power in the U.S. House of Representatives. (John Verhovek and Adam Kelsey) https://abcn.ws/2CvKdAj
A USDA staffer shocked the agency with a public admission about sex for promotion, reports the Washington Post. https://wapo.st/2sIfYqe
Son-in-law and presidential adviser Jared Kushner resisted losing access as Chief of Staff John Kelly tackled security-clearance issues in the wake of the Rob Porter scandal, The New York Times reports. https://nyti.ms/2C9MKEK
Sourse: abcnews.go.com