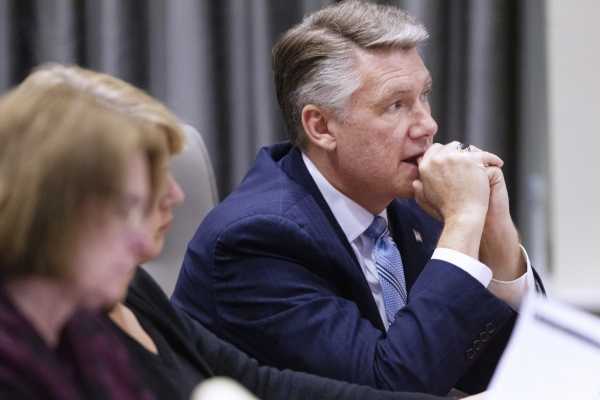 Mark Harris won't run for Congress again after ballot fraud allegations derailed his apparent victory in November and led the North Carolina elections board to call a new election in the state's Ninth District.
Harris, who had defeated sitting Rep. Robert Pittenger in the GOP primary last spring, cited health concerns to explain his decision. He threw his support behind local county commissioner Stony Rushing in the upcoming Republican primary for the new election.
The state elections board ruled last week that a bizarre ballot tampering scheme had tainted the basic fairness of the November vote and ordered a new election. There will first be a new primary election, required by a recently passed state law, that will determine the Democratic and Republican candidates. The timing for the new elections will be announced soon.
On Election Day, Harris was leading Democrat Dan McCready by fewer than 1,000 votes, but his win was never certified by the state board after allegations of electoral misconduct became public.
Over a remarkable four-day hearing, state investigators laid out in detail an "unlawful," "coordinated," and well-funded plot to tamper with absentee ballots in a US House election that remained uncalled more than three months after Election Day — finally bringing some clarity to one of the strangest election scandals in recent memory.
State investigators established their theory of the case — that a Republican operative, Leslie McCrae Dowless, directed a coordinated scheme to unlawfully collect, falsely witness, and otherwise tamper with absentee ballots — and workers who say they had assisted him in the scheme delivered damning testimony describing their activities. Dowless himself refused to testify, on the advice of his lawyer.
After four days of evidence indicating fraud and an attempt to conceal the scheme from state investigators, Harris himself told the state election board he believed a new election should be called. The board voted to do so soon afterward.
A top political consultant for Harris's campaign and the candidate's own son had given their own searing testimony about the decision to hire Dowless. The consultant, Andy Yates, and John Harris both insisted that Harris did not know what Dowless was doing and proved too trusting about the operative's claims. Yet John Harris did say that he had warned his father that Dowless's prior work on absentee ballots seemed like it could be illegal, a warning that went unheeded by the candidate. His testimony left Mark Harris in tears.
The board — made up of three Democrats and two Republicans — had reconvened after Democratic Gov. Roy Cooper named new members amid an unrelated legal dispute. They reviewed the evidence in the case over two days and then voted to call for a new election at the hearing's conclusion.
Under state law, the board is able to call a new election if the basic fairness of the election was tainted. It doesn't matter whether the number of votes in dispute would have been enough to swing the outcome.
For the House, the question is whether the Democratic majority will grow by one more seat or not. But the voters in the Ninth District will get the chance at a clean election after the state's investigation brought to light a convoluted scheme to collect, witness, and tamper with absentee ballots in this district along the state's southern border.
Sourse: vox.com