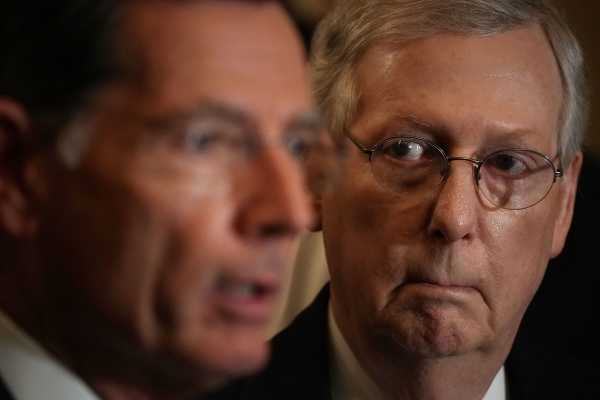 The Obamacare fight is not over.
Senate Majority Leader Mitch McConnell said in a Wednesday interview with Reuters that if Republicans "had the votes to completely start over, we'd do it."
He described the party's failure to repeal the Affordable Care Act as "the one disappointment of this Congress from a Republican point of view."
There is a strong chance that McConnell will have more votes in the Senate after the 2018 midterm:
And McConnell isn't alone. There is still strong enthusiasm among top Republicans for returning to Obamacare repeal.
"I think at the end of the day we end up with 53, 54 seats. If we can do that, then we can repeal and replace and change the ACA as we know it today," Sen. Dean Heller (R-NV) said earlier this spring.
And Vice President Mike Pence made a similar argument while campaigning for Wisconsin Senate nominee Leah Vukmir in August, saying, "We made an effort to fully repeal and replace Obamacare and we'll continue, with Leah Vukmir in the Senate, we'll continue to go back to that."
Though Republicans have good reason to expect gains in the Senate, things are looking much grimmer for them in the House of Representatives, which could very well fall into Democratic hands come January.
It's notable to me that both parties are gunning to have another health care debate, with Republicans running on Obamacare repeal and Democrats championing Medicare-for-all, given how divisive and politically toxic the policy area can be.
Republican bills to repeal the Affordable Care Act regularly polled below 30 percent approval ratings last year. And Democrats got trounced in the 2010 midterms after passing the Affordable Care Act on a party-line vote.
Still, Republicans and Democrats seem to want to come back to health care. (Perhaps because there is still a lot of voter frustration with health care prices.) And Republicans may, if they pick up four seats in the Senate, and manage to hold the House, actually have the votes this time around.
Correction: An earlier version of this story misstated 538's forecasted odds of Republicans controlling the Senate in 2018.
Sourse: vox.com