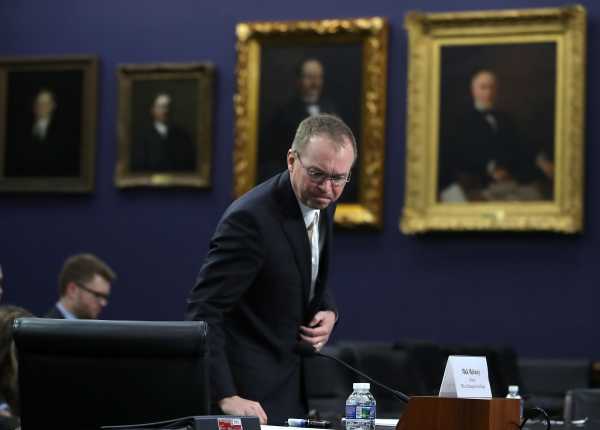 Want a favor from a member of Congress? Give him money. That was the advice Mick Mulvaney, the acting director of the Consumer Financial Protection Bureau and head of the Office of Management and Budget, gave to a group of some 1,300 bankers and lending industry professionals at a conference in Washington, DC.
Mulvaney, a former South Carolina representative, said he would only meet with lobbyists who had donated to his campaign while speaking at the American Bankers Association conference on Tuesday, the New York Times reported. "We had a hierarchy in my office in Congress," Mulvaney said. "If you're a lobbyist who never gave us money, I didn't talk to you. If you're a lobbyist who gave us money, I might talk to you."
He did emphasize that at the top of the whom-he'd-talk-to ladder were his constituents — regardless of financial contributions — but lobbyists had to pay up.
John Czwartacki, a spokesperson for Mulvaney, tried to clean up on his boss's eyebrow-raising remarks, telling the Times that Mulvaney was simply "making a point that hearing from people back home is vital to our democratic process and the most important thing our representatives can do." He said that's "more important than lobbyists and it's more important than money."
A CFPB spokesperson did not respond to further request for comment or clarification from Vox.
The payday lending industry donated more than $60,000 to Mulvaney's past congressional campaigns.
Since Mulvaney took over at the CFPB, the government's consumer watchdog, the bureau dropped sanctions against the online payday lender NDG Financial Corp., which was accused of running a "cross-border online payday lending scheme." It scrapped another lawsuit against four Kansas-based payday lenders that allegedly stole millions of dollars from consumers' bank accounts to pay debts they didn't owe. The agency shut down a probe into World Acceptance Corp, which donated at least $4,500 to Mulvaney's congressional campaigns. And the CFPB is reconsidering a rule that would have imposed restrictions on payday and short-term lenders, such as making sure borrowers would be able to pay them back.
Mulvaney also thought the government shutdown was "kind of cool" and wants to change the name of the CFPB
This is not the first time Mulvaney, whose name has been floated as a potential chief of staff (in case he needs a third Trump administration job), has sort of said the quiet part out loud. When the federal government shut down in January after Republicans and Democrats failed to reach a deal on funding the government, Mulvaney said he thought it was pretty neat that as OMB director, he got to do the honors. "I found out for the first time last night that the person who technically shuts the government down is me, which is kind of cool," he said in an interview with Sean Hannity.
Mulvaney, who once described the CFPB as a "sick, sad" joke, has since taking over the agency sought to scale it back and undermine it. He has reportedly scaled back an investigation into the Equifax data breach, which left the information of more than 145 million Americans exposed, and stripped enforcement powers from the Office of Fair Lending and Equal Opportunity, the unit responsible for pursuing discrimination cases. Until last week's $1 billion Wells Fargo fine, the CFPB hadn't taken a single enforcement action since Mulvaney took over in November.
At the same American Bankers Association conference where he made the lobbyist comments on Tuesday, Mulvaney also said he wants to end public access to the bureau's consumer complaint portal. Financial companies say that letting the public see complaints against it damages its reputation — in other words, outing their alleged bad behavior makes them look bad. "I don't see anything in here that says I have to run a Yelp for financial services sponsored by the federal government," Mulvaney said, holding up a copy of the Dodd-Frank financial reform law, according to the Wall Street Journal.
Beyond the policy and enforcement measures that threaten to roll back important protections for consumers, some of what Mulvaney has done at the CFPB has been symbolic, if not to say petty. In December, the CFPB renamed a fellowship program for law students and recent graduates that had honored Supreme Court Justice Louis Brandeis, who was known in the early 20th century as the "people's lawyer" for taking on major moneyed interests, including J.P. Morgan's railroad monopoly.
The fellowship is now named after Joseph Story, a 19th-century Supreme Court justice known for his defense of property rights and economic liberty. Story was a staunch opponent of President Andrew Jackson, of whom Trump is a professed fan, so it's not clear exactly what Mulvaney was going for in all of this.
His latest crusade in the land of things that don't matter: the acronym of the CFPB. He says it actually should be BCFP, for the Bureau of Consumer Financial Protection, its official name in Dodd-Frank. He wants to emphasize the bureaucratic part of it. "I'm trying to get in the habit of now saying the 'BCFP.' It's really, really hard to do that when you've said the CFPB for so long," Mulvaney said at the Tuesday ABA conference.
According to the Associated Press, the bureau has rolled out a new logo and requested that its entry in the AP Stylebook be changed to the Bureau of Consumer Financial Protection. If Mulvaney does get the change, the entire agency would have to change email addresses — right now, they're @cfpb.gov. But he's a man on a mission. "The CFPB doesn't exist," he said on Tuesday.
Sourse: vox.com