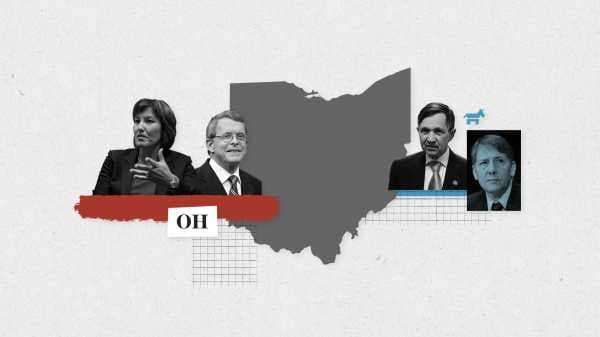 In the Ohio primary elections on Tuesday, voters will choose candidates for one of the marquee governor's races of 2018. On the Democratic side, it's former Obama finance watchdog Richard Cordray versus ex-Rep. Dennis Kucinich. On the Republican side, it's state Attorney General Mike DeWine versus Lt. Gov. Mary Taylor.
Cordray is hugging tight to Obama. Kucinich is slamming him for being insufficiently anti-gun but is facing his own questions about his ties to the Assad regime in Syria. DeWine is running as a pretty conventional Republican, but he's been forced to parry attacks from Taylor that he is an apostate to President Donald Trump's agenda on immigration and trade.
Live results are below. Polls close in Ohio at 7:30 pm ET.
Ohio Democratic governor's primary: Richard Cordray vs. Dennis Kucinich
The Democratic contest could end up being equally eventful and represents something of a family feud within the left: Massachusetts Sen. Elizabeth Warren has taken one side, and a Bernie Sanders-aligned group is on the other. The two big names are Cordray and Kucinich.
Cordray, then the state treasurer, was elected as Ohio attorney general in 2008 in a special election but lost in 2010 in his bid for a full term — to DeWine. He later served as the first director of the Consumer Financial Protection Bureau, the agency created in the Dodd-Frank financial regulation bill, from 2012 to 2017.
Kucinich, on the other hand, is … eclectic. The former Cleveland mayor represented the area for 16 years in Congress, becoming one of the House's most prominent doves and a fierce critic of President George W. Bush and even President Obama for their military adventures. He has criticized Cordray during the campaign for not being sufficiently opposed to guns. The ex-Congress member has the support of Our Revolution, the grassroots group that grew out of Sanders's 2016 presidential campaign, even if the senator himself is staying out of the race.
Ohio Republican governor's primary: Mike DeWine vs. Mary Taylor
Looming over the Republican primary is outgoing Gov. John Kasich, one of Trump's biggest GOP critics, who is flirting with a 2020 presidential run. DeWine, the establishment favorite, and Taylor, positioning herself as the Trumpian insurgent, are both running away from him.
DeWine, the Republican attorney general and former US senator, has been treated as the most likely Kasich successor for a while now. He's the one walking a tightrope on some issues: On Medicaid expansion, for example, which Kasich had pursued by circumventing the GOP-led legislature, DeWine has been hard to pin down, the Toledo Blade reported.
Taylor, meanwhile, has said flatly that she opposes the Medicaid expansion, even as it covered 300,000 of the poorest residents in a state with one of the nation's worst opioid crises. That tracks with her general strategy of taking the hard-right stance and trying to shore up the Trump wing of the party by painting DeWine as a sellout.
Ohio Senate Republican primary: Jim Renacci vs. Mike Gibbons
Republicans will also pick a Senate candidate to challenge Democratic Sen. Sherrod Brown. Rep. Jim Renacci has Trump's endorsement, though Cleveland business executive Mike Gibbons is posing as a Trump replica and had a lot of money to spend on his campaign.
Whichever Republican emerges to challenge Brown, the stakes in Ohio are ginormous on several levels. First and foremost, if Democrats are to have any hope of taking over the Senate next year, Brown needs to keep his seat. Democrats are defending seats in 10 states that Trump won; Ohio is a big one, a step below the challenges the party will face in Indiana and Missouri.
On a more fundamental level, the Ohio Senate race will be an important test case of whether Democrats can still contend in the Midwestern, mostly white states that Obama won but that fell out from under the party in 2016, handing Trump an Electoral College win even as he lost the popular vote.
Ohio 12th Congressional District primary (and special election primary): Troy Balderson vs. Melanie Leneghan on the GOP side
Republicans are locked in a bitter primary over who should bear the party's standard to replace Rep. Pat Tiberi in the Ohio 12th, with establishment Republicans entrenched on one side and the archconservative House Freedom Caucus on the other.
There will actually be two primaries held Tuesday night: one for the November general election and one for the August 7 special election. The candidates are almost identical, and the same nominee is likely to prevail in both. But it's a strange quirk in Ohio electoral law to keep in mind.
For the general election:
For the special election on August 7:
Whoever emerges in the May 8 primary is likely looking at a more difficult race than one might otherwise expect in this district, which Tiberi had held since 2002 and carried with two-thirds of the vote in 2016. The Cook Political Report places the district as R+7 and rates the race as a toss-up.
Republicans in the state say that already shaky outlook could darken even more if conservative insurgent Melanie Leneghan prevails over Tiberi's chosen successor, state Sen. Troy Balderson, in the primary on Tuesday. Veteran Air Force officer Tim Kane is also getting a big boost from an outside Super PAC that promotes veterans running for office, which is spending six figures on a TV spot backing him.
Democrats think they have a few viable candidates: Danny O'Connor, the Franklin County recorder who has the endorsement of former Gov. Ted Strickland and Rep. Tim Ryan and is raising the most money; Zach Scott, a former Franklin County sheriff with strong name recognition; and John Russell, a local farmer with ties to area progressive grassroots groups.
Ohio gerrymandering reform ballot initiative
Last but not least, Ohio voters have been asked to weigh in on a gerrymandering reform referendum.
This is the plan, as Vox's Andrew Prokop reported:
Sourse: vox.com