It's a strip of land surrounded by Israel but populated by Palestinians.
Zack Beauchamp is a senior correspondent at Vox, where he covers ideology and challenges to democracy, both at home and abroad. Before coming to Vox in 2014, he edited TP Ideas, a section of Think Progress devoted to the ideas shaping our political world. Part of Everything you need to know about Israel-Palestine
Editor's note, November 9, 2023: This story has been updated to reflect details of the current Israel-Hamas war. For all of Vox's latest coverage on Israel and Palestine, see our storystream.
Gaza is a densely populated strip of land that is mostly surrounded by Israel and peopled almost exclusively by Palestinians. Israel's military occupied it from 1967 to 2005, when it unilaterally withdrew. It's currently under Israeli blockade, and Israel is at war with Hamas, the militant group that governs the region, as of early October.
Egypt controlled Gaza until the Six-Day War in 1967, after which Israel occupied it (along with the West Bank). Until 2005, Israeli military authorities controlled Gaza in the same way they control the West Bank, and Jews were permitted to settle there. In 2005, then Prime Minister Ariel Sharon pulled out Israeli troops and settlers unilaterally.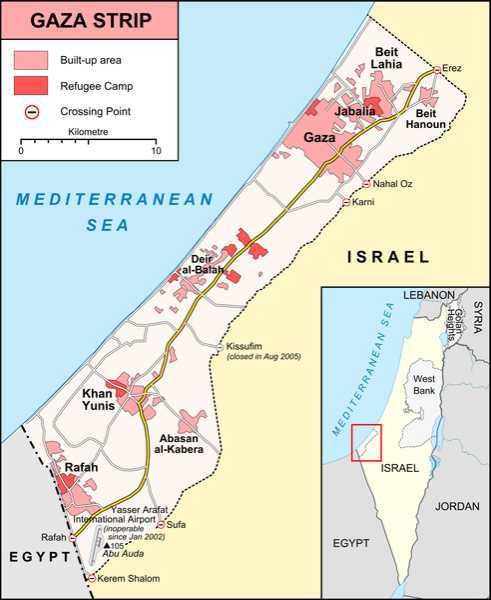 Gringer
Gaza is governed by the Islamist group Hamas, which was initially an Egyptian group, the Muslim Brotherhood in Gaza. In 1987 it became Hamas, a militant "resistance" group against Israel, and won political power in a 2006 election. Hamas's takeover of Gaza following a conflict with backers of the Palestinian Authority, which governs the West Bank, prompted an Israeli blockade of the flow of commercial goods into Gaza, on the grounds that Hamas could use those goods to make weapons to be used against Israel. Egypt, which borders Gaza on the south, supports that blockade in part due to the connection with the Muslim Brotherhood. Israel has eased the blockade at certain points over time, but the cutoff of basic supplies like fuel still does significant humanitarian harm by cutting off access to electricity, food, and medicine.
Hamas and other Gaza-based militants have fired thousands of rockets from the territory at Israeli targets. Israel has launched a number of military operations in Gaza, including an air campaign and ground invasion in late 2008 and early 2009, a major bombing campaign in 2012, and another air and ground assault in the summer of 2014.
The periodic, escalating cycles of violence between Hamas and Israel since the latter's withdrawal has strengthened Israeli hawks' political position, as they have long argued that any Palestinian state would end up serving as a launching pad for attacks on Israel.
In 2023, after Hamas and the militant group Palestinian Islamic Jihad launched a coordinated land, sea, and air attack against Israel on October 7, Prime Minister Benjamin Netanyahu's government declared war on Hamas. That included what Israel called a "complete siege" — cutting off access to electricity, food, fuel, water, and medicine — and began with a massive air assault on Gaza before a ground incursion into the territory.
Sourse: vox.com