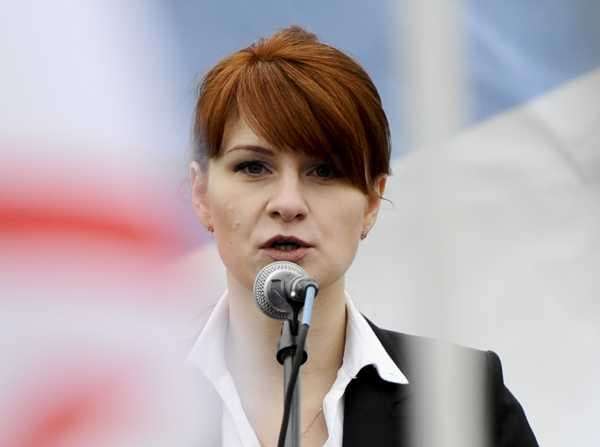 Maria Butina, the 29-year-old Russian national charged with conspiracy and acting as an unregistered Russian agent, interacted with former Trump campaign aide J.D. Gordon in the lead-up to the 2016 election, according to a new report.
Rosalind Helderman at the Washington Post reported on Friday that Butina and Gordon, who served as director of national security for Donald Trump's presidential campaign, exchanged multiple emails in September and October of 2016. He had already left Trump's campaign at the time, though he was offered a role in the transition team. Gordon, a former naval officer and Pentagon spokesman under George W. Bush's administration, invited Butina to a Styx concert and to his birthday party, according to documents and testimony given to the Senate Intelligence Committee and described to the Post.
Butina was arrested in July for secretly trying to influence US politics on Russia's behalf while not registered as a foreign agent. She was allegedly trying to sway the Republican Party through the National Rifle Association while working for a Russian central bank official and trying to advance Russian interests.
According to the Post, Paul Erickson, a Republican operative and lobbyist, connected Butina and Gordon via email after they met at a party at the Swiss ambassador's residence in September 2016. Erickson appears to have been Butina's most important American contact and is reportedly "US Person 1" who helped introduce Butina to influential US political figures in court documents outlining the charges against Butina.
Erickson described Butina as a "special friend" of the NRA in the introductory email and said that Gordon had a "crucial role in the Trump transition effort and would be an excellent addition to any of the US/Russia friendship dinners to occasionally hold." Gordon responded the email with a clip of an appearance he'd made on state-run Russian English-language media outlet RT in which he said Trump had a "real common-sense approach to Russia."
Butina responded to the email with an invitation for Gordon to attend a group dinner hosted by another one of her US contacts, conservative writer George O'Neill Jr., but he couldn't go. But their contacts continued, with Gordon, 50, inviting Butina to get drinks and go to the Styx concert and to attend his birthday party in October of that year.
Gordon in a statement to the Post minimized the importance of his contacts with Butina. "From everything I've read since her arrest last month, it seems the Maria Butina saga is basically a sensationalized click bait story meant to smear a steady stream of Republicans and NRA members she reportedly encountered over the past few years," he said. He pointed out she networked "extensively" in both groups. "I wonder which prominent Republican political figures she hasn't come across?" he said.
The Washington Times on Friday published his full account of their interactions.
Robert Driscoll, a lawyer for Butina, told the Post that the email exchanges were just a student (Butina was studying at American University) trying to network.
"A military guy who had been involved would have been a prime target, if that's what she was about," Driscoll said. "But the evidence is clear that there wasn't any significant contact."
Gordon was assigned as the point person for an advisory group on foreign policy and national security for the Trump campaign in March 2016 and left the campaign in August 2016. He's said he never did anything on the transition.
As the Post notes, he was the campaign's point person for a Republican Party platform committee discussion in which he advocated against language endorsing the US sending lethal defense weapons to Ukraine. He has said it was because that was in line with Trump's views that he didn't want to go to "World War III" over Ukraine.
Sourse: vox.com