Many of the 2024 Republican presidential candidates will gather to debate for the first time on Wednesday, offering a major moment for candidates to try and shake up a largely stagnant primary that so far has seen former President Donald Trump dominate in early polling.
Trump will not be in attendance, citing his double-digit lead to suggest he doesn't need to appear alongside his rivals, including the No. 2 challenger, Florida Gov. Ron DeSantis, whose aides continue to describe the race as a two-person contest even as other candidates, like Vivek Ramaswamy, have seen their support increase.
Here are seven things to watch for as the candidates square off.
What will Trump say?
Trump filmed a pre-recorded interview with former Fox News host Tucker Carlson that is set to be released on Wednesday, ABC News has reported.
It's unclear what Trump told Carlson but the sit-down is being seen among the campaigns as an attempt to counterprogram — or even overshadow — the debate.
Trump has frequently attacked his rivals but none more so than DeSantis, a rising GOP star who is trailing Trump but leads everyone else in most national and statewide polling.
DeSantis has not criticized Trump nearly as sharply but argues that he's more electable than Trump and that the former president should show up to the debate.
MORE: Trump to sit out debate as GOP contenders prepare for 1st showdown
Trump could also use his social media platform to offer running commentary on the debate or candidates — or use the Carlson interview to rail against his mounting legal troubles as he faces four indictments, all of which he denies.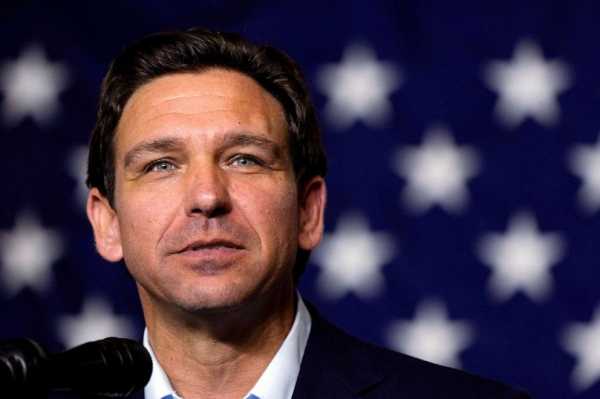 Republican presidential candidate Florida Gov. Ron DeSantis speaks in Cedar Rapids, Iowa, Aug. 6, 2023.Charlie Neibergall/AP, FILE
Do the candidates attack or defend Trump?
Despite his 2020 election loss and unprecedented criminal charges, Trump's polling lead and robust support with a section of the GOP base illustrate that he remains popular with conservatives. Most of his primary challengers have largely avoided going after him directly on the campaign trail — with notable exceptions.
Former New Jersey Gov. Chris Christie and former Arkansas Gov. Asa Hutchinson have both hammered Trump throughout their campaigns and will likely do so again on Wednesday. Former Vice President Mike Pence has also repeatedly said Trump was wrong to claim that he, while in office, had the power to overturn the 2020 election results.
At the same time, Pence has repeatedly touted their work together in the White House.
Others, like entrepreneur and author Ramaswamy, have consistently defended Trump and doing any differently Wednesday would mark a significant and unexpected departure from his campaign strategy thus far.
South Carolina Sen. Tim Scott, former South Carolina Gov. Nikki Haley and North Dakota Gov. Doug Burgum haven't taken many explicit swipes at Trump while still urging GOP voters to turn the page and seek other leaders.
A memo that was made public by a supportive super PAC ahead of the debate advised DeSantis to defend Trump against attacks from Christie. DeSantis later said he hadn't read the memo: "It's just something that we have and put off to the side," he said on Fox News.
How does Ron DeSantis handle the spotlight?
In Trump's absence, DeSantis will be the highest polling candidate on stage — and likely the biggest magnet for attacks.
"I think Trump will be the person that's most talked about, both attacks and conversely, you might have Vivek defending him. But sure, DeSantis will be second in terms of that. Absolutely. You'll have candidates like Nikki Haley trying to contrast themselves with DeSantis, and then I think Vivek will try to create the impression that he's actually the guy who's running best at this point behind Trump and not DeSantis," said GOP strategist and presidential campaign veteran Bob Heckman.
DeSantis has been attacked on debate stages in the past, but not on the national level. Any one night of sharp criticism doesn't mean it could sway the course of the race.
In 2022, Florida Democratic gubernatorial nominee Charlie Crist repeatedly went after DeSantis on whether he would commit to serving a full four-year term as governor, leading DeSantis to freeze.
DeSantis then beat Crist by almost 20 points — an enormous margin in a famous swing state.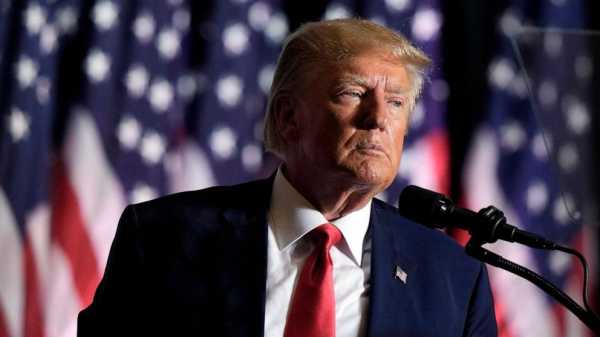 Former President Donald Trump speaks during a rally, July 7, 2023, in Council Bluffs, Iowa.Charlie Riedel/AP, FILE
Does Christie land his punches with his main antagonist absent?
Christie's modus operandi on the trail has been tearing into Trump, his onetime friend and ally, which has boosted his profile without boosting his early prospects with GOP voters. In national polls so far, he remains in the back half of the field of candidates.
It's unclear if his biting message will be as effective on a debate stage that does not include Trump, though Christie has thrown elbows at other candidates for what he says is an unwillingness to take on the former president.
"My guess is he'll try to make each one of them answer to the question of: Is Donald Trump fit to hold office? I think he'll be indiscriminate in how he tries to nail down on that question. Same thing for Hutchinson, I guess, but obviously Christie will do it with much more force, if not violence," said California-based GOP strategist Rob Stutzman, another veteran of presidential campaigns.
Does Ramaswamy have his moment?
Ramaswamy will be center stage on Wednesday night — literally.
Thanks to a consistent rise in the polls and Trump's absence, Ramaswamy's podium will be right next to DeSantis' at the heart of the action, because he is the top-polling candidate behind Trump and DeSantis, though he hasn't yet cracked 10%, according to FiveThirtyEight's national average.
For months, Republicans publicly and privately have forecast that Ramaswamy will have a moment, likely at a debate, due to his speaking ability and call for a conservative "revival."
Heckman warned, however, that "you don't want high expectations in stuff like this, and I think there are high expectations for him, and I think that might hurt him. … I think he's got to do a lot in order to have that moment."
Can anyone else break through?
Candidates like Haley, Pence and Scott are expected to look to build support with voters or earn positive media coverage. The debate could be an opportunity to do that, even as the stage will be crowded and time limited among each of them.
MORE: Francis Suarez on the challenge of going from mayor to president
Scott is stuck in the single digits in national polls but has seen a recent burst of attention and a huge advertising blitz. Pence and Haley, meanwhile, haven't seen much movement in voter surveys — and candidates like Hutchinson and Burgum haven't had a breakthrough yet, on top of lacking the name recognition of some of their better known rivals.
It's getting late early, and Stutzman said someone will need to improve their poll numbers with Iowa's caucuses beginning to loom in January.
"They really got to start demonstrating that they have what it takes to, frankly, win Iowa. That's going to be how this winnows itself," he said.
What policy ground gets covered — with Democrats watching?
As Republicans duke it out onstage, Democrats are watching and waiting.
They already have attacks set up on issues like abortion access and Social Security, but party officials believe a specific comment by a candidate seen on national television could serve as potent ammunition as the election cycle progresses.
"As we've said time and time again, the Republican primary has always been a race for the MAGA base, and I think we're going to see more of the same on the debate stage," Democratic National Committee spokesperson Ammar Moussa said in a statement, in part. "Whether Donald Trump is on the stage or not."
Sourse: abcnews.go.com