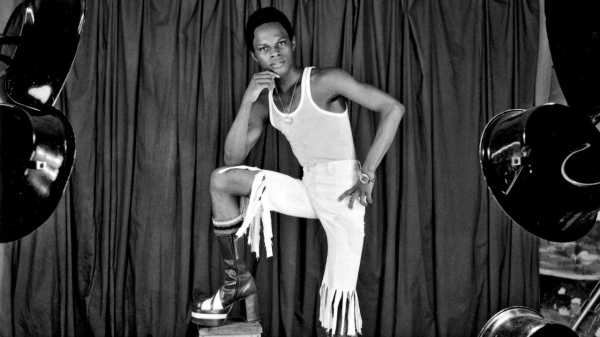 It often takes a few moments to recognize Samuel Fosso in his self-portraits. He's a picture of otherworldly piety as the first Black Pope, stepping on a space rock as though ready to catechize the cosmos. (It's a cheeky allusion to Maurizio Cattelan's controversial sculpture of a meteorite striking John Paul II.) Then, suddenly, he's late-sixties Angela Davis, throwing dialectical side-eye from beneath her world-historical fro. The makeup and costumes are immaculate—in the first image, Fosso wears genuine vestments from the papacy's official tailor—but the real force of his photos lies in their author's remarkable absorption, as much a giveaway as his hypnotic stare and pronounced Cupid's-bow lips. "When I work, it's always a performance that I choose to undertake," he once said in an interview. "It's not a subject or an object; it's one more human being."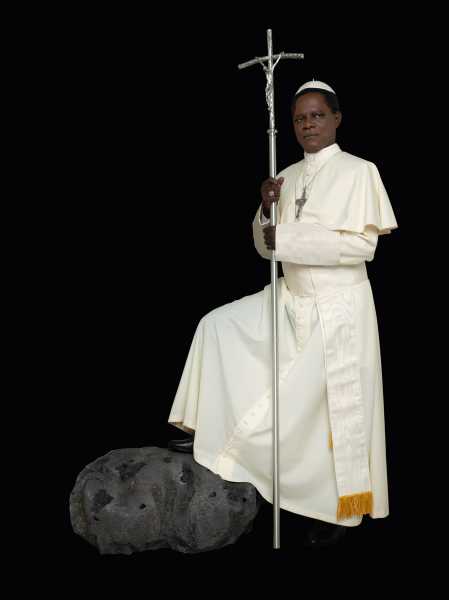 "Black Pope," 2017.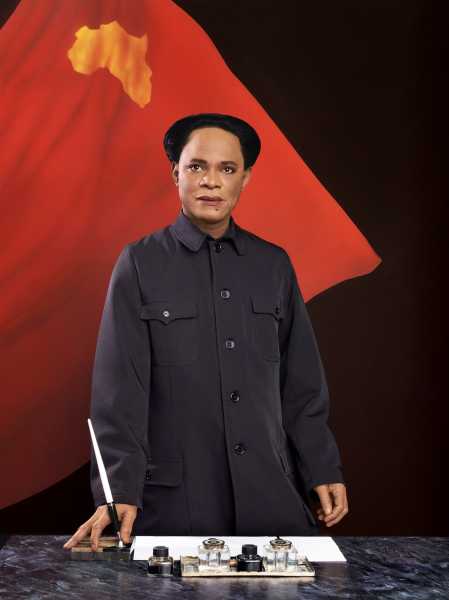 "Emperor of Africa," 2013.
In "Affirmative Acts," his first museum survey in the United States, Fosso reënacts the modern history of Africa and its diaspora in the form of a one-man masquerade. The exhibition—insightfully curated by the Princeton art historian Chika Okeke-Agulu and his students at the university art museum's interim space Art on Hulfish—is an overdue introduction to one of photography's most versatile performers. Fosso is best known for stylized caricatures like "The Chief Who Sold Africa to the Colonists" (1997), a sendup of dictator chic in which he appears draped in leopard skins and gold jewelry, clutching a scepter of sunflowers that grows from a purse. (A nearby pair of crimson loafers matches his bloody fingernails.) More recently, he's lampooned China's ambitions on the continent, puckishly adapting official portraits of Chairman Mao for a series called "Emperor of Africa." Satire, though, is only an aspect of his endlessly self-regarding yet surprisingly selfless practice, whose pageantry is counterbalanced by more visceral reflections on the body's vulnerability amid war and exile.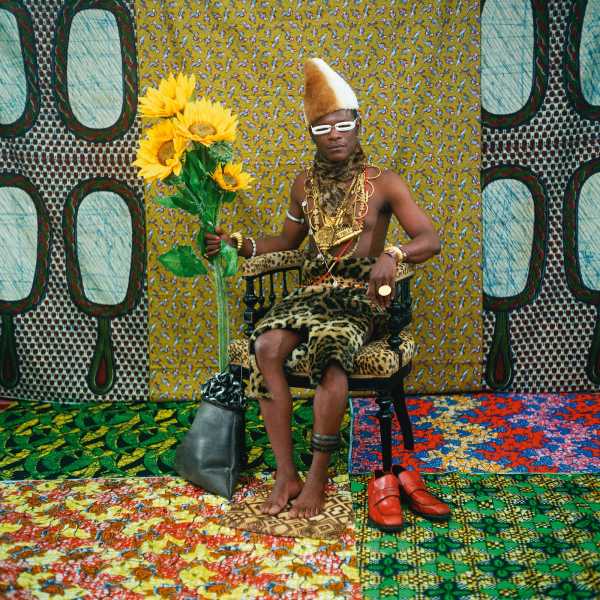 "Tati—Le chef qui a vendu l'Afrique aux colons (The Chief Who Sold Africa to the Colonists)," 1997.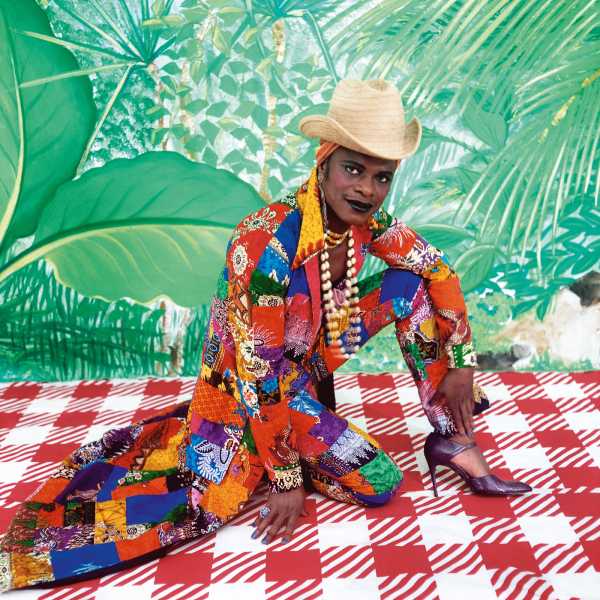 "Tati—La femme américaine libérée des années 70 (The Liberated American Woman of the 1970s)," 1997.
Fosso has told various stories about becoming his own muse. One centers on the absence of photos from his childhood in Cameroon, where he was born to a Nigerian Igbo family, in 1962. A congenital anomaly left him partly paralyzed from birth; his parents, ashamed, refused to have him photographed. He moved to Nigeria—and then, after the Biafran War, to Bangui, capital of the Central African Republic, where he lived with an uncle and found work as a photographer's apprentice. At only thirteen, he opened a commercial studio, shooting his first self-portraits with the leftover film. He posed in flamboyant outfits inspired by musicians like James Brown and the highlife star Nico Mbarga—one early portrait shows him flaunting fringed pants and enormous platform shoes—and mailed the results as a reassurance to anxious relatives back home. Another motivation was immortalizing his youth. "I ran into a priest who said, 'You look handsome. You look like an astronaut. Do you want to reach heaven?' " he recalled of the time. "And I answered, 'Yes!' "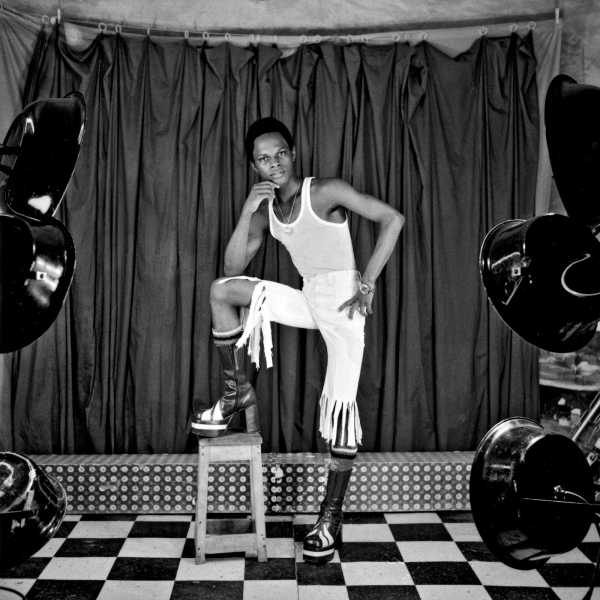 "70's Lifestyle," 1975-78.
His star turn came in the early nineties, when a scout for Rencontres de Bamako, a newly established biennial of African photography, visited his studio. Fosso didn't yet consider himself an artist, but the West had recently "discovered" the Malian photographers Seydou Keïta and Malick Sidibé, prompting an international craze for mid-century African studio portraiture. Soon, Fosso was exhibiting in Paris and receiving encouragement from Henri Cartier-Bresson, but he quickly ran up against curators' preference for his early black-and-white portraits—fraught with nostalgia for the heady independence years—over more recent full-color experiments. A commission from the French retailer Tati gave him an opportunity to break free. In 1997, Fosso débuted a series of self-portraits in outfits from the store's clothing line, posing as stock characters like rock star, bourgeois businessman, and a "Liberated American Woman of the 1970s." Ironically, collaborating with a business afforded him a new degree of aesthetic autonomy; once seen as a chronicler of a particular time and place, he reinvented himself as a shape-shifting Everyman.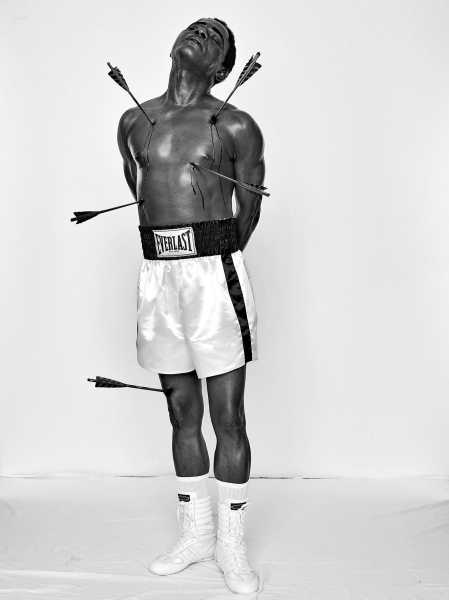 "African Spirits—Muhammad Ali," 2008.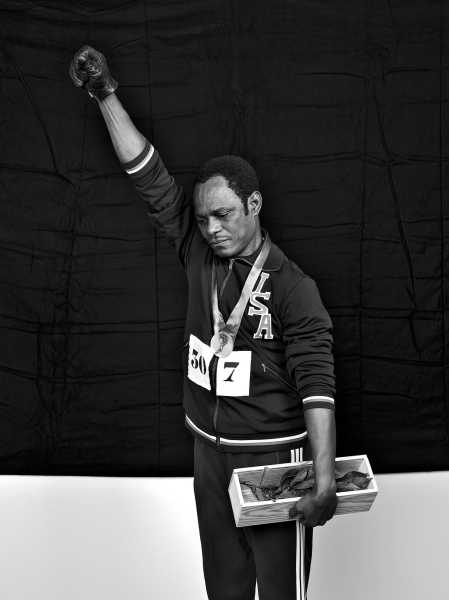 "African Spirits—Tommie Smith," 2008.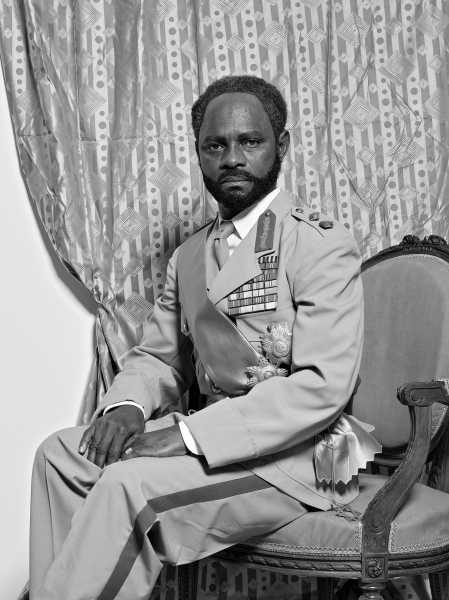 "African Spirits—Haile Selassie," 2008.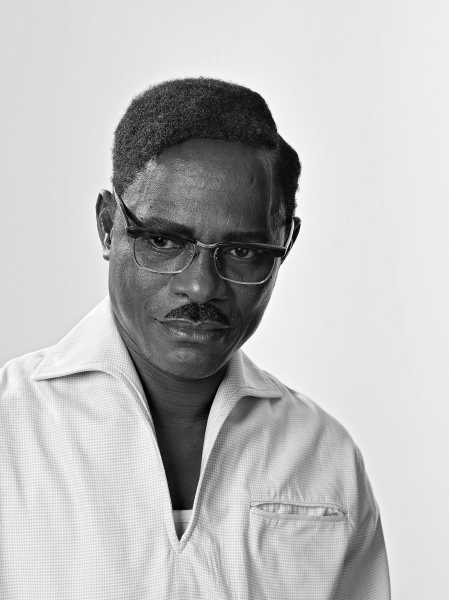 "African Spirits—Patrice Lumumba," 2008.
Many critics pegged Fosso as a practitioner of subversive pastiche, often likening him to Cindy Sherman. But his subsequent work has been as much about reliving history as they are about interrogating received images. His series "African Spirits" (2008) restaged fourteen iconic portraits—among them Muhammad Ali as St. Sebastian on the cover of Esquire and Patrice Lumumba shortly before his assassination in Congo—in a via crucis of twentieth-century Black liberation movements. Okeke-Agulu has compared Fosso's portraits to ritual masking traditions. Their meme-like interloping also anticipates the participatory critique of current events on platforms like Instagram and TikTok, where armies of amateur Fossos use front-facing cameras to inscribe themselves in history. These reparative restagings have only gained resonance in an era keen on redressing the exclusions of the archive. In one photo from his 2013 series "ALLONZENFANS," Fosso poses as a Senegalese rifleman who fought for France in the Second World War. He wears a vintage uniform borrowed from a museum, but carries, in lieu of a weapon, the small remote that he uses to trigger his camera—a subtle celebration of art's triumph over violence.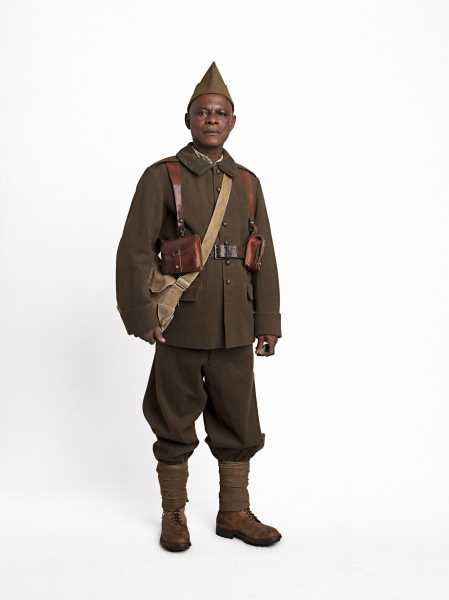 "ALLONZENFANS," 2013.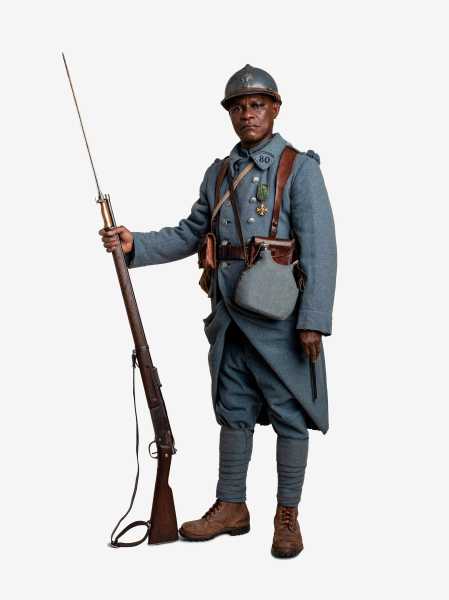 "ALLONZENFANS," 2013.
In the early twenty-tens, Fosso's studio in Bangui was destroyed by vandals amid a civil war in the Central African Republic, wrecking part of his archive and relocating his work to Nigeria and France. He reflected on the misfortune in "SIXSIXSIX," a series of six hundred and sixty-six mugshot-style Polaroids taken over three months in Paris, in 2015. (They appear in the exhibition as a digital slide show.) Fosso poses shirtless and without makeup, as though displacement has permanently shorn him of his disguises. But look long and closely enough, and the tenor is far from tragic. His tiny shifts in expression—wandering eyes and ruminative looks that yield, every few shots, to flashes of slyness and dreaming—evoke a capacity for renewal as kaleidoscopic as his elaborately costumed tableaux. "I always believed that my life would be pushed aside by other people's, but photography has given me a second life," Fosso has said. "It's made all lives possible for me."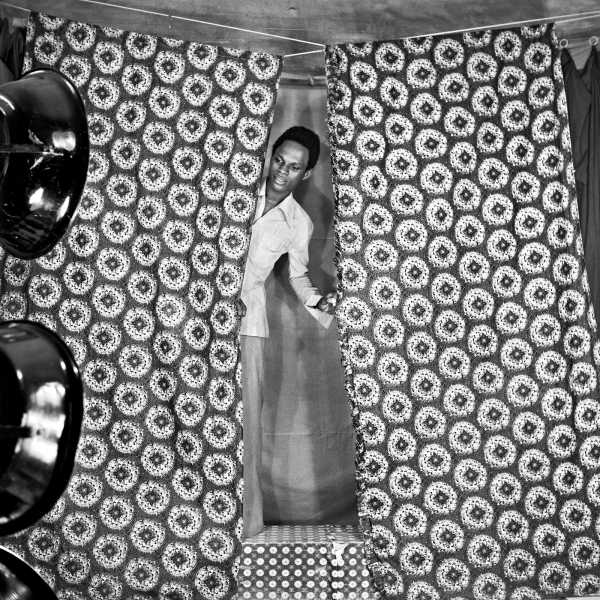 "70's Lifestyle," 1976-77.
Sourse: newyorker.com